Axiom m60 v2 VaSSallo Series Speakers
Axiom m60 v2 VaSSallo Series Speakers
For those of you that don't know, Axiom Audio has started offering real wood finishes with their speakers. They are named in honor of Joe Vassallo who passed away recently. Their vinyl finishes were generally considered high quality… as vinyl goes. Personally, I've never seen a better standard vinyl finish on a speaker (they also offer custom vinyl finishes). As I was communicating with Amie, I mentioned that there were, by my count, 19 different finishes. She laughed and sent me a picture of the just some of the available finishes: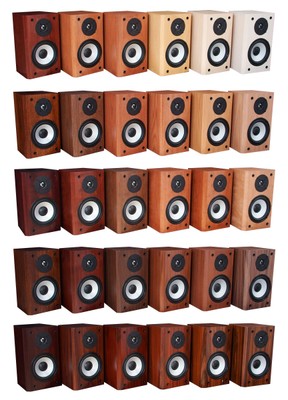 Apparently, my math was off that day. By my new count, I've got 110 combinations (6 woods, 6 stains, 3 finishes, plus 2 high gloss only finishes in black and white). Now if you factor in the 6 different grills, the 3 different accessory packages… well, you can see there are a lot of different combinations. While my original speakers were maple, lately we've been purchasing pieces of furniture of a number of different wood types. My wife and I took a long time deciding but eventually decided that it would be best to go with piano black, black grill, and black accessory package. It just goes with everything. At first I was worried about the choice to go with the black accessories (which includes the feet and the logo) but in the end, I liked it. I can't stand gold on just about anything except bars so my only other real option was chrome. The chrome would have looked great but I really like the way the black just blends. The feet aren't really at issue here as you can barely see them but the logo seems to disappear except when the light catches it just right. A very clean look.
But I didn't want to short change our loyal readers (and all you interested in some of the other finishes) so I had Amie send me a number of samples. For just $25-$35 a pop (depending on the finish), you can order a 10 ½" by 8" piece of wood with a small grill and Axiom logo. This lets you see how the wood, stain, finish, grill, and logo color work together. The grill is actually removable so that you can have the entire surface area to compare to the rest of your furniture. Overall, it is a very effective method of making sure you are getting the right finish. Sure, $25 dollars isn't chump change but it could be worth the piece of mind knowing that your new speakers won't tick the wife off when it doesn't exactly match that end table she inherited from her great aunt Edna.

Amie went ahead and forwarded me eight of the most popular combinations (aside from the piano black which I already had) and one of each grill color. All in all I got: 
| | | | |
| --- | --- | --- | --- |
| Wood | Stain | Finish | Accessory |
| Maple | White Oak | Semi-Gloss | Chrome |
| Cherry | Natural | Semi-Gloss | Chrome |
| Cherry | Chestnut | High-Gloss | Chrome |
| Rosewood | Natural | High-Gloss | Gold |
| Oak | Nutmeg | Satin | Gold |
| Knotty Pine | Buttercup | Satin | Black |
| Walnut | Cinnamon | Semi-Gloss | Gold |
| Oak | Carmel | Semi-Glass | Gold |
This got me thinking, what exactly are the options… There are three finishes (Satin, Semi-Gloss, and High-Gloss) for all woods (except for the High-Gloss white and black obviously). There are six grill colors - Eggshell White, Warm Tan, Light Gold, Burnt Sienna, Charcoal, and Black. The stains, however, are a little different. All have a Natural option while the others very by wood: 
Wood

Stain

Wood

Stain

Knotty Pine

Buttercup

Oak

Buttercup

Carmel

Coffee

Cinnamon

Carmel

Nutmeg

Cinnamon

White Oak

Nutmeg

 

Walnut

Coffee

Cherry

Carmel

Carmel

Cinnamon

Cinnamon

Nutmeg

Nutmeg

Bordeaux

Bordeaux

Chestnut

Rosewood

Coffee

Maple

Buttercup

Nutmeg

Cinnamon

Bordeaux

Nutmeg

Chestnut

Bordeaux

Red

White Oak
As you can see, there eight total stains but no one wood has the exact same list. To add to that, if you have a specific finish you want, you can send them a sample and they'll try their best to match it. That essentially makes the list of available finishes "unlimited." The price of the finishes depends on the type of wood and whether or not you want High-Gloss. All of the woods will change the price of the $960 pair of m60's to $1380 (a 40% increase) except for the Rosewood which increases it to $1587 (65% increase). If you want High-Gloss, it will cost you $1725 (a 79% increase) except for Rosewood which will run you $1932 (just over doubles the price). High gloss costs more because it is 12 coats, applied by hand. For that sort of extra labor and attention, one would expect to pay a premium.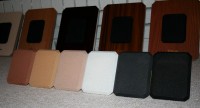 When looking over the samples, all are impressive in some way (which is not a cop out). The colors are all very vibrant and just scream tender love and care. Personally, I found that any of the samples with the High-Gloss immediately drew my attention. There is just something about that "clear pond in the morning" finish that just demands attention. The oak with the satin finish still retained some of the texture of the grain which was the only one with this characteristic. The rest were smooth. The Cherry with the Chestnut High-Gloss finish was practically purple. While not my first choice, it was very interesting in a "not my house" kind of way. I actually know someone where the sentence, "But we can get them in purple," would be a selling point.

Which is the point of all this. Sure vinyl can be made to look fairly close but in all reality, nothing beats the real thing. Wood feels different, it smells different, and from speaker to speaker, no two are exactly the same. Sonically, we all know it doesn't make a difference but that's not the point. Some people just like to have nice things while others are fine as long as it works and it is cheap. Axiom now serves both those needs. With the level of customization, I can't imagine that you'll hear someone say, "Sure, but they didn't have the finish I wanted."
Confused about what AV Gear to buy or how to set it up? Join our Exclusive Audioholics E-Book Membership Program!