How to Place a Subwoofer For Best Bass Performance
How to Place a Subwoofer For Best Bass Performance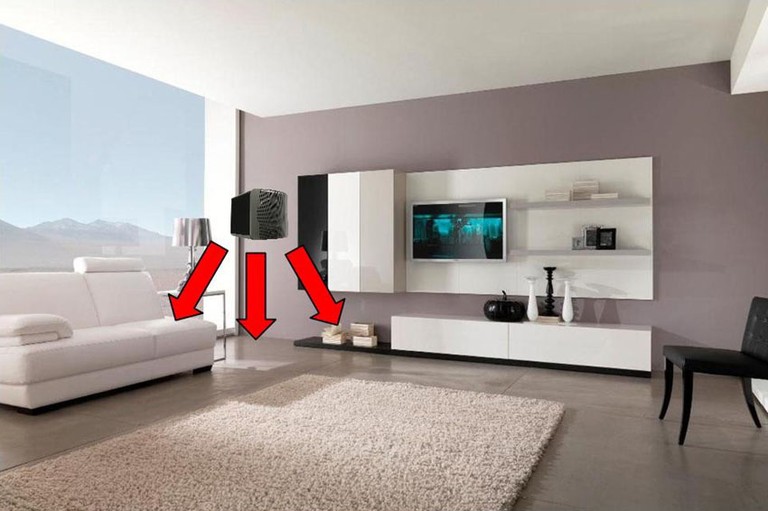 Subwoofer Placement
Your subwoofer sounds better in some spots than others.  But, how do you find where it performs best?  Use the "Subwoofer Crawl" trick to improve the sound of your sub for no cost.
When people first get a home theater system with a dedicated subwoofer, they are often told that, unlike the other speakers in your system that have more precise rules on placement, a sub can be placed "anywhere".  While that's somewhat true, your subwoofer will still perform better in some spots than others.  Even though room correction software like Audyssey promises to give you better frequency control built into every receiver, those systems will work much better if you get your system sounding as good as it can get before applying EQ.  Now here's the hard part: that spot where you subwoofer performs best is different for every room.
So, what are we to do?  Well, you need to listen to your subwoofer in different positions and see what sounds best.  You could sit in your chair, listening, while a friend lugs your heavy sub to different spots around the room, but it's going to be difficult to make quick changes, and is going to cost you a lot of pizza and beer.
The better option relies on a little trick of acoustic physics and is known as the "Subwoofer Crawl".
Video: Easy Guide To Subwoofer Placement
The Subwoofer Crawl
Let's start with an explanation of how to do the crawl.  You'll need your subwoofer and maybe and a longer signal and power cable than you usually use.  It doesn't need to be fancy.
First, connect your subwoofer.  Make sure it is connected to the LFE/Sub output of your receiver, and that any "filter" or "crossover" control on your subwoofer is set to "bypass" or it's highest available setting so it doesn't interfere with the bass-management features of your receiver.
Start by putting your subwoofer where your ears usually are in your primary seat.  If you can't get it exact, say by using a tall stand or table to get it off the ground, just get it as close as you can by setting the subwoofer in your chair.  Make sure that none of the drivers or ports are blocked.  My SVS sub has both of those on the front, so no problems here, but if you have bottom or back drivers or ports, you might need to set your sub on its side or upside-down.
The next step is to play some bass-heavy content that will allow you critically evaluate the depth, detail, and linearity of your sub.  In other words, are the lowest frequencies deep and strong, or missing and weak?  Are the bass notes well- defined, or do they sound thumpy, dull, or muddy?  Do all the frequencies sound like their being reproduced at the same volume level, or do some sound much louder than others creating a boom on certain notes?
I personally use music instead of movies because I have a better sense of what a bass guitar should sound like than a car explosion.  Some of my favorite tracks include "You Can Call Me Al" by Paul Simon, and "Hypnotized" by Ani DiFranco, but for something a little less reserved, you, might prefer "Like a G6" by the Far East Movement, or "Saga" by Basement Jaxx.  Now, crank it up a bit.
And now, "the crawl."  Your sub is up in your chair near where your head usually goes, so you need to put your head down where your sub will go.  Start crawling around with your head a few inches off the ground, near where the center of your subwoofer would usually be.  Try the corners.  Try midpoints of walls, the ends of couches, up by your speakers...anywhere you might be able to put your subwoofer.  When you find a likely spot, try moving your head just a couple of inches side to side, or front to back.  You might be surprised what a difference small adjustments can make.
After you find a spot or two that sounds good and won't cause a tripping hazard, mark it with some tape.  Then, put your sub in that spot, and put yourself back in your chair.  You should find that the sound in your chair is now nearly identical to what it was when you were crawling around with your head near the floor.
I know what you're thinking "He's a wizard.  Burn him!", but there's truly no sorcery involved. 
A simplified way to think about it is this:  Sound waves are physical things, like a soccer ball.  Imagine that you are sitting in your listening position and your friend is sitting where your subwoofer goes.  If you throw the ball straight to your friend, it travels the same relative path and distance when your friend throws it back.  If you bounce it off a wall, floor, or ceiling first, it interacts with the same boundaries if your friend bounces it back.  So whether the sub is in your chair, and you're on the floor, or vice versa, the distance, path, and encountered boundaries are the same, and thus, the sound is the same, more or less.
Conclusion
The "Subwoofer Crawl" is the hot new dance move for discerning audiophiles everywhere.  It can help you improve the sound from any subwoofer, large or small, in any room, at little to no additional cost.  It can even make your receiver's built-in EQ more effective.  Before you listen, you have to crawl.
Within minutes you can be on your way for finding the best location(s) to place your subwoofer.  So what are you waiting for?  Give this technique a try and let us know how it works for you.
Confused about what AV Gear to buy or how to set it up? Join our Exclusive Audioholics E-Book Membership Program!
Recent Forum Posts:
lovinthehd posts on October 16, 2021 09:15
Grace Brown, post: 1510411, member: 96978
how do you select a good under seat subwoofer? That's why this article is here. We are going to look at some of the best under seat subwoofers in the market right now. please click here to know more.

This isn't a car audio forum, a home slim style subwoofer for being under furniture would perhaps be more interesting here.
Grace Brown posts on October 16, 2021 02:29
how do you select a good under seat subwoofer? That's why this article is here. We are going to look at some of the best under seat subwoofers in the market right now. please click here to know more.
GotAudio posts on July 22, 2021 16:47
lovinthehd posts on July 21, 2021 23:17
GotAudio posts on July 21, 2021 18:43
For those that saw my new garage setup, what do you think about moving the sub on the right (they are different brand subs but virtually the same) to the rear right next to the recliner seat? I guess that would be a good option for those that like to feel the bass.4928949290
Post Reply