Dynaudio Unveils Sub 3 and Sub 6 Smart Subwoofers
Summary
Sub 3
System: Active subwoofer
Bass principle: Closed box
Frequency response (± 3 dB): 22 – 175Hz
High frequency limit::
SUB input: 50 – 250Hz
LFE input: 150Hz
Input: RCA

Input impedance: 10kΩ

Phase adjustment: 0°, 180°

Satellite highpass output crossover frequencies: Flat, 60Hz, 80Hz

Crossover slope: 2nd order butterworth

Subwoofer lowpass crossover frequencies: 50Hz to 150Hz

Amplifier power: 300W, 4Ω

Standby Power Consumption:: <0.5W

Maximum Power Consumption:: 325W

Dimensions, external (W x H x D, incl. feet and grille): 13.78 x 16.54 x 14.57 inches

Weight: 10.5kg / 23.1lb

Sub 6
System: Active DSP subwoofer
Frequency response: 16Hz – 230Hz ±3dB
Inputs: 2x balanced XLR
Max. input voltage:

1.01Vrms @ +6dB Sensitivity
4Vrms @ -6dB Sensitivity
Phono output impedance: 100Ω
Standby Power Consumption: <0.5W
Maximum Power Consumption: 650W
Dimensions (W x H x D): 18.5 x 13.1 x 10.6in

Executive Overview
Founded in 1977 in Skanderborg, Denmark, Dynaudio has more than 35 years of experience in producing high-end speakers and while we were at the AXPONA audio show in May of 2017 we got a chance to listen to their Contour 60 tower speakers. We were impressed with the sound and build quality of these 120 pound heavyweights and said so in this preview article on tower speakers at AXPONA. Recently while we were at CEDIA in San Diego, California we got a chance to look at Dynaudio's new pair of subs, the Sub 3 and Sub 6. The sub 3 boasts a 9.5" driver whereas the Sub 6 has a pair. Both subs are designed to replace their Sub 250 and Sub 600 models.

"We're really excited about these new subwoofers. Being able to achieve a true Contour-level experience from package as small as the Sub 3 is remarkable, and the flexibility offered by the Sub 6 is fantastic. Our engineers have been so meticulous with everything from designing the new drivers, to constructing the Sub 3's curved design, to ensuring the Sub 6's unique presets mesh seamlessly with our speakers."


Otto Jørgensen, Product Manager - Dynaudio
Sub 3
The Sub 3 is a flexible subwoofer that's been designed to work just as well with movies as it does with music. Like the build quality of their other speakers, the Sub 3 should deliver weight, authority and punch for your low end needs. The Sub 3 is a fairly compact and convenient unit that should also take the strain off your stereo or multi-channel setup while also improving the midrange performance in the process. The Sub 3 has the same dimensions as the previous Dynaudio Sub 250, so it will be easy to accommodate, but their engineers have managed to squeeze in the more powerful 300W amp and full feature set of the larger Sub 600.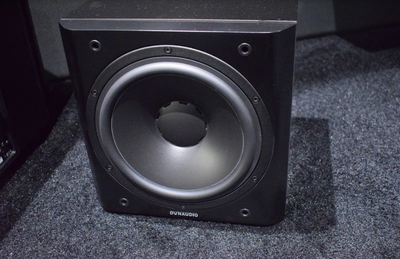 Other new additions include a double-thickness 1.5" front baffle (curved, similar to Contour) designed to increase rigidity, plus a brand-new 9.5" driver, which joins the rest of the Sub 3's Contour-quality components.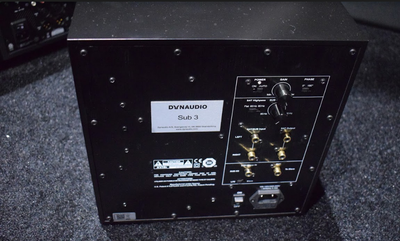 Dynaudio Sub 3 Backpanel
The Sub 3 comes with dual RCA inputs and outputs to let you pass a signal through the Sub 3 itself. You can also fine-tune the crossover point (flat, 60Hz or 80Hz) using the Sub 3's high-pass filter to ensure the best performance possible. Dynaudio has worked really hard to get all the smarts of the Sub 600 into a body the size of the Sub 250, while also adding a brand-new driver. Most importantly, they've managed to get the price in between the two, which means you're now getting all the smarts of the Sub 600 for $1,000 less.
Sub 6
Although it can be used with other speakers, the Sub 6 is designed to easily integrate with Dynaudio speakers. And, for anything from the Contour range upwards (Contour, Confidence, Evidence, Special Forty, Special Twenty-Five), the Sub 6 features advanced intelligent DSP technology that tailors its performance so that it can turn a two-way speaker system in a three-way one. For other models, including non-Dynaudio speakers, the crossover frequency, gain, and phase can be set manually.
In charge of its powerful bass response are two brand-new 9.5" MSP+ Hybrid Drive units, designed specifically for subwoofers, alongside a 500W power amplifier built into its base. These new drivers sit at either end of the sealed enclosure design, which stands wider than it does deep to help it sit more discreetly against a wall.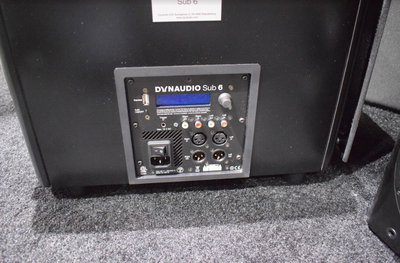 Dynaudio Sub 6 Backpanel
The Sub 6 has dual RCA and XLR connections to suit most systems and comes with a number of handy features to help larger and more advanced setups. This includes the ability to set a time-delay to ensure the sub and speakers are working in sync with one another. All you have to do is enter the distance from the sub to the speakers and the sub will adjust itself automatically using both time and phase delays. There's also a fully parametric EQ, including three filters to counter the effects of any room modes, to ensure the best possible performance.
What we liked
Two-way to three-way 
If you already have a pair of newer Dynaudio speakers than these subs might be worth a second look.  The Dynaudio engineers assessed the acoustic characteristics of each of their popular high-end hi-fi speakers – and then created a custom performance map for each one. This information is built into the Subs so using its display and menu system users can choose the specific model of Dynaudio speakers they have in their setup. The Sub 3 & 6 roll-off will then be matched between the two, turning a two-way system into a three-way one.
Firmware upgrades 
When Dynaudio releases new speakers, they'll release a firmware update for the Sub 3 & 6, adding their new performance maps so these Subs can work just as closely with their latest models as it does with the classics.
Both the Sub 3 and Sub 6 will be available during the fourth quarter of 2017 and will be available in both a black and white satin lacquer finish. The Sub 3 will retail for $1,799 and the Sub 6 will come in at $2,799.
Please tell us in the related forum thread below what Dynaudio speakers you own and if you plan on adding one of these subs to your system.

Unless otherwise indicated, this is a preview article for the featured product. A formal review may or may not follow in the future.