Atlantic Technology Gives Freedom of Choice With S-Series Subwoofers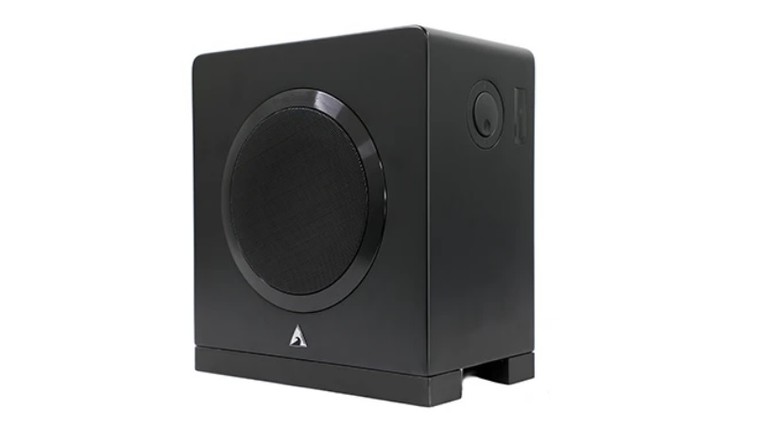 Atlantic Technology S-Series Subwoofer
Summary
FS-S65
Bass Driver: 6.5-inch long throw composite cone
Output Power RMS: 100W
Amp Distortion: <0.5%
Frequency response: 27 Hz – 300 Hz ±3 dB
Low level line-in: 20k Ohms
Peak output (2500 cu. ft.): 98 dB SLP
Dimensions (W x H x D): 11.8 x 12.8 x 7.1
Weight: 20 lbs
FS-S8

Bass Driver: 8-inch long throw composite cone

Output Power RMS: 150W
Amp Distortion: <0.5%

Frequency response: 27 Hz – 300 Hz ±3 dB

Low level line-in: 20k Ohms

Peak output (2500 cu. ft.): 98 dB SLP

Dimensions (W x H x D): 14.0 x 15.0 x 7.1

Weight: 22 lbs

Executive Overview
A few years ago I reviewed a wireless subwoofer that I was not overly enthusiastic about. The company allowed me to keep it anyway after the review and it was boxed up and put behind the stack of new speakers, amplifiers, headphones, and soundbars that I still needed to review. With plenty of time to play catch up on Audioholics work in the last few months I came across that wireless subwoofer and decided to try it out again to see if my feelings had changed over time. Low and behold the subwoofer was proprietary to the soundbar that matched it.  There were no inputs in the sub at all, just a power cord. Now I remember why I gave it such a low rating. The sub was boxed up and put to the back of the new stack.
This week I saw that Atlantic Technology was shipping their FS-Series Subwoofers with the tagline "Atlantic Technology Declares Wireless Subwoofer Freedom of Choice for Any Sound System". Interesting.
"With the new FS-Series 6.5-inch and 8-inch SKAA wireless powered subwoofers now everyone can dramatically enhance their entertainment experience with any brand of TV, soundbar, AV receiver or home theater. Slim and wireless, their superior placement versatility easily fits or hides them in any room."
- Atlantic Technology
The new FS series comes with the ability to be setup either wirelessly or wired to your existing sound system. I've played around with after market wireless subwoofer transmitters and not been particularly blown away by their reliability or sound, but then again this is Atlantic Technology so I have higher expectations. By using superior low-latency SKAA wireless audio technology these subs should work well with Atlantic Technology's growing line of wireless multi-room SKAA speakers, soundbars and amps, but the best part is since they also have RCA line inputs and outputs they're designed to work well with any other brand of soundbar, TV, or AV receiver.
"Virtually all wireless subwoofers are designed for soundbars and use Wi-Fi signals that only work with the same brand of sound bars or speakers and typically have limited adjustability and no provision for a wired connection to work with other products. Leveraging Atlantic Technology's extensive experience producing great subwoofers, the FS Series gives everyone the ability to add a slim, compact wireless subwoofer to their TV, soundbar or home-theater system of any brand in any room, without breaking the bank or home aesthetics."
--Paul Fredrickson, Muto Communications, Atlantic Technology's marketing and PR agency
Like all Atlantic Technology subwoofers, the FS Series are engineered using the latest technology and finest components starting with drivers designed and manufactured by Atlantic Technology. The long-throw bass driver uses a large vented magnetic motor structure and a high temperature, 4-layer aluminum voice coil. We've seen drivers with this design and they usually have very stiff composite cones that acts like a piston through their operating range and should deliver great performance.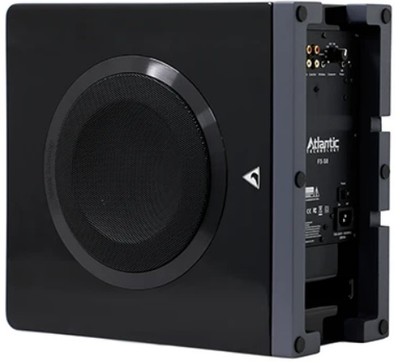 The new thin form factor of the FS Series comes in a sturdy MDF enclosure for low distortion and deep bass in a compact cabinet that's only 7-inches deep. The FS-S65 is finished in an all satin-black finish and a high-gloss piano-black finish with the FS-S8. The thin cabinet makes the FS series very versatile and easy to blend in with most decors. The FS series subwoofers are even designed to be wall mounted.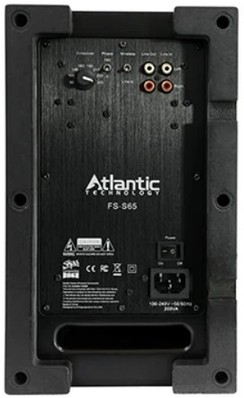 The FS-S65 and FS-S8 come with high-efficiency 100 and 150 watt amplifiers and should be capable of high current delivery for good driver control. The Class D design should also ensure cool operation. Atlantic Technology told us that each amplifier is precision matched and equalized to its specific driver resulting in powerful, controlled bass with great articulation and authority.
To match the subwoofer to any system the FS Series include versatile optimization controls.  The adjustable 50Hz to 300Hz, 12dB per octave low-pass crossover delivers good blending with satellite speakers or a soundbar while making the woofer less localizable. The level control matches output volume to the rest of the system and a 0°/180° Phase switch is included for better acoustic matching with satellite speakers. Finally Automatic Standby features signal sensing turn-on with and a 20 minute auto turn-off for convenient use.
What really sets the FS Series apart is the SKAA wireless audio, a high-performance technology proven in pro music applications for its high-quality reliable interference-free, long range with a low latency of only 36 ms.
 Both the FS-S65 and FS-S8 models are shipping and are priced at $399 for the 6.5-inch woofer 100-watt amplified FS-S65 and $549 MSRP for the 8-inch 150-watt FS-S8.            

Confused about what AV Gear to buy or how to set it up? Join our Exclusive Audioholics E-Book Membership Program!