Yamaha YAS-207 Industry First Sound Bar with DTS Virtual:X Processing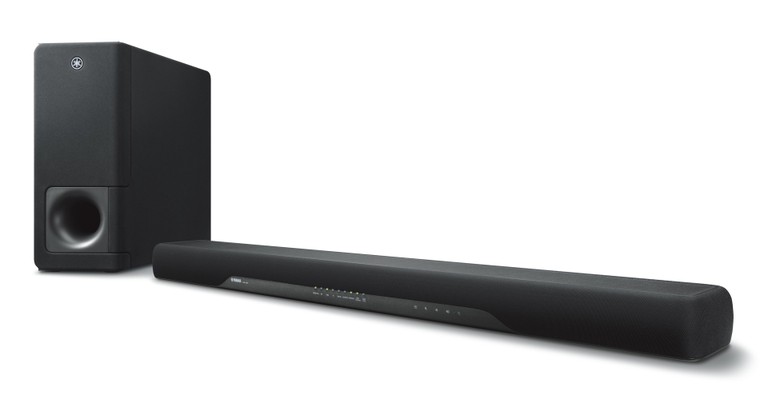 Summary
Drivers:

(Center Unit): Four 1-3/4" woofers, Dual 1" tweeters, (Subwoofer): 6-1/4" cone woofer

Output Power:

200W total MAX power: 100 W + 100 W subwoofer

Power Consumption:

(Center Unit): 30 W, (Subwoofer): 19 W

Standby Power Consumption:

(Center Unit): 0.4 W (HDMI® control, Bluetooth® standby off), 0.9 W (HDMI control on, Bluetooth standby off), 0.5 W (HDMI control off, Bluetooth standby on), 0.9 W (HDMI control on, Bluetooth standby on)
Dimensions (W x H x D): (Center Unit): 36-5/8" x 2-3/8" x 4-1/4", (Subwoofer): 7-1/8" x 17-1/4" x 15-3/4"
Weight: (Center Unit): 6.0 lbs, (Subwoofer): 17.4 lbs
HDMI: 1 in / 1 out
Digital Optical: 1 in
Analog Audio: 1 in
HDMI 4K Pass-through: Yes (50 / 60 Hz YCbCr=4:4:4, HDR, HDCP2.2)
Surround Technology: DTS Virtual:X
Audio Formats: Dolby Digital, Dolby Pro Logic II, DTS Digital Surround
Bluetooth Profile: (Version) Ver. 4.1 + EDR (Profile) A2DP, SPP (Audio Codec) SBC, MPEG AAC
Executive Overview
Few audiophiles would ever admit that a sound bar can provide the kind of sound possible with a full surround sound system. But don't tell that to companies like Samsung, Sony, and Yamaha, which are all striving to close the gap between sound bar and component surround sound systems.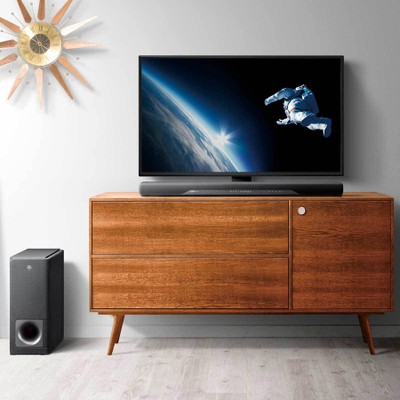 Yamaha YAS-207 Sound Bar and Powered Subwoofer
With its YAS-203 sound bar, Yamaha built a high-quality audio device that proved very popular with critics. Now, with its replacement, the YAS-207, the company is attempting to further blur the gap between sound bar and entry level discrete surround sound systems. Its secret weapon: DTS Virtual: X technology.  In fact, Yamaha is the first in the industry to equip a sound bar with this new surround processing. Yamaha is really getting aggressive with their pricing by offering the YAS-207 for $100 less than its predecessor and that includes the 100 watt wireless powered sub and FREE shipping too!

DTS Virtual:X
If you haven't heard of it, Virtual: X is intended to create an immersive sound experience intended to resemble the perception of up to a 7.1.4 home theater system. DTS has engineered Virtual:X to deliver its effect specifically for soundbars as well A/V receivers and even TV speakers in coming months.

DTS Virtual:X Technology Claims:

3D audio digital sound processing system that can be delivered via sound bar (2.0 channel), or a traditional 5.1 channel home theater receiver letting them produce both virtual surround and virtual height

DTS Virtual:X will output a natural-sounding surround and height experience from ANY audio source, regardless of the number channels in


Virtual:X is will be compatible with DTS decoders and DTS:X



According to Yahama America's Robert Goedken, the addition of Virtual: X technology to the upcoming YAS-207 marks an important step in the company's decade-long quest to produce progressively better sound bars.  "We're excited to add this new technology from DTS to our YAS-207 sound bar," Goedker said. "It's a technological innovation that people are really going to love."
Conclusion
There's reason to be excited here. For one, in recent years Yamaha has gone a long way towards convincing listeners that sound bars can create good sound and, in certain situations, effectively mimic the sound of a full discrete surround system with front and back speakers. Second, DTS has demonstrated similar technology, with positive results, through its Headphone: X system.

Beyond Virtual: X technology, the YAS-207 will also feature dual HDMI ports supporting 4K HDR passthrough at 60 frames per second (unlike the YAS-203). It will also support Bluetooth connectivity and Yamaha's existing Clear Voice technology that's designed to improve sound in dialogue-driven programming like sports and news.

Like the YAS-203, the YAS-207 will be available for a very affordable price. Once it hits store shelves this July, Yamaha's newest sound bar is expected to retail for roughly $300 (shipped). We really can't wait to hear for ourselves what DTS Virtual:X sounds like when it finally hits the streets.


Unless otherwise indicated, this is a preview article for the featured product. A formal review may or may not follow in the future.