The Speaker Company TSAT-1000-HT8-B System Review
The Speaker Company TSAT-1000-HT8-B System Review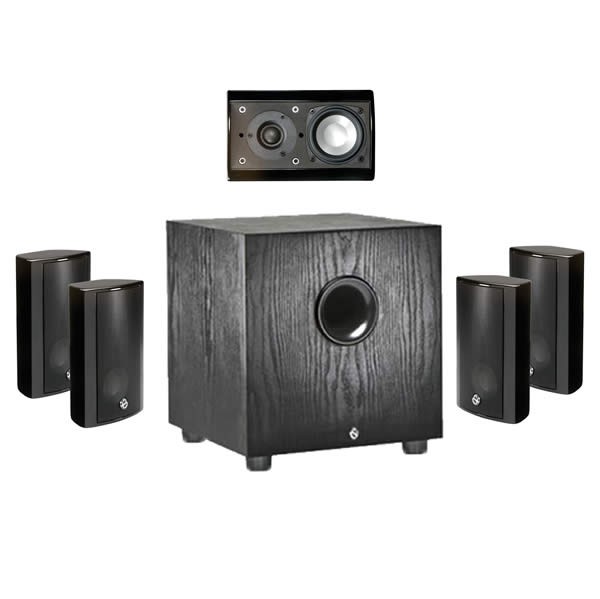 tSc TSAT-1000 Satellite Specifications
Type                                         2-way acoustics suspension on-wall satellite
Priced As:                                 5 pack
Mid-Woofer(s)                            3.5" Aluminum
Tweeter Type                             1" HiCell Dome
Magnetic Shielding                     Yes
Frequency Response                 125 Hz – 20kHz
Impedance                                8 Ohms
Power handling                          15 – 100 watts
Sensitivity                                 85 dB
Dimensions (H x W x D)             8.63" x 5.31" x 3.25"
Weight                                      2 lbs, 13 oz / ea
Finish                                       High Gloss & Metal Grille
ASW-8 Subwoofer Specifications
Type                                         8" Powered Subwoofer
Woofer(s)                                  8" High Excursion Driver
Magnet                                     18oz ferrite magnet
Cabinet                                     Ported HD 5/8" MDF
Controls                                    Phase switch / Volume
Magnetic Shielding                     No
Frequency Response 3               3-150Hz +/- 3dB
Crossover Frequency                  Variable
Amplifier type                            BASH®
Power (watts)                            50 watts RMS - 200watts Peak
Dimensions (W x D x H)             14.2" x 12.2"  x 12.2"
Weight                                     22 lbs
Finish                                       Black ash vinyl
Pros
Unprecedented performance to price ratio
Excellent built quality and appearance
Impressive subwoofer bass extension
Cons
Low efficiency of satellites
Introduction
This is the finest sounding compact system on the cheap ($399 for 5.1) that I've heard with a fit and finish that is second to none. The system works extremely well together mated with the ASW-8 subwoofer. Considering that tSc offers a FREE 30 day trial period with FREE shipping both ways, there is simply no risk in buying it. That being said, if a small compact inexpensive system is what you are looking for, than stop perusing the internet and buy this package!

Confused about what AV Gear to buy or how to set it up? Join our Exclusive Audioholics E-Book Membership Program!
Recent Forum Posts:
lchaleff posts on February 22, 2009 20:05
any comparison to energy take classic 5.1?

Can you talk about a comparision betweeen the tsat-1000 ht8-b and the energy take classic 5.1?

Thanks
fabulousfrankie posts on February 22, 2009 11:24
These look almost identical Sapphire SAT1000's from Tweeter. If they're the same they're worth the price TSC is selling them for. I put a set of 5 of the Sapphire's in my parents bedroom when Tweeter was clearing them out.

Again, if these are the same as the Sapphire's, the larger dual driver version sounds signifcantly better than these for a small price increase.
nick51 posts on February 12, 2009 16:16
tSc Speakers

I cannot tell you that tSc speakers sound better than Fluance or Orb as I've never heard them. I can however tell you that we have Free shipping, 30 day in home trial and free return shipping. I can also tell you that we have a less than 1% return rate on the TSAT's. We are also backed by one of the largest high end audio companies in D&M holdings.
808htfan posts on January 28, 2009 22:51
808htfan, post: 514856
Sounds great. A few of my friends are interested in these satellite-type packages. I wonder how these comare to the Energy Take Classic 5.1?
Or an Orb Audio 5.1 set?
gene posts on January 27, 2009 19:57
I noticed in your response you did not adress my question about the quality of the Fluance setup. Do you have any thoughts on them. Please advise.
Fluance speakers look very nice. Unfortunately anytime I call them to arrange a product review the phone operators don't understand that we are an online review publication. They only seem competent enough to take a phone order and not think outside the box. I'd love to get a better contact over there to make it happen but right now its been a challenge to say the least.
Post Reply