Sonos Ships 'Revolutionary' Era 100 and Era 300 Speakers w Spatial Audio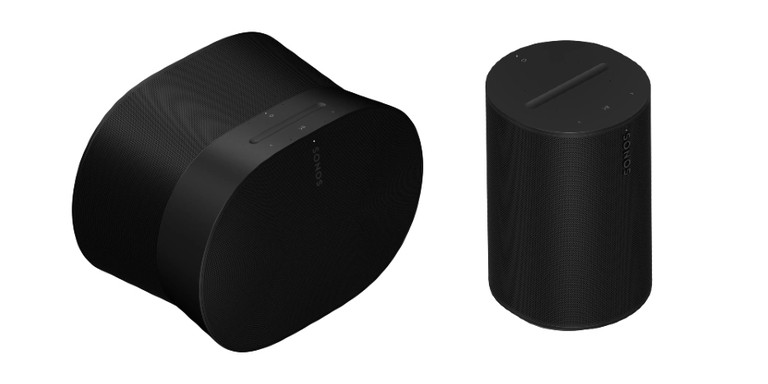 Sonos Era 100 and 300
Summary
Sonos Era 100 & Era 300 Review - Bluetooth, Stereo Sound, Spatial Audio w/ Dolby Atmos & More!
Sonos has begun shipping two new smart wireless speakers, the first in what the company describes as "a whole new chapter in sound and design innovation." The Sonos Era 100 ($249 each) is a reimagining of the brand's popular Sonos One, while the Era 300 ($449 each) is an all new design offering a "revolutionary" experience thanks to its support for spatial audio with Dolby Atmos. Both models promise new levels of immersive listening along with expanded connectivity and Sonos's proprietary Trueplay technology. On the connectivity front, both speakers now offer Bluetooth in addition to WiFi for greater flexibility. The speakers can also connect directly to legacy audio sources, such as a CD player or turntable, using an auxiliary cable and the Sonos Line-In Adapter. The Sonos Trueplay room optimizer function, which uses the speakers' built-in microphone arrays to adjust the sound for the unique acoustics of any listening room, is now available to Android users in addition to iOS users. Sonos has also adopted new, more ecologically responsible design standards for these new speakers. These standards include the use of post-consumer recycled (PCR) materials and the assurance that the products will have long life spans with a focus on serviceability and energy-efficient technologies.
In an age of constant background noise, quality listening matters more than ever. Our vision is to make listening an experience that is charged with feeling, and help our customers feel joy and vitality through their favorite music and audio content. The Era family is the next generation of smart speakers, epitomizing our commitment to sound innovation, responsible design and a deep connection to the creator community.
— Patrick Spence, CEO of Sonos
Era 100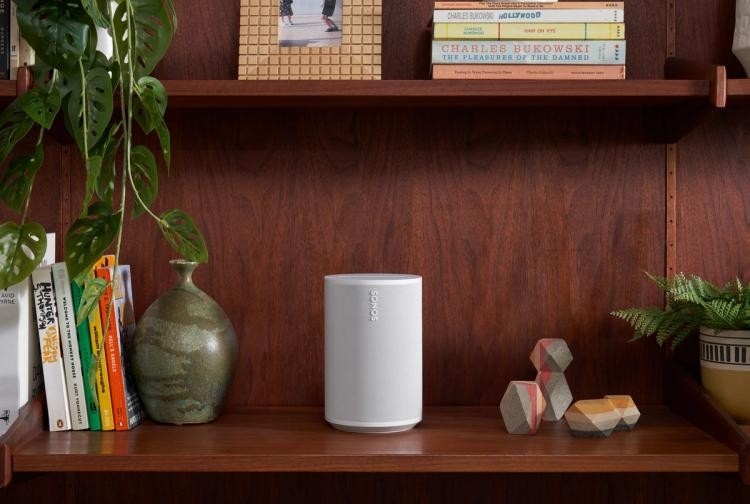 Although it looks similar to the Sonos One, the new Era 100 is slightly larger and features all new hardware, including a pair of angled tweeters (the Sonos One has only one tweeter). This allows the speaker to better deliver an approximated stereo experience when used in its standalone mode, though a stereo pair of Era 100 speakers will of course produce better results. The Era 100's mid-woofer is also larger than the one in its predecessor, providing deeper and more impactful bass, according to Sonos. (Sonos does not specify the exact sizes of the drivers.) A pair of Era 100 speakers can play double duty as music speakers and as the rear speakers in a home theater system when paired with a Sonos soundbar. The humidity resistant design makes the Era 100 perfect for use in a bathroom or spa, while the compact size makes it equally at home on a desk or nightstand, or tucked away next to the Vitamix on your kitchen counter. It measures 7.18 inches high by 4.72 inches wide by 5.14 inches deep, and weighs 4.44 pounds. 
Era 300
While the Era 100 can be thought of as a remastered Sonos One, the Era 300 is completely new, featuring six drivers that direct sound "left, right, forward, and upward, delivering a breakthrough audio performance featuring Dolby Atmos that places listeners at the very heart of their movies and music," according to Sonos. The Era 300 features four tweeters. There are two side-firing tweeters to create stereo separation, plus a forward-firing tweeter to provide a stable center image. A horn-loaded upward-firing tweeter reflects sound off the ceiling for Dolby Atmos height effects. In addition to the four tweeters, the Era 300 features a pair of mid-woofers and six Class-D amplifiers — one for each driver.
Dolby Atmos created a new way for music and audio entertainment to be experienced. Sounds and music come alive with unparalleled clarity and depth. Era 300's sound innovation with Dolby Atmos creates a completely immersive music experience.
— Kevin Yeaman, President and CEO of Dolby Laboratories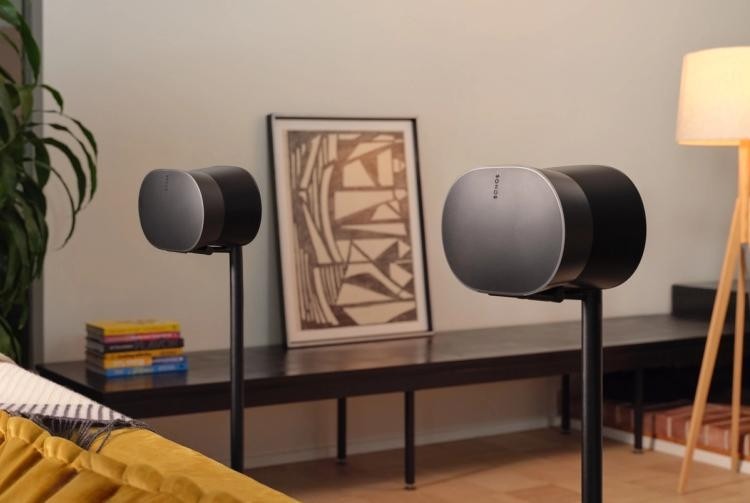 The Era 300 is immediately recognizable as new within the Sonos lineup, thanks to its cinched hourglass design, which was dictated by the speaker's "beautifully complex acoustic architecture," according to Sonos, "with every angle, proportion and perforation enhancing the direction and dispersion of sound to truly surround you." This design makes it uniquely capable when used as a surround speaker in a home theater setting, paired with Sonos's Atmos-capable Arc or Beam (Gen 2) soundbars. While other Sonos speakers can be used to play back a single surround channel in this context, the Era 300 delivers "multi-channel surround," as it can be used to reproduce signals that would require both a surround speaker and a height-channel speaker in a traditional Dolby Atmos home theater. While Sonos promises a "supercharged Dolby Atmos experience," Audioholics readers know better than to expect miracles. That said, the Era 300 should deliver a better Atmos experience than an older or less advanced Sonos speaker when used as surrounds. The Era 300 measures 6.30 inches high by 10.24 inches wide by 7.28 inches deep, and weighs 9.85 pounds.
Just like the shift from mono to stereo, spatial audio is the next evolution in listening – creating a sound experience that wraps you in music. As both creators and major streaming platforms embrace spatial audio for music, the time is right to create an out loud listening experience that delivers against the promise of this thrilling and creative format.
— Giles Martin, VP, Sound Experience at Sonos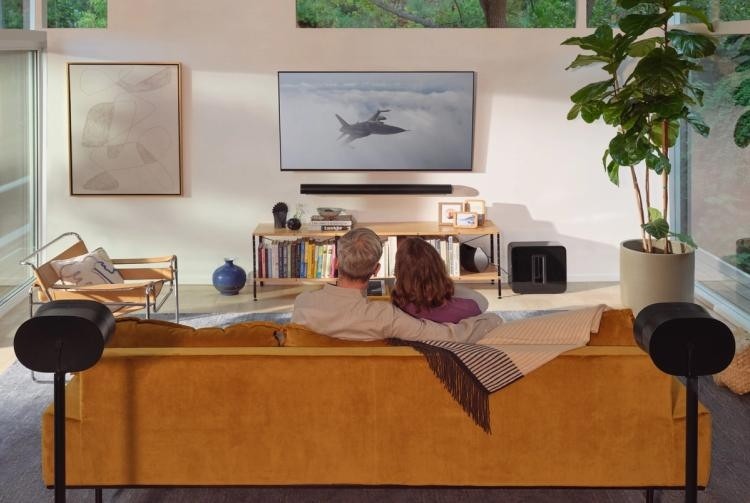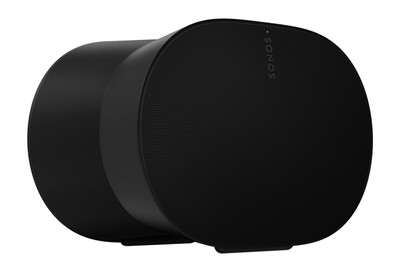 Sonos says that these new speakers represent a new chapter for the company, both in terms of sonic performance and in terms of sustainability. The Era 100 is made from 48% post consumer recycled (PCR) plastic; the Era 300 is 40% PCR plastic. Both the Era 100 and Era 300 are packaged in 100% sustainably-sourced paper (certified by the Forest Stewardship Council), and all interior and exterior packaging is 100% recyclable. Both speakers have also been engineered to reduce power consumption, with a new advanced sleep function that consumes less than 2 watts when the speakers are idle. And unlike some previous Sonos speakers, the Era 100 and Era 300 are built with serviceability in mind; they use less adhesive and more screws, making disassembly and repair much easier.
We bring the same forward-thinking mindset to responsible design as we do to creating powerful new listening experiences. Our commitment to sustainability is embedded in our design process from the start, with the Era family marking a major step forward in our journey to create products that last beyond expectation, perform more efficiently, and use safer and circular materials.
— Kitty Suidman, Design Director, Product Sustainability
Finally, a new, intuitive user interface on both Era speakers includes a capacitive volume slider on each speaker. Sonos Voice Control and control via the Sonos app remain unchanged. Tapping the speech bubble on top of the speaker activates a privacy mode that turns off voice assistants, but leaves the microphones active for other uses, such as Trueplay. For even more privacy, users can flip the physical microphone switch on the back of each speaker. Toggling this switch disconnects power to the microphone hardware. Like other Sonos speakers, the Era 100 and Era 300 are compatible with Apple AirPlay 2 (which also makes them work as Roon endpoints). Unlike previous Sonos speakers, the new models can be controlled by Bluetooth.
The Era 100 and Era 300 are offered in black or white, and are available now from the Sonos website and from authorized Sonos retailers, like our friends at Audio Advice.

Unless otherwise indicated, this is a preview article for the featured product. A formal review may or may not follow in the future.