RBH Ultra-3 Passive Soundbar Review: Custom Cut With Great Sound
RBH Ultra-3 Passive Soundbar Review: Custom Cut With Great Sound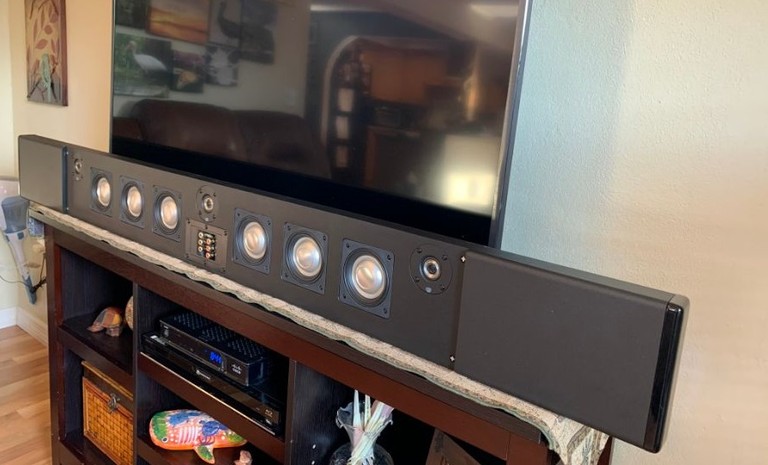 RBH Ultra-3 Soundbar
Speaker Type: On-wall/LCR Soundbar Speaker
Frequency Response: 100Hz-20kHz ±3dB
Sensitivity: 84db (2.38V @ 1M)
Recommended Power: 20-120 Watts
Woofer: (6) 4" (102mm) Proprietary Inverted Aluminum Cone Woofers
Tweeter: (3) 1" (25mm) Aluminum Diaphragm Neodymium Magnet Tweeter with Textured Phase Plug
Crossover Frequency: 3,000 Hz
Crossover Slope: 12dB/Octave
Impedance: 8 Ohms x3
Finish/Color: MDF/Matte Texture Black with High-gloss End Accent Caps
Grille Color: Black Fabric
Dimensions:Custom-cut e from 48" W to 73.25" W x 6-11/16" H x 1-5/8 D
Weight: 12.5 lbs. (5.74 kg) @ 63" Wide
9.5 lbs. (4.30 kg) 48" Wide
Pros
HiFi sound from a small discreet unit
Cons
Passive soundbars require amplifier or receiver
I was recently dropping off some audio equipment at the Audioholics Showcase Home at the same time Daren Egan, Director of Marketing and Sales for RBH was installing their new SVTRS Limited Edition Speaker system into the Audioholics Home Theater Listening room. When asked if I'd like to do a review of their on-wall passive soundbar I was hesitant. My TV is on a stand, the soundbar is designed to be wall-mounted, the soundbar is 63" and my tv is 52", it's a PASSIVE soundbar, what's the point. But, then again, reviewing an RBH product, any RBH product, is hard to pass up. I loaded the 70" cardboard box into my car and drove away.
RBH Sound released the Ultra-3 in 2014 so it's not a new product. We got a chance to preview it at CEDIA 2014 when it first came out. A LCR passive soundbar does give you some options over a more gimmicky immersive soundbar with a bunch of tiny drivers and no ability to add additional surround speakers. With this setup you always have the option of adding surrounds and a subwoofer for a space-saving, but high-fidelity, 5.1 speaker system.  
Overall, we think the Ultra-3 is a solid product. Like all passive soundbars, the ability to add surround speakers and an external sub is of tremendous value. Based on the specs, the brief demo we received at CEDIA, and our experience with other RBH products, the Ultra-3 seems like a solid choice.
--Cliff Heyne, Audioholics Contributing Writer
RBH Sound Ultra-3 Passive Soundbar YouTube Review

Design
The Ultra-3 can be manufactured and shipped in sizes ranging from 73.25" down to 48" wide and will be custom made to fit the most popular makes and models of TVs in this range. How much is the custom width? Free. Each soundbar is custom cut when ordered.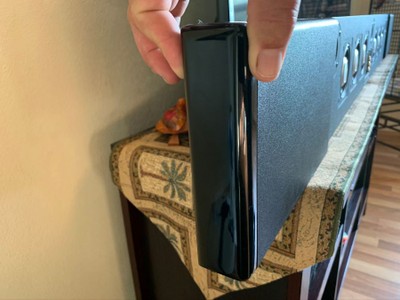 The Ultra-3 is only 1 5/8" deep which reduces the amount of bass that could be achieved from a thicker unit with more cabinet volume. However, the sleek blended in design raises the visual appeal immensely, and we know the RBH engineers can come up with some creative ways to get the most sound out of their speakers. 
At 6 11/16" tall, it is relatively tall for a soundbar, on par with the Bluesound Pulse Soundbar we reviewed. The height allowed RBH to move the triple tweeters above the six midrange drivers. This configuration helps to reduce acoustics interference common in MTM (midrange-tweeter-midrange) designs.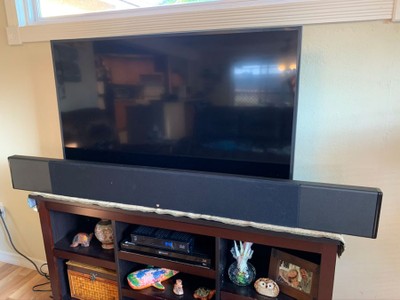 The cabinet is solid and is made of MDF with internal bracing and sealed separate internal chambers for left, center, and right channels. The end caps are MDF covered in high gloss black paint. Primarily thanks to the MDF enclosure, the Ultra-3 weighs in at a respectable 12.5lbs (63" wide) to 9.5lbs (48"). The black grille is magnetic for easy attachment and removal.  In this case, where the goal is to blend in with its environment, I think the grille looked better on.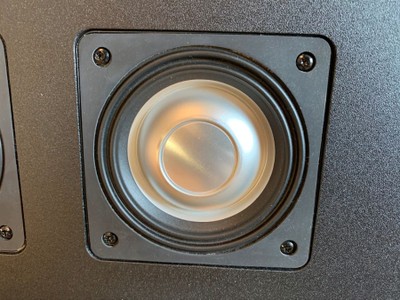 The Ultra-3 sports proprietary inverted, domed aluminum 4-inch woofers and aluminum tweeters with textured phase plugs. The rated frequency response is 100Hz-20kHz ±3dB with a 12dB/octave slope. 
Setup
The Ultra-3 came double boxed in corrugated cardboard with the soundbar nestled securely in between protective foam inserts. The speaker itself was wrapped in plastic with then ends covered in a soft cloth. 
Mounting instructions, template, and screws were included in the package, and even though I did not mount the soundbar on the wall, I could tell that installation via the keyhole brackets would be a breeze. 
For even easier installation, RBH offers the SB-39 Soundbar Speaker Bracket which allows you to attach the Ultra-3 to the TV's wall mount.
The front mounted spring-loaded speaker cable clips were a bit tricky when using the 10-gauge speaker cable I had coming out of my Yamaha amplifier. I ended up switching them out to 12 gauge for the center and right channel and although they were a tight fit, they were much easier to manage. Why front mounted speaker cable clips? At just 1 5/8" deep there is simply no room in the back of the unit to put the mounting hardware and securely fasten the speaker to the wall.  The Ultra-3 is designed to be mounted to the wall, but in my case, I had to improvise and placed it on the TV stand.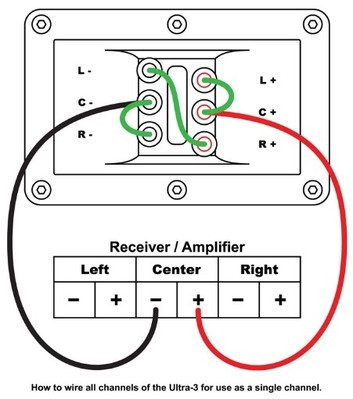 RBH does include instructions on how to set up the Ultra-3 as a single speaker which is an ingenious way of creating an ultra-wide center channel speaker. RBH also offers the Ultra-1 which you could add for a 5.1 or even 7.1 system with the same minimalistic 1 5/8" deep design. The Ultra-1 has the same 4-inch inverted aluminum cone woofers and aluminum tweeters as the Ultra-3. Add a subwoofer and you have a true audiophile setup without taking up much real estate in your room.
Listening Tests
2012

I decided right off the bat to see what kind of range the Ultra-3 had with the rollercoaster ride thriller 2012. I skipped ahead to the limo scene, stopping here and there to check dialogue, which was precise, clear, and crisp as you would expect from a speaker of this caliber. The deep low-end explosions that this movie is known for was another matter. 
The Ultra-3 is a lesson in precision vs. power. The addition of a subwoofer created the dramatic effects needed for a movie like 2012, but that is not to say that the Ultra-3 was an incapable soundbar. I could have set up a pair of cheap tower speakers with 12" woofers that would have been more than loud and deep enough for my 14' x 16' listening space, but the speech would have surely suffered and the minor effects of higher decibel sound effects whizzing past my head would have been left on the cutting room floor. There are subtle nuances that the sound engineers add that you just don't get with speakers with muddied mids and highs.
The Ultra-3 was surprisingly capable in this area. For a 63" wide soundbar without gimmicky extra speakers, the soundstage was wider than I would have thought.
2012 was enjoyable without the addition of the sub, kind of like sitting in the non-moving option of a simulator ride at a theme park. You can clearly understand what's going on, but you're not holding on to the armrests when the ride suddenly drops onscreen.
Ozark: Season 3
Binge-watching is becoming a national pastime right now and what a better way to do it than on Netflix?
Ozark: Season 3 premiered on Netflix right in the middle of my time with the Ultra-3. There's not a lot of super spectacular sound effects with Ozark: Season 3 until you get to someone being killed (no spoilers), but this was a good test for Ultra-3 with the fast-paced dialogue of Jason Bateman's mumbly voice as Marty Byrde. The Ultra-3 had no problems here. As mentioned earlier, mids and highs are its strong suit and it excelled without ear fatigue. Ruth Langmore's excessive use of the F-bomb was heard clear as day, even at lower volumes, since my daughter is at home with me working on e-learning on her computer.
Picard
Yes, I'm one of those suckers that subscribed to CBS All Access. In my defense, I grew up in the '80s and was a freshman in high school when Star Trek, The Next Generation aired. Unlike Gene DellaSala, President of Audioholics, I found Picard to be an immensely entertaining show. The RBH Sound Ultra-3 showed its capability in this genre. There were space battle and fight scenes, complex dialogue, and pretty cool special effects. Again, the mids and highs, as well as the soundstage and precise rendition of details, were the Ultra-3's major strengths. I switched between with sub and no sub with Picard and found in Picard's case that the addition of the subwoofer enhanced the show rather than being a necessity like 2012.
Conclusion
I rather enjoyed my time with the RBH Ultra-3 On-wall soundbar. Its clean look will appear to a minimalist décor and the option of having the soundbar cut to your display width at no additional cost is a huge bonus. At $1,231.95 the RBH Ultra-3 is not inexpensive. We've done reviews on active soundbars with subwoofers for a tenth of that price. That's not to say that they were in the same league as the Ultra-3, but this isn't a soundbar for the budget-minded audiophile. 
Note from Steve Feinstein:
What most people do not realize is this: When you choose "Surround Speakers—Off or None" in the initial receiver setup, a portion of the surround signal is fed back to the L and R front channels. This means that a passive LCR soundbar will, in fact, play quasi-5.1, without any gimmicky extra "surround" circuitry. I know this because I called Dolby myself and asked them where the surround info went when you chose "None" in the setup. This makes a passive LCR—which is often superior to a powered soundbar in terms of the actual speaker portion itself—very valuable when used with a quality entry-level surround receiver. This is the crux of the value of a high-quality passive soundbar.
For me, using the Ultra-3 without a subwoofer as the sole set of speakers for a home theater room was just not enough. Since you are hooking this up to a receiver that most likely has a subwoofer output even the addition of even a budget-priced sub would help tremendously with the low end. I would like to see RBH have a slimline Ultra Series subwoofer to be matched with the Ultra Series of speakers. Think about it – the Ultra-3 connected to or just below the TV with two Ultra-1 on-wall speakers and an RBH subwoofer would give you one of the most slimline high-end home theaters available that doesn't have to be installed into a wall- just onto your wall.
Confused about what AV Gear to buy or how to set it up? Join our Exclusive Audioholics E-Book Membership Program!
See also: