Paradigm Reference Signature Series V.3 - First Look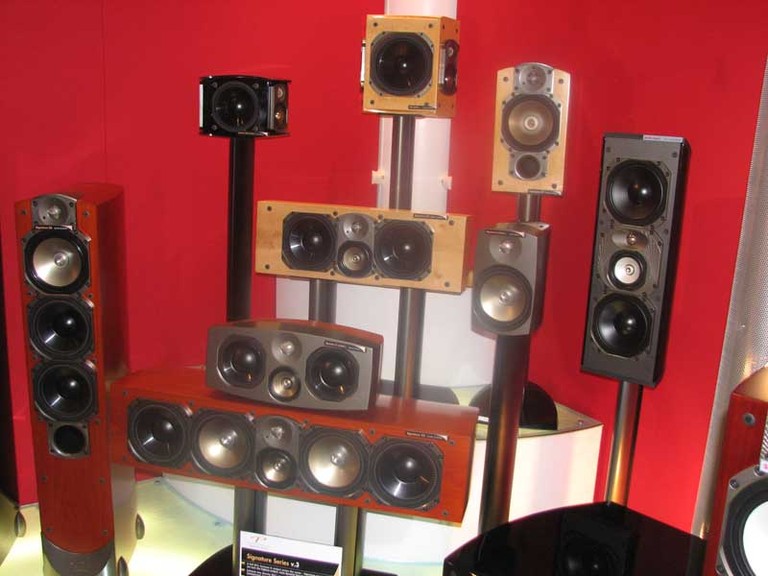 Paradigm Reference Signature Series v.3
Summary
Executive Overview
Paradigm  unveiled a 3rd version of its flagship Reference Signature Series which are claimed to be the highest output, most dynamic high end loudspeakers ever produced.  Contributing to v.3's 50 percent increase in output (3dB more sensitive) are extensive modifications to the bass/midrange drive units. Signature v.3 bass/midrange drivers are fitted with extreme low-density NLC™ (Non-Limiting Corrugated) TPE surrounds, FEA*-optimized and overmolded onto the cone. Paradigm claims 10 times more effective than standard thermoplastic elastomers in damping vibrations and resonances and the new corrugated design has increased peak-to-peak cone excursion from 20-mm in earlier versions to a full 30-mm. A new long-stroke split-coil motor system takes advantage of the extreme excursion by doubling the linear portion of the stroke without requiring a larger magnet. The redesigned motor also keeps mass and inductance of the voice coil low for breathtaking midrange clarity.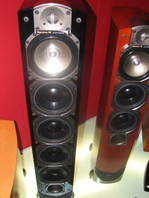 Bass cones on Signature v.3 speakers were re-engineered for increased stiffness and better equipped for higher output with new NLC™  Santoprene™ surrounds. To support the extended excursion, the motor structure was also redesigned, increasing the linear portion of the stroke through voice coils almost double the original in length. New core parts including a yoke and pole piece were retooled and FEA-optimized and even the magnets were thickened to accommodate double-distance cone travel.
Value-conscious audiophiles will appreciate the option of Paradigm Reference G-PAL™ (gold-plated pure-aluminum) dome tweeters on the compact S1, C1 and ADP1 models, making the Reference Signature experience even more attainable.
Upgrades to Signature v.3 Bass/Midrange and Bass Drive Units
Overmolded NLC non-limiting corrugated TPE (Santoprene™ for the bass
drivers) surrounds
Redesigned Nomex™ Spiders
Redesigned die-cast aluminum heatsink chassis with AVS™ cooling
Advanced split-coil motor system (bass/midrange drivers)
Cutting-edge long-stroke motor system (bass drivers)
Thickened permanent ceramic (hard ferrite) magnets with focused-field geometry
Retooled magnetic pole piece and metal top plate (bass drivers)
Metallized high-integrity dust caps (bass/midrange drivers)
Injection-molded mineral-filled polypropylene bass cones boast a 30% increase in mineral content
The Signature v.3 lineup (prices shown are cherry finish, U.S. FMV):
S1 G-PAL™ – Two-driver 2-way compact bookshelf, G-PAL (gold-plated, pure-aluminum) domes - $599/ea
S1 P-Be™ - Two-driver 2-way compact bookshelf, P-Be (pure berrylium) domes - $799/ea
S2 – Two driver 2-way bookshelf - $1,299/ea
S6 – Four-driver 3-way floorstanding - $2,599/ea
S8 – Six-driver 3-way floorstanding - $3,499/ea
C1 G-PAL™ – Four-driver 3-way center, G-PAL (gold-plated pure-aluminum) domes - $1,099/ea
C1 P-Be™ - Four-driver 3-way center, P-Be (pure berrylium) domes - $1,299/ea
C3 – Four-driver 3-way center - $1,999/ea
C5 – Six-driver 3.5-way center - $3,499/ea
ADP1 G-PAL™ – Five-driver 3-way surround, G-PAL (gold-plated pure-aluminum) domes - $999/ea
ADP1 P-Be™ - Five-driver 3-way surround, P-Be (pure berrylium) domes - $1,299/ea
ADP3 – Five driver 3-way surround - $1,599/ea
Initial Impressions
Ribbed.  It's not just for her pleasure anymore.  Paradigm has carried this ribbed/corrugated butyl rubber surround theme into their entire Signature product line for a claimed 3dB more efficiency and higher output over its predecessors.   Nick Platsis, Anthem Product Manager, gave me quite a lecture on the merits of their new series, particularly the S2s which piqued my interest into contacting them after the show to line up a review.  We've always been impressed with the quality of Paradigm speakers so we are confident these won't disappoint.
For more information, visit:  Paradigm

Unless otherwise indicated, this is a preview article for the featured product. A formal review may or may not follow in the future.
syd123 posts on September 19, 2009 09:26
For what reason would Paradigm be trying to improve the efficiency of the Signature series when this is already one of their competitive strengths? ..I have S8's (v.2) and they are by far the most efficient speakers that I have owned (Vandersteen 3A sigs, PSB Stratus Minis, Spica TC-50's). I drive them with a 150w. Bryston 3Bsst amp and they play unbelievably loud without the slightest hint of strain. ..And their bass extension is absolutely extraordinary as well (for music, anyway; if you're into HT you'll need a Sub no matter what main speakers you use). Moreover, in NONE of the professional reviews of the Signatures that I have read has lackluster efficiency or bass extension been noted. ..Again, these were always mentioned as strenths.

..To be honest I can't help but wonder if ditching the Phase plug isn't really just a way to hold down manufacturing costs. ..I'm sure that with the economy being what it is Paradigm is probably selling fewer of their Signature speakers than what was originally planned for the lineup. Reducing mfg. costs of the series could be a way to achieve the required return-on-investment at lower sales volumes. ..And I don't mean this as a criticism. All business need to make money to stay in business and Paradigm is not exception. ..Even if this is the case Paradigm sells great speakers at very competitive prices.

In any case, before believing reports that the V.3's SOUND better than V.2's you should make sure that any comparisons are made side-by-side with volumes levels precisely matched. ..To say, "I heard them at the show and they certainly sound better" is basically meaningless.
KEW posts on September 19, 2009 00:34
gene, post: 624770
Also, phase plug drivers typically don't play as loud in that region and are more prone to bottoming out than a similar driver with a dust cap.

So, if Paradigm's objective is to get higher efficiency out of these speakers, eliminating the phase plug would make
some
sense?
gene posts on September 18, 2009 10:11
Most of what Brian writes about the phase plug is spot on but there are some downsides too. B/C of the reduced surface area of the cone, you sacrifice a bit of efficiency at the lower frequencies. Also, phase plug drivers typically don't play as loud in that region and are more prone to bottoming out than a similar driver with a dust cap. As a midrange, they can work wonders in a 3 way system since the driver can play higher in frequency and blend better with the tweeter. They can also reduce off axis beaming which can improve imaging as well.

So the question remains is the driver in the v.3 a true phase plug or just a fancy dust cap? I emailed Paradigm for clarification.
Warpdrv posts on September 18, 2009 09:09
Excerpt from a review on the .v3 Studio 20 by "Secrets of Home Theater" written by Brian Florian….. found
HERE
While at first glance, the mid/bass driver appears similar to the previous version of this speaker, it has been redesigned. New is the solid aluminum phase plug. If you've never seen one in the flesh you might think is is simply a cone-shaped dust cap, but it's not.

Unlike a dust cover, a phase plug is not part of the moving mass, but rather is fixed to the stationary motor structure. So, the speaker cone moves back and forth, but the phase plug does not move at all.

The voice coil drives the center of the cone in a piston-like manner. The design of the cone then takes into account the required stiffness, mass and loss characteristics in order to maximize its performance. With a phase plug, you reduce the path length differences about the cone surface, smoothing and reinforcing the frequency response, particularly in terms of the highest frequencies the driver is capable of (in fact, Paradigm tells us the differences made by the phase plug vs. a dust cap can be seen/measured right through the crossover region).

Other potential benefits gained from incorporating a phase plug include eliminating compression under the dust cap (reducing distortion in extreme cases), reducing air flow through the VC gap (which can get quite turbulent in extreme cases and is certainly unpredictable). There is some thermal dissipation one gives up by doing this, but the phase plug itself can serve as a heat sink for the voice coil and magnet pole.

All in all, while it should never be taken at face value as automatically translating into a superior product, a properly designed driver encompassing a phase plug makes a heck of a lot of sense over the established tradition. So, why don't all speakers have phase plugs? It is more expensive to build them this way.

bigred7078 posts on September 18, 2009 00:33
Warpdrv, post: 624647
I had a hard time finding info as a plus or minus one way or another
here.
probably because not to many companies have acutally done this.
Post Reply
Confused about what AV Gear to buy or how to set it up? Join our Exclusive Audioholics E-Book Membership Program!