Klipsch R-10B Soundbar - Setup, Sound & Conclusion
Klipsch R-10B Soundbar - Setup, Sound & Conclusion
As we touched on, cost and size are at a premium with soundbar systems, so they're just too small for extraneous features. While HDMI seems like a no-brainer for audio/video today, many soundbar systems in this price range don't include it. The reason given is that a soundbar isn't meant to be an A/V system - it's designed to replace your TV speakers. It's recommended that you hook your soundbar to your TV's audio output, meaning your TV takes on the role of A/V receiver. So, you'll want to take inventory of exactly what audio output options you have before buying a soundbar.

Inputs

Digital Optical
RCA Stereo
Bluetooth aptX
Setup of the soundbar is ultra-convenient, with only the two units, the sub and soundbar, needing to be plugged into the wall. The soundbar can be mounted on the wall, and will not look out of place beneath a TV in the 50-inch range.  The soundbar accepts either optical digital or traditional stereo RCA connections from your TV. Once powered up, the sub and soundbar will find each other and operate seamlessly.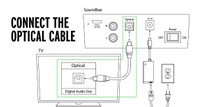 One criticism about the R-10B is the lack of a coax digital input. This is a steeper limitation than the lack of HDMI, considering coax outputs are more common than HDMI on most TVs today. Your only digital S/PDIF option is optical, so if you're considering Klipsch as your soundbar, make sure you can feed a digital optical or RCA stereo signal, as those are your only hard-wired input options.
Speaking of non hard-wired audio inputs… the Klipsch R-10B took a HUGE step in the right direction for including Bluetooth aptX.
While Bluetooth speakers are commonplace these days, not many offer the kind of high fidelity sound worthy of our music collection. But advances to Bluetooth like aptX deserve a listen, while it might not be perfect it's far superior to A2DP. Those of you using this soundbar as a primary audio playback will welcome convenience of high quality streaming audio from a mobile device that is aptX enabled.
If you live in an efficiency flat you might not even need a TV; with just a laptop or tablet with Bluetooth, you'll be treated to room-filling sound. A high quality Bluetooth sound-stream is also nice when friends come over with music on their cell phone. You can effortlessly let them DJ your evening for a change.
DSP for Movies and TV

Digital Sound Processing is where the magic happens in a soundbar system. Limited space in your listening area and smaller enclosures mean conventional speaker technology won't produce big-speaker sound, or even the illusion of big sound. DSP can mean the difference between dynamic audio that envelops and surrounds you and sound that just kind of lays there, unmoving. DSP is also instrumental in balancing dynamic range, so that dialogue is heard just as clearly as gunshots on your favorite TV show.
Consumers interested in multiple audio effects will be disappointed in the Klipsch R-10B. Audio devices in this category tend to have options for News, Music and Movie, but this device includes only one DSP effect, which it calls 3D. It's a typical phased-modulation effect that provides a slightly wider sound field, but also tends to provide a slightly more hollow sound. It would take some experimentation to decide what applications would be suited for the 3D effect, but for two-channel music sources it should probably be left off. And while 3D may provide a slightly more engaging effect for some movies and TV, when testing it on comedy and news that only need to present clear dialogue, 3D was just a distraction.
So with the Klipsch R-10B, you get 3D or not 3D, and if you connect to a digital audio source feeding your soundbar Dolby Digital you get a third sound mode (although technically this is not a DSP). However, a good sound system really only needs one sound mode, and doesn't need any DSPs. Perhaps Klipsch built the R-10B with the philosophy that it's better to put the time and effort it would take to engineer DSP modes into the sound and timbre of the speaker system itself – that would be a refreshing change in today's audio.
Sound Quality Tests

The most important attribute to any speaker system is sound, and I'm happy to report this is one place where Klipsch has really outdone most soundbar competitors in its price range.
Its build-philosophy must have been similar to those old BIC disposable razors. The ads for those razors said they put all the quality into the blade rather than the handle, which was hollow. Well, you might not find any hollow handles on the R-10B, unless you're looking for HDMI, digital coax, DTS or maybe a plethora of DSP options. But if you're looking for stunningly detailed sound, it's pretty easy to sacrifice features you can work around, in exchange for sound quality.
The important strength of the R-10B is its musicality. This system should be seriously considered by anyone in the market for a low-cost, low-footprint audio system if they're looking to play back just as much music as TV, movies and video games.
Music Playback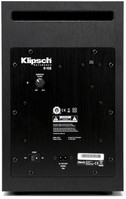 The musical styles tested most thoroughly involved guitars and vocal harmonies that demand detailed middle highs as well as down and dirty bass of electronic dance music, the Klipsch R-10B did not disappoint.
The folk-pop band Of Monsters and Men makes use of vocal harmonies between its male and female singers Ragnar Þórhallsson and Nanna Bryndís Hilmarsdóttir respectively. The group's dreamy soundscapes, described as chamber pop, come alive with detail and a wide soundstage.
The English folk singer who goes by the stage name Passenger provides more intimate fare, just a voice and an acoustic guitar. Up close and personal you can hear Passenger breathe. That the Klipsch R-10B is capable of the impression of a guitar being in the room instead of just a speaker is a testament to detailed mid-highs and impressive stereophonic imaging that doesn't need a DSP.
On the other end of the spectrum is electronic dance music that would be sure to give the R-10B bass response a workout. The first song by Deadmau5 brought the wireless sub to life with jaw dropping effect. Wow.
Never have I heard such deep, hard-hitting bass at high volume from such a small sub. The 8-inch, side-firing sub has its own volume control dial but no remote volume control. You'll probably be tempted to just set-it-and-forget-it, based on your personal preference. But from time to time you'll want to give it a tweak. A slight boost, pushing the volume up over halfway, will make your electronic dance music pump the floor, and even the complex bass-lines of Röyksopp hold together with tight response to the demands of the DJ.
The sub's construction is unusually solid for something at this price range. It features thick wooden (MDF) walls and a rear slotted port with thick rubberized feet to keep it firmly in place and minimize vibrations on any floor surface.
Conclusion
Klipsch R-10B soundbar system would make an excellent audio foundation for a larger television (45-inch or bigger), in an area where space or resources make a component, multi-speaker system impossible. The buyer should know this is a one-shot purchase. There will be no upgrading or integrating any part of the R-10B into any other sound system.
The drawbacks of the Klipsch R-10B include rather sparse input selections, limiting you to only optical digital, RCA stereo and Bluetooth aptX. This system isn't going to wow you with the illusion of surround-sound through the magic of DSP, and so competitive video gaming is out of the question as you won't be able to easily discern footsteps coming up behind you. But few soundbars in this price range will provide you with this kind of articulate rear-channel differential, while also providing the sound quality Klipsch has built into this system.
What the R-10B offers is rock-solid 2.1 audio performance, with a strong musical edge. Although surround effects aren't its strong suit, its 3D mode can help draw the soundstage forward and make dialogue a little more articulate when viewing movies or your favorite TV shows.  Most people would gladly trade effects for rich, detailed sound quality, which is exactly the R-10B's strong point. So, if your planned usage for a new compact audio system will include any music listening, this system definitely worth a look.
Confused about what AV Gear to buy or how to set it up? Join our Exclusive Audioholics E-Book Membership Program!
See also: