Klipsch Quintet III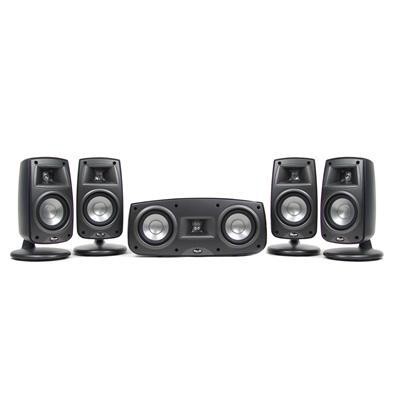 Klipsch Quintet III
Summary
Product Name:

Quintet III

Manufacturer:

Klipsch

Review Date:

November 29, 2007 00:00

MSRP: $500
First Impression:

Pretty Cool
Frequency Response

Satellite: 120Hz-23kHz
Center: 125Hz-23kHz

Power Handling
Satellite: 50 watts (200 watts peak)
Center: 75 watts (300 watts peak)

Sensitivity
Satellite: [email protected] volts/1 meter
Center: [email protected] volts/1 meter

Nominal Impedance
8 ohms compatible

Crossover Frequency
Satellite: 2800Hz
Center: 2700Hz

Tweeter
One .75" (1.9 cm) neodymium magnet compression driver

High Frequency Horn
90(d) x 40(d) Tractrix Horn

Midrange
One 3.5" (8.9 cm) magnetically shielded woofer

Dimensions
Satellite: 8.3" (21.1cm) H x 5" (12.7cm) W x 6.3" (16cm) D
Center: 5" (12.7cm) H x 12" (30.5cm) W x 6" (15.2cm) D

Mounting
Satellite: Base swivels for on-wall mounting via keyholes
Center: Threaded insert

Weight
Satellite: 3.5 lbs (1.6 kg)
Center: 5.5 lbs (2.5 kg)
Executive Overview
No matter what we may think of small cubed speakers as a general category, the fact is that people want them. And as long as there is a demand, manufacturers will provide the supply. But that doesn't mean they have to all be completely lacking in the highs and lows, right? Surely there must be quality brands out there. It was with cautious optimism that we took delivery of the Klipsch Synergy Series Quintet III Microsystem for a first look review.
Once we got the satellites into our hands, we knew we were in for a different experience. The 3.5 inch woofer mated with a 3/4 inch horn-loaded aluminum diaphragm tweeter are mounted in an 8.3 inch high, 3.5 lbs cabinet. The center channel has an additional woofer and is horizontally oriented. They all seem to be much heavier than they look which conveys a feeling of quality and craftsmanship. A glance at the back of these speaker also reveals a mark of quality - real binding posts. Too often with these satellite systems (many of which cost much more than the $500 asking price of the Quintet III's) you'll find spring loaded pressure clips. The binding posts will ensure a strong and stable connection with your wires.
The idea behind these small satellite systems is versatility and the ability to disappear in a room. The Quintet's are just about as versatile as they come with every speaker being magnetically shielded and each of the bases does double duty as either a table stand or a wall mount. Rubber feet and mounting hardware are included. The small size and flat black color will help them blend into the shadows of almost any room. What is expected with this sort of product and is included with the Quintet III's is magnetic shielding. While many may assert that worrying about CRT interference from a non-shielded speaker is a thing of the past (what with all the flat panel and projection TV's being sold these days), the fact is that we are seeing more and more hard drives in the living room. Have a DVR? Perhaps you'd like to set your iPod dock near one of your speakers? You'll be thanking Klipsch for including this "outdated" technology as you won't have to worry about data loss.
Sonically, we expect one thing from horn-loaded speakers in general and Klipsch specifically - volume. The Synergy Series Quintet III Microsystem didn't disappoint. In a small to medium sized room, these speakers will provide you with all the volume you could want. The advantage of using a satellite system, of course, is that the speakers are perfectly timbre matched. You don't have to worry about mismatched speakers messing up your soundstage. What you will have to worry about is bass - the Quintet III Microsystem's price tag doesn't include a subwoofer. The recommended Synergy Sub-10 retails for around $400 so you're looking at a hefty investment. Of course, if you were to ask Tom over at AVRant, he'd probably tell you to bump up to the Sub-12 for an extra $100 or perhaps one of the internet direct brands - one can't have too much bass.
One concern people have with horn-loaded tweeters in listener fatigue from an overly bright sound. Heck, many of our first experiences with horns are PA systems. But Klipsch has been using horns for years and they've got it down to a science. We experienced a very dynamic sound that was as effortless as it was impressive. We encourage you to give these speakers a listen before you prejudge them. We think you'll be surprised at what you hear.
While we'd love to see a package with an included subwoofer, few satellite systems can touch the Synergy Series Quintet III Microsystem on sound and build quality. Even if you splurge on a sub, you're still going to be well under the cost of systems that advertise on late night infomercials. If you've got to go small, these speakers should be on your short list.
For more information please visit www.klipsch.com.

Unless otherwise indicated, this is a preview article for the featured product. A formal review may or may not follow in the future.
Confused about what AV Gear to buy or how to set it up? Join our Exclusive Audioholics E-Book Membership Program!