Atlantic Technology 3.1 HSB Pedestal Soundbar Preview
Summary
MSRP: $699
Drivers: 3x 3/4" tweeter; 6x 4.5" midrange; 1x 6.5" subwoofer
Dimensions: 1/2" H x 36" W x16" deep
Executive Overview
Everyone who's anybody makes a soundbar, which includes Atlantic Technology, who already makes four different models. However, up until now, they didn't make a pedestal style soundbar. 
Introducing the 3.1 HSB, a passive pedestal soundbar with a built-in powered H-PAS subwoofer utilizing a 6.5" woofer. H-PAS is a proprietary acoustic design technology that allows Atlantic to achieve increased bass response out of speakers without making the cabinet as large as typical designs would require. It's this technology that makes the 3.1 HSB particularly interesting. Atlantic says it will play down to 34Hz, which is very impressive for a pedestal-style soundbar. But if you want to be able to dig even lower, you can add any external subwoofer you want because the 3.1 HSB uses a receiver to power its six 3.5" midrange drivers and three 3/4" tweeters.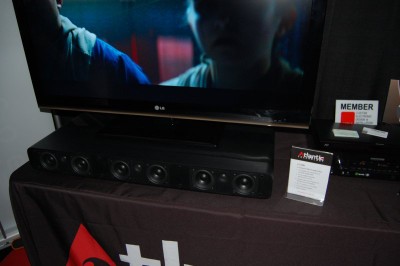 3.1 HSB soundbar with grill off

Passive soundbars have a number of advantages over active soundbars, namely that the consumer is free to choose a receiver with the exact features they want. With an active soundbar, you're largely limited to what the manufacturer chose to include. Passive soundbars also allow you to build an entire 5.1 system with the soundbar simply taking over from the typical left, center, and right speakers The downside to passive soundbars is the same as their main strength, you need to buy a receiver, which means you will have to find somewhere to place the receiver. 
The 3.1 HSB is not diminutive by any means. At 4 1/2 inches high, 36 inches wide, and 16 inches deep, it's a formidable size. This size allowed Atlantic to fit in the powered subwoofer, and it also makes the soundbar large enough to handle up to a 60" TV. 
When we viewed the 3.1 HSB at CEDIA 2014, it looked and felt very sturdy - not surprising, considering the bracing needed to handle the weight of a TV and all of the drivers built into the cabinet. We don't think it will be for everyone, as it's pretty big for a soundbar. We think that the perfect customer is the person who wants a full surround sound, but can only accommodate a soundbar because of room limitations. And judging from our experience with other Atlantic Technology products, we suspect that customer won't be disappointed.
Confused about what AV Gear to buy or how to set it up? Join our Exclusive Audioholics E-Book Membership Program!
Recent Forum Posts: