SLIMstage30 Build Quality
SLIMstage30 Build Quality
Regardless of how much we love our dedicated home theaters, there are plenty of people out there that just want a small solution. They don't have the room or the desire to set up a full system but they still want a surround sound like experience. This sort of customer has a number of different needs for setup including multiple different on-wall placements and on shelf. Manufacturers have to account for all these different needs with their offerings. Aperion Audio has long been associated with quality speakers and subwoofers. When they wanted a surroundbar option, they decided to partner with Soundmatters. Soundmatters has been offering their surroundbar for a while now but with the addition of  one of Aperion Audio's subs, you're looking at package that's got a lot of people interested.
Build Quality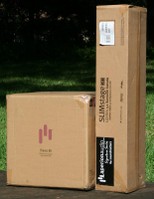 I've received a lot of gear in a lot of different packaging but rarely have I seen anything as well packed as the Soundmatters SLIMstage30. The surroundbar is double boxed with a full layer of foam all the way around it and encased in a canvas bag. There are four unlabeled boxes that contain such accessories as cables, power supply, remote, and wall mounts. All of this is packaged so tightly and so securely that I have to believe that somebody spent more than a few hours on CAD working it out. The packing on the SLIMstage30 was truly impressive.
The Bravus 8A subwoofer was slightly less well packed in that it had open handholds on the side of the box. While the sub was protected from the elements by a plastic bag, the delivery driver managed to rip the cardboard nearly up to the top of the box. Inside, however, the Bravus 8A had foam bottom and top caps and a ring of cardboard around the center for protection. Inside the plastic bag the sub was wrapped in blue and purple velvet bag reminiscent of capes I... I mean those DnD nerds in high school used to wear. I kept waiting for the sub to cast fireball at me.

Taking a closer look at the SLIMstage30, you notice that there are convex rubber feet on the bottom, gloss black endcaps, and nearly wall to wall grill (with drivers/passive radiators pointing in nearly every direction). On the front there are a few controls including Mute, Source, and Volume up and down. There is a readout for power (green light) and surround mode (blue lights – one to three for light to heavy surround). There is a digital display on the front for control and setup. The overall look of the SLIMstage30 is very sleek and high tech.
The back of the unit has a number of inputs and outputs under a removable cover. There are 3.5mm jacks for subwoofer and rear speaker outputs, plus two analogue inputs. There are two optical digital inputs and one coaxial input for multichannel audio. Next to this panel is another smaller area that has a service connection, serial IR, and the power port. Unlike most audio gear, the SLIMstage30 gets power from a laptop-like power supply. The advantage of this is that it will work with most any country's power, the downside is that you have a huge power block to deal with. 

As mentioned, the feet on the SLIMstage30 are convex which means they rock. I was a little perplexed by this until I found the small stands. The feet have indentations on them that allow you to lock them into the stands for aiming them at your listening position. The wall bracket has an aiming system as well so that you can position the SLIMstage30 above or below your display.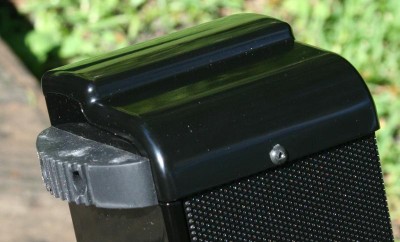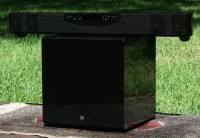 The Bravus 8A sub is a smallish (15" H x 13.5" W x 13.5" D) and light (33lbs) but you shouldn't misconstrue that to mean that it is in anyway not a "real" sub. We've seen so many surroundbars packed with "bass modules" that it is jarring to see a real sub in a package. The look of the sub is impeccable with a gloss black finish. Of course, don't touch it without a microfiber cloth nearby as it picks up fingerprints like crazy. There are two foot options with Bravus – both look like spikes. The fatter of the two spikes are actually rubberized and can be used on hardwood and tile. Then thinner spikes are made out of metal and are designed for carpets. Aperion, anticipating every possible consumer want, included small stands for those that want to use the metal spikes on hardwood/tile. The stands are the diameter of a dime with a small indentation in the center. On the opposite side there is a rubber pad so to not mar the surface of your floor.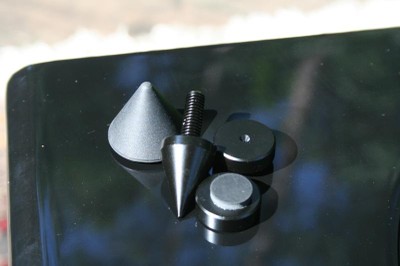 The back of the sub has all the normal controls you'd expect with a removable power cord, variable volume and crossover, and phase and on/off/standby switches. The nice part is that the SLIMstage30 has a variable phase control included. While it is not likely something that a casual user will know what to do with, an enthusiast would. Of course, an enthusiast probably wouldn't have a surroundbar solution in the first place but... whatever. The sub has a downfiring 8" driver with a downfiring port. On medium pile or plusher carpets, you're probably going to run into a problem with the clearance of this sub. I have medium pile and found that at full extension the carpet would probably get in the way if I screwed in the spikes as far as they'd go. I had to back them out about half way before I was sure the driver wouldn't touch the carpet.
Opening up the sub we find that the Bravus 8A is constructed out of 3/4" HDF. The driver is a heavy 8" aluminum cone with an oversized magnet and large surround. The basket looks stamped but is hearty and robust looking. There are three braces in the sub though the diagonal one is just attached to the wall along the long side and not at the ends. The other two braces are connected at the ends into cutouts. The knock test sounds very dead for a sub included with a surroundbar (or any sub for that matter). There is a large piece of polyfil included within the box.
Confused about what AV Gear to buy or how to set it up? Join our Exclusive Audioholics E-Book Membership Program!
Recent Forum Posts: