Seymour AV Screen Build Quality & Assembly
Seymour AV Screen Build Quality & Assembly
One's perception of the product always starts with unboxing.  I personally live 40 minutes from the Seymour AV factory, so I opted to pick the screen up instead paying for shipping.  While there, I did see other screens in boxes, and they seem very well packed!  Thick foam ends, heavy walled cardboard boxes, and Chris informed that FedEx is the preferred shipper here in the US.  Considering the famous YouTube video of FedEx chucking a TV over a tall fence, I would consider this screen quite a bit safer for shipment due to the lack of glass and good quality packing.  None the less, I didn't ask for an eight foot drop test.  The screen and border do come all wrapped in thick plastic and bubble wrap to protect them from factory or shipping damage should the box rip open and sand or dirt gets inside.  Four Sides, eight corner brackets, the screen – two layers in my configuration, blue rubber o-rings, mounting rails and hardware are all included.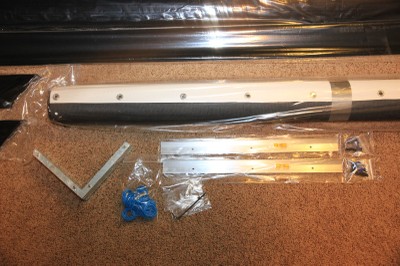 My particular screen installation was probably a bit different than the average person as I wanted the screen to hang down directly from the ceiling instead of against a wall.  I was able to add 6 L-brackets and some bolts from my local hardware store and still use the mounting rails supplied.  Also, since the screen was going to be several feet from the back wall, I opted for the Black Backing layer so there would be virtually no shadow of an image for viewers positioned far to the side.  Typically, the included brackets should be mounted at about the 1/6 and 5/6 image width locations.  Making sure they are both the same height and mostly level isn't too time consuming, but please note that at least one hole in both brackets should hit a wall stud and that an uneven ceiling may affect how square the screen looks once it is hung.  There needs to be a small margin of space above the brackets for the screen to hang on as well.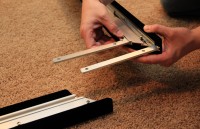 Once the hanging rails were in place, assembly began!  The screen I ordered was 130" wide so I was a bit skeptical about the screen coming out perfectly square on the corners.  My fears were unfounded as there were two 3/16" thick steel brackets for each corner that tightened down with 4 locking screws each.  Sliding the brackets in was quick, but the corners need to be held together while tightening the screws.  The included hex wrench made it easy, and even if I didn't hold the corner super tight, there was still no visible gap on the front side due to the thick black border wrapping around the edges.  There is also some adjustability in the corners in case I needed the height to be a little tighter or looser for the panels to fit perfectly.  I didn't do this initially and we'll discuss the panel fit later on.
With the frame now assembled upside down the floor, it was time to unroll the screen.  Some silver looking tape held the screen roll shut, but it wasn't duct tape.  It peeled off perfectly leaving no residue at all.  The black backing was rolled up with the screen material, so it was obvious which side of screen faced out.  While both sides of the screen material measure the same, it's recommended that the inside surface of the roll be used for the image side since that is the side inspected for blemishes.  Some may prefer the look of the "alternative" side, so you can use that if you prefer or if for some reason you blemish the other side later on.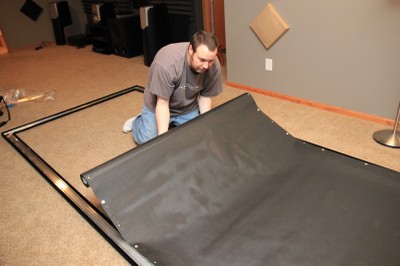 Once unrolled, there was a bit of the silver clean tape over the grommets at one end to protect the grommets from marking the screen.  At this point, the blue rubber o-rings were looped around the grommets on all sides to attach and stretch the screen.  It didn't seem to matter which order I added them, but I did notice that the black backing only had grommets for every other hole instead of every hole like the actual screen material.  I assume this saves a little cost on the end of SeymourAV, but also keeps the majority of the tension on the all-important screen layer.  Once fully banded, the black backing had just a few minor waves, but when lifted to the vertical position, the front of the screen was perfectly smooth and even. 
The entire mount and build process took around 2 hours, but I was taking photos with my wife and examining all the little details for the review.  I think if I were to build one again, it would be an hour or less with a normal wall hanging, even if I had had no assistance at all.  With the impressive and sturdy corners, the very flat screen surface, and included mounting hardware make for an easy install and tough screen!  I do have to note that even though I didn't personally try it, the Seymour AV website has a video of Chris Seymour's daughter jumping up and down on the screen material, so it should be able to withstand the likes of children on your walls.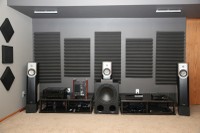 My personal install required the help of a friend to lift and hang the screen due to its size.  I personally wanted the largest screen I could fit in the space, and it hung in front of all 3 of my speakers.  I ordered a 2.4:1 ratio screen instead of the 2.35:1 screen listed on the site, but the price was the same with the minor ratio change.  Also, because of hanging in front of all 3 front speakers, I wanted to have some side masking panels for normal 16:9 video, but they had to be acoustically transparent as well due to my speaker placement.  They came boxed separately from the screen due to their shape and no assembly was required.  After the screen was hung, you simply insert the bottom edge of the panel with the placement pick in between the screen and the frame, push the panel up and it just snaps into place via very firm magnetic force.  Neodymium magnets on the sides of the panel and screen frame hold the top, bottom, and side in place and there was a pretty cool Seymour AV guitar pick screwed onto the bottom of the panel along with a sticker on the back side so you know which panel to place on which side.  A small amount of force was needed to snap them back out and they side nicely at the side of the room when we watch full cinemascope movies.  I should mention that not even my behemoth Elemental Designs subwoofer causes them to rattle while hung.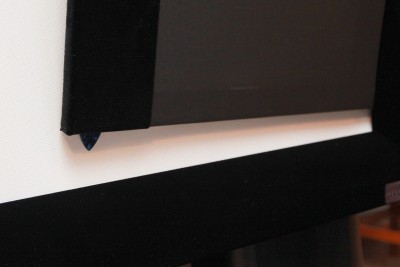 Confused about what AV Gear to buy or how to set it up? Join our Exclusive Audioholics E-Book Membership Program!
Recent Forum Posts:
basspig posts on April 17, 2018 21:21
I have had this screen material since 2009. I was very concerned about sound so I took measurements with room EQ wizard before and after installation. I saw no measurable differences below 18 kilohertz but above 18 kilohertz I saw about a 2db of attenuation and some comb filtering effects. I think that was reflection against the baffle boards at the speakers. Otherwise no audible difference to my ears.
moves posts on April 03, 2018 19:34
Is seymourAV and seymour screen excellence the same brand?

NVM I see that they are but each site offers different types of screens.
BMXTRIX posts on November 10, 2012 15:16
I think this is one of those rare situations where I would go with DiY as well if you are a bit handy. I would consider this very much for my basement setup if I end up going with a permanently fixed frame screen location. It may take a while to build properly, but the end result should last for years.

They have received high praise it seems from about every single person who has used one, and I like that they specifically mention that Carada masking systems can be used with their screens. It means that they aren't looking to be better, but to be different and excel in their own area where they are different and they recognize quality in another manufacturer.

Speaks volumes when companies work together to build each other up like that and something I truly appreciate seeing.
GO-NAD! posts on November 10, 2012 06:49
DS-21, post: 921033
Any "screen/no-screen" difference measurements?

"Acoustically transparent" is a claim that should be tested.
Using the trusty old Radio Shack SPL meter and an audio test disk revealed that there wasn't more than about 3db of change to any frequency I tested for the speakers alone, with the screen, or even with the screen, secondary black backing layer AND masking panels.* Of course, the accuracy of my meter has an error of margin and is not as accurate as I wanted, but my ears heard no objections during music listening and movie watching as noted below.
I don't think the phrase "acoustically transparent" is meant to be taken literally. It just indicates that loudspeakers can be be placed behind the screen with little appreciable impact on the loudspeakers' FR. I doubt that there is any fabric on this planet that can make that claim in the literal sense - for screens or speaker grills.
I bought the Seymour XD fabric and Fidelio black velvet for a 104" screen and built my own frame. Even with shipping to Canada, the whole thing cost me $500. Granted, I bought rough wood, planed, routed and cut it to size myself. But, if you have the equipment and some basic skills, it's a great way to save money. When I was planning my setup, I asked my A/V dealer about AT screens and he said that to order a ready-made screen from him would cost about $2500!
I am very pleased with my screen and wouldn't hesitate to recommend Seymour.
DS-21 posts on November 08, 2012 20:48
Any "screen/no-screen" difference measurements?

"Acoustically transparent" is a claim that should be tested.
Post Reply