Samsung SP-A600 DLP Home Theater Projector First Look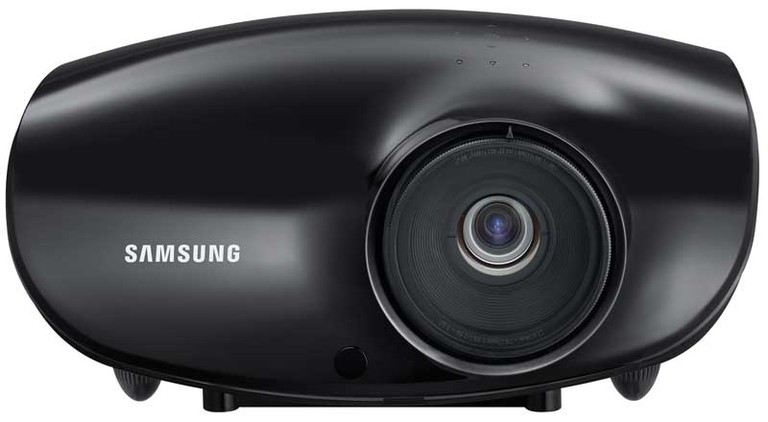 Samsung SP-A600B projector
Summary
Product Name:

SP-A600B Home Theather Projector

Manufacturer:

Samsung Electronics

Review Date:

September 15, 2009 08:23

MSRP: $1795
First Impression:

Mildly Interesting
DLP optical engine
16:9 Aspect Ratio
1,000 ANSI Lumens
1080p Display
3,000:1 Contrast Ratio
6 Segment Color Wheel
(2) HDMI, VGA, Component, S-video, and Composite Video In
1.99 Short Throw Lens Ratio
Executive Overview
Is it possible to get tired of hearing the words "1080p" projector? It is when that appears to be the best thing going for a particular model. It seems like most manufacturers are so tickled to be able to rattle off those numbers as if they are anything other than the most expected of specifications. Nevertheless, Samsung showed up at the 2009 CEDIA Expo with it's new SP-A600 DLP home theater projector - a product that aims at taking its higher end SP-A800 home theater projector and bringing some of that functionality to the masses. It's a good move, considering the company's last two home theater projectors left a price gap of $8000 between the two models. With an expected retail price of just $1,795, the new SP-A600 might just take Samsung into the "mass-market" playing field.
The A600 includes the same image performance and color quality of the acclaimed A800 and A900 Full HD 1080p "Joe Kane Signature Series" projectors. The projector, like the A900, uses built-in color settings for HDTV, SMPTE-C and EBU broadcast color standards. Brightness is stated at 1,000 ANSI Lumens and the "real world" contrast ratio is given at 3000:1 (leaving us to assume it remains a DarkChip2 model). The SP-A600 includes a 24-frame film mode delivers a high-definition picture and the extremely quiet operation completes the home theater experience.
The SP-A600 is an attractive projector, with rounded edges and a glossy black finish. It is quiet and weighs less than 13 pounds. The 220 watt lamp has an expected life of up to 4,000 hours in eco mode or 3,000 hours in high bright mode. With a shorter 1.99 throw ratio, the SP-A600 offers the flexibility of being placed closer to the screen either table-top or mounted on the ceiling.
The A600 has full connectivity and offers popular video capabilities for video sources or even a PC. The SP-A600 has two HDMI inputs and connections for component, composite and S-Video. For PC connectivity, an analogue 15-pin VGA/HD15 style input is also available.
There is a LOT of competition at this price point. With no vertical lens shift and a dramatic specification shift from this to the SP-A900 model, you can imagine that we're fairly certain Samsung's newest projector will have its work cut out for it when clamoring for the sub-$2000 projector market. Still, the more the merrier and competition, as we always say, is never a bad thing.
All data and home theater projectors are available through Samsung resellers and distribution channels, which can be located by calling 1-800-SAMSUNG or by visiting www.samsung.com.
Unless otherwise indicated, this is a preview article for the featured product. A formal review may or may not follow in the future.
FirstReflection posts on September 17, 2009 01:52
The new SP-A900B uses the Darkchip 4, Biggiesized. MSRP is $12,000 so it's WAY more expensive than this "entry-level" A600 unit. But the black levels and contrast are supposedly much improved.

The real advantage of these Joe Kane approved Samsung projectors is their colour accuracy - always has been. These are the only displays I know of that actually switch decoders and gamut to match the program signal. As in: NTSC programming uses the NTSC colour decoder and rec.601 colour gamut, while ATSC HDTV programming uses the ATSC colour decoder and the rec.709 colour gamut.

Most displays only allow you to calibrate for one colour gamut (so the wider rec.709 standard is typically used). And some do not properly detect and switch colour decoders.

Correct gamma and being able to set the colour temperature to the "warmer" 5500K for black & white films are other advantages.

All of that said, JVC's D-iLA projectors are no slouch when it comes to colour accuracy, gamma and colour temperature and they basically destroy the Samsung DLP projectors when it comes to pure black level and contrast. The fact that the JVC projectors can also be had for a lower price makes them even more attractive!

But this SP-A600 is very interesting because if it can deliver the same standard of colour accuracy as the previous Samsung DLP projectors, but do so for under $2000, that would really be something! Black level and contrast are super important, but they are not the ONLY considerations and they are not the last word on image quality. I praise Samsung for their efforts in delivering a truly colour accurate image. And hey, if you have the money, black levels and contrast on the A900B should be highly competitive with the best black level champs out there!
Biggiesized posts on September 15, 2009 13:49
Joe Kane really needs to do a projector in collaboration with Samsung using the DarkChip4. I read the reasons he shyed away from DarkChip3 (versus 2 which is used here), but it only seems logical to start progessing to what's already old technology.
BMXTRIX posts on September 15, 2009 12:45
That's nice to read about, but they definitely do have some significant work cut out if they are going up against the other players in that range. InFocus, Optoma, Sharp, Epson, Sanyo, Panasonic, BenQ, and others are all already playing in that field and I'm not sure if Samsung is up to date on the manual to play in the low figures.

1. What is the actual throw distance ratio range.
2. What is the lens offset percentage?
3. 1,000 lumens? That's pretty low considering some of the alternatives.
4. What's the refresh rate? (60hz? 120hz? 72hz? Fluxuates?)

I would consider HDMI 1.3 standard and it's good to see 1080p/24 acceptance in there, but the playback specification is lacking.

Hopefully Samsung will get this out to the major review sites and not just hope for some magazine coverage as it definitely hits a price point which makes it interesting. But, if it doesn't outperform the HD20, which is $1,000, with similar specs, then it isn't something I would recommend.
Post Reply
Confused about what AV Gear to buy or how to set it up? Join our Exclusive Audioholics E-Book Membership Program!