Samsung SP-A800B DLP Projector Overview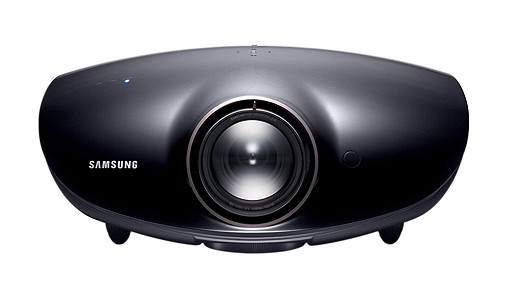 Samsung SP-A800B DLP projector
Summary
Product Name:

SP-A800B DLP Projector

Manufacturer:

Samsung Electronics

Review Date:

June 19, 2008 10:29

MSRP: $9,995
First Impression:

Mildly Interesting
Panel
0.95-inch DMD x 1

Resolution
1920x1080
Light Source

300W lamp

LAMP Lifetime

2,000 hours

Brightness
1,000 ANSI lumens

Contrast Ratio

10,000:1
Color Wheel

6 segment

Zoom/Focus
Manual/Manual
Inputs
2 x HDMI
2 x YPbPr
HD15/PC
S-video
Composite
RS-232C

Lens Shift

Vertical only

Audible Noise

25 dB

Power
380W
Dimensions
17" H x 8.3" W x 18.9" D

Special Features

Dynamic Black
1080p/24 support

Chipset
Scaler: STP10
DMD Controller: DDP3021

MSRP

$9,995

Executive Overview
The new SP-A800B DLP projector from Samsung Electronics looks to be a nice addition to the 1080p DLP family, though it lacks some advanced features (like DarkChip3 or horizontal lens shift) we'd expect at its $10k price point. To squeeze out the highest quality home theater experience and color reproduction, Samsung teamed up with Joe Kane, a well-known and highly respected authority on visual imaging equipment and development. The result of this collaboration is a premium high-definition projector that reproduces astonishing flesh tones and natural colors. The SP-A800B allows users to freely select the color space for the three broadcasting formats (SMPTE-C, HDTV, and EBU) to deliver accurate projection regardless of format. In addition the projector has the capability of matching the gamma response curve of ultra-expensive studio video equipment. We've hung around Joe a few times - the man knows color and so we're expecting Samsung's new DLP projector to really shine in terms of its color accuracy.

In addition to its native resolution of 1920 x 1080, the SP-A800B uses a 0.95-inch DLP chip which boasts an impressive 95% aperture ratio and a fast 16 microsecond (0.016 millisecond) response time to further facilitate accurate and natural motion graphics. Gamers rejoice - this projector just might give you an advantage.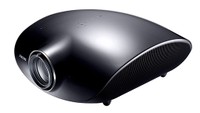 The HD projector features a stated dynamic contrast ratio of 10,000:1, so even our in-house measured ratio should be respectable. The projector also allows a native film mode refresh rate of 24 frames per second, matching Blu-ray and DVD discs and eliminating judder.

Incorporated into the SP-A800B design is a low-noise cooling system that supports and maintains whisper quiet installations - just 25db in theater mode.
The exterior unit features a "shark fin" design that looks very sleek. Touch-sensitive controls are provided on the unti to maintain that uninterrupted look and give it a highly modern feel. Color temperatures can be selected by number (as opposed to "High, Medium or Low") and there are seven picture modes. They include a 5500K mode - great for watching Black and White movies in that "near sepia" color tone that is pleasing to the eye and much more authentic.
While the projector features adequate zoom settings, the lack of a horizontal lens shift means that you'll need to take extra care when installing this projector. At this price the lack of motorized controls and complete lack of horizontal lens shift is a disappointment.

Specifications Breakdown and Comparison
Samsung released the A800B along with its lower-priced A400B model, allowing consumers the choice of an upper-scale system and a more affordable DLP choice. Both units feature DarkChip 2 technology and though they come in similar outer packaging the innards are considerably different:
Spec
SP-A800B
SP-A400B
Panel
0.95-inch DMD x 1

0.65-inch DMD x 1
Resolution
1920x1080
1280x768
Light Source

300W lamp

200W lamp
LAMP Lifetime

2,000 hours

3,000 hours
Brightness
1,000 ANSI lumens

2,000 ANSI lumens
Contrast Ratio

10,000:1
2,500:1
Color Wheel

6 segment

5 segment
Zoom/Focus
Manual/Manual
Manual/Manual
Inputs
2 x HDMI
2 x YPbPr
HD15/PC
S-video
Composite
RS-232C

HDMI
YPbPr
HD15/PC
S-video
Composite
RS-232C
Lens Shift

Vertical only

None
Audible Noise

25 dB

30 dB
Power
380W
280W
Dimensions
17" H x 8.3" W x 18.9" D

13.5" H x 6.4" W x 13.7" D
Special Features

Dynamic Black
1080p/24 support

Brilliant Color

Chipset
Scaler: STP10
DMD Controller: DDP3021

Scaler/DMD Controller: DDP2230
MSRP

$9,995

$1,999

Like all Samsung projectors, the SP-A800B projector is backed by a two-year limited warranty on labor and parts as well as toll-free technical support for the life of the display. For more information call Samsung because they don't seem to have these products online in the US.
Unless otherwise indicated, this is a preview article for the featured product. A formal review may or may not follow in the future.
timone posts on June 26, 2008 09:49
I'm looking forward to reading more about this projector - reviews by experts, owners' experience etc. I have been doing research on the JVC and EPson units, which have very favourable reviews. Unless, the Samsung has something revolutionary and the difference it offers is night and day, there is no way I'd shell out $10K for it.
Adam_G posts on June 22, 2008 16:15
You need to see this PJ

Having lived with one for the last three months I am very happy with it. I compared it (side by side) with the JVC RS2 and the Marantz (last years model). The lens is very high quality and the color is spot on. The lack of verticle lens shift is disappointing, but not really a huge deal if you center the PJ. You have to add a 3K scaler to the JVC to get similar color.
AcuDefTechGuy posts on June 21, 2008 23:31
aarond, post: 425103
exactly who in there right mind would pay this much for a single chip projector?
Marantz has a $17,000 projector (anamorphic lens) with only a single 0.95" DLP chip.
I think you would have to pay $30K to get a 3-Chip DLP PJ.
But I agree. Samsung is out of their minds.
BMXTRIX posts on June 21, 2008 09:38
aarond, post: 425103
exactly who in there right mind would pay this much for a single chip projector?
Runco buyers have been doing this for years and swearing by their decision to do so.
I'm in complete agreement though. I don't care how this product rates individually. It does NOT exist in a vacuum and if any place is to hold credibility they should take that projector and put it up against the class leaders for HD. The Epson 1080UB, the JVC RS-2, the Sonys.
I do think that DLP seems to be lacking with some lower priced top shelf models, and this is largely due to the unavailability of lower priced models with the lens shift and zoom range that the current LCD/LCoS projectors are able to deliver. DLP is really messing up with that design flaw.
Just my opinion, but if this is fully reviewed, I hope it is put into the context of the actually competition it faces, not just up against other boutique brands.
aarond posts on June 19, 2008 18:57
Dezoris, post: 425051
Wheres the 3 chip?
exactly who in there right mind would pay this much for a single chip projector?
Post Reply
Confused about what AV Gear to buy or how to set it up? Join our Exclusive Audioholics E-Book Membership Program!