Build Quality and Setup
It's almost impossible to explain to people that they can get a 100" front projection system for a similar or less price than a flat panel of one quarter the size. Or, for the same price you can get a 3/4 size rear projection DLP that will fuzz out on the edges and look terrible off axis. "But how will I set it up?" they ask. To this, I respond, "It's a 100-inch screen, you'll figure it out."
One of the larger arguments lately has been that in order to get a similar price, you needed to "settle" for a 720p projector. Not anymore. Optoma has upped the bar with their release of the HD20. This sub-$1k projector is full 1080p, has more than enough inputs for most applications, and gets you into a front projection system for an unbeatable price. Value shop for a power retractable screen and a mount and you're only out around $1700. I know lots of people that have paid that (and more) for a 50" flat panel. Tack on a couple of hundred (max) to have someone install all that for you and all the arguments disappear. Of course, the question is how it performs. At this price, if it turns on it's pretty much a success. Well, I'll spare you the suspense - it turns on.
Build Quality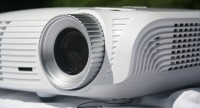 The Optoma HD20 arrived in good working order in a dedicated box with air filled packing protection. The Optoma HD20 is white, has a lens cover, security bar (for locking the projector), and top controls. The body is constructed out of white plastic with grey highlights. The lens is mounted on the right (if the projector is upright and you are facing it) with a series of vents on the other side. The unit feels well-built and sturdy. The top of the unit has everything you need to control the HD20 if you lose the remote or if you have it table mounted. There are dedicated source, power, and menu buttons along with directional controls for accessing and navigating the menus. Near the lens there is a 1.2:1 manual zoom control.
Included in the box is the projector, a small remote with batteries, a manual on a CD, and additional warranty information. The HD20 sports a one year parts and labor warranty (typical for 1080p projectors is two years) and a 90 day bulb warranty. The warranty really doesn't bother me too much as you'd expect any problems you come across to develop long before you hit the end of that period. Bulb replacement is typical, but pricy at about 1/4 the price of the unit (replacement bulbs I found online were about $220 to $250) but we've seen worse.
The back of the unit sports a VGA input for computers/HTPCs, composite and component video, and two HDMI inputs. At this price point, that seems about right. There is a USB service port as well as a 12-volt trigger for controlling a screen - a great feature at this price point. The bottom has three adjustable feet for leveling.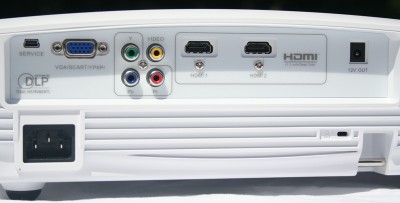 Setup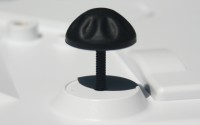 Setting up the HD20 is fairly straightforward. Once you decide if you are going to ceiling or shelf mount, front or rear project, you can get started. Make sure you visit the Optoma website to ensure you have the right throw distance for your screen. The HD20 does have vertical image shifting but no true lens shift so you'll want to make sure you have the right placement centered to the screen. The manual zoom is only 1.2:1 which is typical. There is a feature in the Display menu called Edge Mask which is essentially cuts off the side/top/bottom of the image. This is great if you have some of visual overscanning artifacts like you'll find with some set top cable boxes. It does not, however, take the place of a digital zoom. This really limits your placement options with the HD20 and should be taken into consideration. Also in the Display menu is V(ertical) Keystone. We highly recommend you stay way from any digital keystoning as it can add a number of artifacts.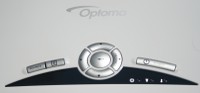 The most important menu is Image with all the normal top level display controls like Brightness, Color, Contrast, Sharpness, etc. We recommend immediately switching the HD20 into Cinema mode and reducing the Sharpness as low as it will go. Depending on your ambient light, source device, and other considerations, your Brightness, Contrast, etc. settings will vary. We found that between different models of DVD players we got very different settings.
Under the Advanced menu (again under Image) is Noise Reduction, Gamma, B/W Extension, Color Temp., and RGB Gain/Bias. The last one is a great feature on what is essentially an entry-level 1080p projector, allowing you to make very fine color correction to the projector provided you have the right equipment. In general we found that setting the projector to Cinema with the Gamma set to Film and the Color Temp to Warm we got very good results. The image was a bit oversaturated but that was easily adjusted to our liking with the Color and Tint controls. Most importantly you need to set your Brightness and Contrast using a disc like DVE or Avia. Expert video calibrators agree that you'll be a long way towards a correct picture if you do just that.
We played with the Noise Reduction and, as you'll see in the testing section below, it preformed very well. One thing that we've experienced in the past is that Noise Reduction processing will often create more problems than it solves. This has not been our experience with the Optoma HD20. That being said, we also haven't run into a whole lot of instances when we've actually needed Noise Reduction. So, we recommend that you play with the feature to see if you notice a difference (good or ill) and have the default as "Off".
The first thing we noticed with the HD20 is that the auto-source function doesn't allow enough time for the HDCP handshake. What this means is that the projector will cycle through the inputs looking for a valid source. With Component (we had our Xbox 360 hooked up directly to the unit via Component video), it would lock on immediately. But if we were using an HDMI input, we'd see the "Searching for input" message and, just as it was locking on (the display would switch to 1080p/60Hz), it'd change to the next input. The HD20 would continue to cycle through the inputs and, if we got lucky, it'd catch the HDMI input, but more often than not it would cycle indefinitely. Luckily the HD20 has a "Source Lock" feature which means you'll have to a switch the inputs manually (or via Macro).
There is quite a bit of light leakage from the front of the HD20 but the grills keep it pointed away from the screen. While my 4 month old son loved to look at it, this is generally undesirable. Our room is painted a dark color so we never noticed any negative effects in the room from the light. In addition the HD20 is also a louder projector than we'd like to see. While it is a good bit quieter than your typical business projector, like the InFocus IN3108 we just reviewed, it is still louder than we want to see in a Home Theater projector. While it wasn't a problem during most viewing, quiet passages were definitely interrupted by the noise.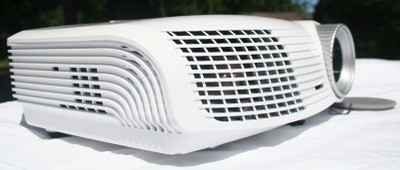 Starting up the projector took only a few seconds (not including input cycling). The Optoma HD20 would show a splash screen while the lamp powered up. Shut down took even less time. The HD20 would exhaust loudly and quickly turn off. Overall, we were pleased with the startup/shutdown time of this projector.
Confused about what AV Gear to buy or how to set it up? Join our Exclusive Audioholics E-Book Membership Program!
Recent Forum Posts:
notryt posts on October 14, 2010 18:16
lens shift

the normal offset is 7.8 hell 8"inches) tilt the projector slightly upward if you need to..usually have to with low ceiling and a ceiling mount.. the picture will start a foot or more below the ceiling. and get about a 3-5"" top and the keystone feature will fix the vertical.. only a little keystone correction goes a long way.I wouldn't suggest tilting it upward more than 6-8" .. I have not noticed any difference in the picture or any additional artifacts tilting it upward (6" on 100" diag. screen) … You only get a very dark gray at best…. so that's the trade-off with a darkchip 2 vs darkchip 3 projector.. compare the price difference and live with this shortcoming..
finishers posts on June 22, 2010 10:22
Black level on the HD20 is only middling, as the projector lacks an auto-iris and has a fairly bright lamp, black areas of an image can sometimes appear very dark grayish…….
tcarcio posts on March 21, 2010 12:02
Good review but I will say this, I have an Optoma and I agree on the performance aspects of the review but Optoma's customer service is one of the worst in the business, IMO. I consider that a dealbreaker but ofcourse others may not. Just my 2 cents.
KASR posts on March 21, 2010 00:32
Great review! I recently upgrade my home setup with a projector and screen - had the new setup for a little over a week now and I did discover one MAJOR flaw…could possible be considered a large drawback:

There really is no going back. I LOVE this screen size and the 1080p on this projector is nothing short of stunning. I'm sure that a trained video critic have and will touch points of where this projector falls short, but for me - I can't see em!

Movie are crisp and clear and I don't know why people say the HD20 is a noisy projector - I can barely hear the damn thing. Of course, the cool down process is a bit loud, but that's only when I'm finished using the theater room. I can hardly count that against it.

Anyone considering a projector setup - as a newly converted: I strongly recommend it. But make sure you get all the details lined out before you do it (room size, wall, screen, etc.) and you'll be well on your way to next level!
BMXTRIX posts on March 17, 2010 21:47
Post Reply