Epson Introduces New Projectors for Fall 2022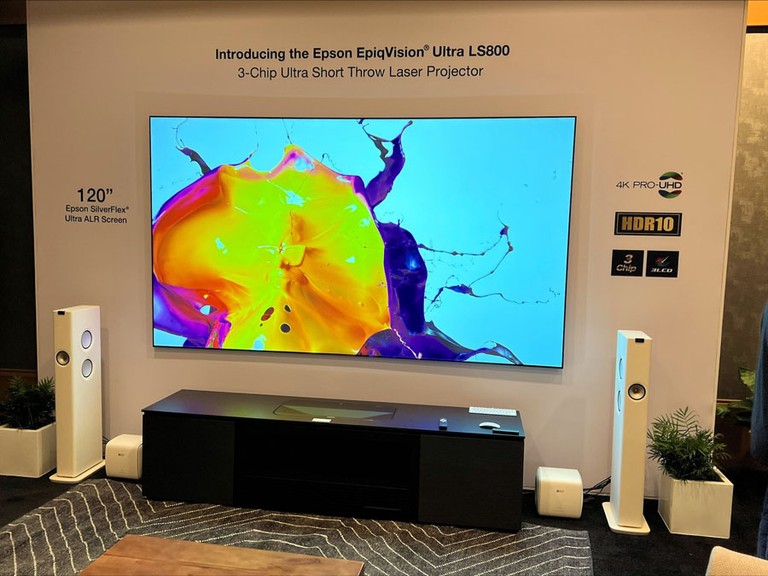 Epson LS800 Short Throw Laser Projector
Summary
Product Name:

Home Cinema 2350 4K PRO-UHD, EpiqVision Ultra LS800 4K PRO-UHD, EpiqVision Flex CO-W01 portable projector, EpiqVision Flex CO-FH02 smart portable projector

Manufacturer:

Epson

Review Date:

October 04, 2022 00:30

MSRP: $1,300 - Home Cinema 2350 4K PRO-UHD, $3,500 - EpiqVision Ultra LS800 4K PRO-UHD, $430 - EpiqVision Flex CO-W01 portable projector, $630 - EpiqVision Flex CO-FH02 smart portable projector
First Impression:

Gotta Have It!
EpiqVision Ultra® LS800

Ultra Short Throw Laser Projector

Modern Low Profile Design
4K PRO-UHD Resolution¹
3-Chip 3LCD Technology
10-Bit HDR Color
4,000 Lumens of Color & White Brightness²
Over 2,500,000:1 Dynamic Contrast Ratio
2.1 Audio System by Yamaha
Three HDMI 2.0 Ports (1 ARC)
16.7ms Input Lag – Ideal for Gaming
Built-In Android TV³
Easy Setup App for iOS & Android
2-Year Limited Warranty
Available in Black or Whitehort Throw Laser Projector
Executive Overview
Just in time for the CEDIA Expo, Epson has announced a whole slew of new projectors for the tail end of 2022. The Home Cinema 2350 4K PRO-UHD ($1,299) is a 3-Chip 3LCD smart projector. Designed with gamers in mind, the Home Cinema 2350 offers serious gaming performance for dual-duty spaces where competitive gaming and home theater meet. The Epson EpiqVision Ultra LS800 4K PRO-UHD ($3,499) is an ultra-short-throw 3-Chip 3LCD smart streaming laser projector promising cinema-level movie experiences, truly immersive gaming, and an epic way to watch sports on a grand scale. Finally, Epson has two new affordable portable projectors for customers looking to combine business utility with home entertainment: the EpiqVision Flex CO-W01 portable projector ($429.99) and the EpiqVision Flex CO-FH02 smart portable projector ($629.99).
The Home Cinema 2350 4K PRO-UHD ($1,299)

Despite the "Home Cinema" name, the new 2350 4K PRO-UHD is really built for gamers seeking a larger, more immersive experience that caters to their specific needs without breaking the bank. This 4K HDR-capable projector does deliver home theater goods as well, thanks to the best-in-class color brightness provided by Epson's advanced 3-chip 3LCD technology. The 2350 displays 100 percent of the RGB color signal for every frame, delivering "outstanding color accuracy while maintaining excellent color brightness without any distracting 'rainbowing' or 'color brightness' issues seen with other projection technologies," according to Epson. But unlike many competing projectors that max out at 60 Hz, the Home Cinema 2350 can deliver a 120 Hz refresh rate (with 1080p resolution). It's not uncommon for gamers to reduce output resolution in order to maximize frame rate, and the 2350 gives them the ability to choose between resolution and gameplay smoothness. The projector also offers low input lag times (less than 20 milliseconds) making gameplay more responsive — an absolute must for competitive gamers. The 2,800 lumens of color and white brightness suggest that daytime gaming sessions won't necessitate blacking out all the windows. Epson says that the Home Cinema 2350 can produce an image of up to (a frankly ridiculous) 500 inches in size.
Leveling up the gaming scene, the new Home Cinema 2350 offers a powerful set of features in a compact form factor, including industry-leading input lag time performance, (an) incredibly bright image, and support for immersive 4K content, along with an epic projected image size up to 500 inches for engaging experiences that will make players feel as though they are in-world. Building off of Epson's top-selling Home Cinema 2000-series projector line, the Home Cinema 2350 is a versatile and powerful solution for enjoying your favorite streaming and gaming content on a big screen.
— Fernando Tamashiro, product manager, Epson America, Inc.
Though not quite as small as Epson's portable models, the Home Cinema 2350 is fairly compact, and its flexible lens shift capabilities should allow for simple setup (+/- 60% vertical lens shift allows for installation on a table or bookshelf, as well as more permanent mounting on a ceiling). For maximum convenience, the 2350 features an integrated 10-watt bass-reflex speaker with bluetooth support, perfect for last-minute setups where no other audio equipment is present. The built-in Android-TV interface provides easy access to streaming services (Netflix, Amazon Prime Video, Disney+, HBO Max, Hulu, and more), and control via a simple-to-use remote with built-in Google Assistant and voice search. The Home Cinema 2350 comes equipped with a two-year limited projector warranty (90-day lamp), and two-business-day replacement with free shipping.
The EpiqVision Ultra LS800 Smart Streaming Laser Projector ($3,499)

The EpiqVision Ultra LS800 is Epson's next-generation 4K ultra-short-throw laser projector, promising "bigger, sharper, and more immersive viewing – even in brightly lit rooms." The LS800's advanced ultra-short-throw lens, combined with a laser-array light source, reportedly delivers exceptionally bright and detailed images in virtually any environment, with vivid colors and deep blacks. Epson's 4K PRO-UHD image processing works in conjunction with the LS800's 3-chip 3LCD technology to provide outstanding color accuracy and a full 4,000 lumens of color and white brightness for every frame, according to the company. Again, Epson promises consistent color brightness without any "rainbowing" or other distracting artifacts. The LS800 Laser Projector can produce an image of up to 150 inches, all while sitting just inches away from the screen. Epson recommends using the LS800 with the brand's own SilverFlex Ambient Light Rejecting Screen, sold separately in 100-inch ($2,000) and 120-inch ($3,000) sizes. These screens are designed to absorb up to 90 percent of ambient light to increase contrast and produce a crisp picture, according to the company.  
Streaming live sports games with an epic, larger-than-life picture from the comfort of your home is the next big thing to being physically at a game. The EpiqVision Ultra LS800 Laser Projector brings an astounding viewing experience with complete content immersion, while only needing to be placed inches from the wall. With a display size up to 150-inches, avid sports fans, gamers, and movie enthusiasts will feel like they are part of all the action.
— Fernando Tamashiro
The LS800 shares some of the gaming features found on the Home Cinema 2350, including the ability to display 1080p/120 Hz signals, thanks to a dedicated HDMI port for gaming. For home theater duty, the LS800 supports 4K HDR content with a refresh rate of 60 Hz. The Android TV interface is the same as on the Home Cinema 2350, but the LS800 includes a much more capable built-in 2.1-channel virtual surround system from Yamaha. The LS800 includes a two-year limited warranty with two-business-day full unit replacement, with free shipping.
The EpiqVision Flex CO-W01 ($429.99) and Flex CO-FH02 ($629.99) Portable Projectors
Designed to mix business with pleasure, the Flex CO-W01 and Flex CO-FH02 deliver "stunning visuals" both for presentations at work and for immersive movie-watching at home, according to Epson. Catering to professionals who maintain hybrid work and home lifestyles (a description that applies to more folks now than ever before), these portable projectors are said to deliver 3,000 lumens and image sizes up to 300 inches. Epson says that both models include a built-in HDMI port and speaker to assist video conferencing; the main difference between the CO-W01 and the CO-FH02 is that the latter includes Android TV streaming smarts, including Chromecast built in. The EpiqVision Flex projectors are sized to fit into satchels or backpacks for true portability, yet both feature Epson's advanced 3-chip 3LCD technology, affording them "best-in-class color brightness to deliver detailed, high-quality visuals in a variety of lighting situations," according to Epson. Both models boast a feature called Advanced Scene Adaptive Color Correction, which automatically adjusts color on a scene-by-scene basis to produce a more natural-looking picture. 
As today's hybrid lifestyles continue to evolve, it is important that professionals are equipped with solutions that are easily adaptable to various environments and suitable for a range of applications. Whether presenting to peers during the day or hosting movie night with friends, larger and more immersive viewing makes a big difference. With the EpiqVision Flex projectors, users will experience the best of both worlds with technology that offers convenience, versatility, and most importantly, incredibly bright and engaging big-screen images.
— Kenny Tang, product manager, projectors, Epson America, Inc.
Built in Audio, Not so Fast!

The CO-W01 features a built-in speaker, but the slightly more capable bass reflex speaker in the CO-FH02 should offer a bit more low-end output. Either speaker will probably get the job done for a small Zoom meeting, but bigger groups will benefit from an external sound system of some kind. For movie-watching, I would be inclined to say that a separate soundbar would be a bare minimum. On a personal note, I have a hard time wrapping my head around watching a movie on a massive screen with the sound coming from a single, tiny, tinny speaker, but that's exactly how my sister and her kids had their outdoor movie nights during the first 18 months of the Covid 19 pandemic. A portable projector threw a massive image onto the side of their garage, and the neighborhood kids sat in the backyard, enjoying the rare opportunity to hang out at night without much risk of spreading the virus. Nobody seemed to mind that the dialog was nearly impossible to hear. I suppose that's the whole point of having a variety of projection products, such as these new offerings from Epson. For every situation and nearly every budget, there's a way to enjoy big-screen imaging at home, at work, or on the go. Do you prioritize the enormous image sizes that only a projector can provide, or do you prefer the simplicity (and potentially higher picture quality) of a TV? Share your thoughts in the related forum thread below.
Unless otherwise indicated, this is a preview article for the featured product. A formal review may or may not follow in the future.
Confused about what AV Gear to buy or how to set it up? Join our Exclusive Audioholics E-Book Membership Program!
G-wreck posts on October 05, 2022 14:29
BMXTRIX posts on October 05, 2022 13:59
gene, post: 1575079, member: 4348
https://www.audioholics.com/projector-reviews/epson-2022

There has been a lot of good stuff from Epson this year. The update to the 2250 will be interesting to see how it stands up against the 3200/3800 models which really aren't that much more money, but have a better optical system and have had much better contrast in prior years.
The cheap 'portable' models seem more like entry level business class junk more than home theater. Certainly the cheap one is a long way from ideal for any home theater use and more for the kids or casual user. The better model FH02 at $630, may prove to be a very solid deal, but only if it has contrast that competes with the BenQ HT2050a ($750). I really like Epson, but there is a reason BenQ has dominated the market for quite a long time with that specific model and still does (IMO). It's a very solid projector, with actual usable features. The lack of ANY zoom on the Epson makes it more difficult to setup as well the lack of lens shift. It's basically a zero feature projector that includes Android TV instead of any features that improve image quality.
I have the same concern about their new UST model. Unless this model is approaching the image quality of the 5050UB, then why bother? These models with less contrast simply don't stand up against the competition, and there are people who DO want premium contrast in a UST LCD projector. Those who are truly RBE sensitive can't go with a Formovie Theater or a AWOL model. I could see Epson releasing both a lower brightness, high contrast UST model, as well as a UST high brightness model and it would be a pretty serious contender against the DLP alternatives if priced well.
And still, no new 4010 model with a proper HDMI 2.0 interface. No updated 5050UB with 4K pixel shifting.
This actually doesn't bug me, but their 3200-5050UB lineup is starting to age. The 5050UB is over 3 years old. The 4010 is about 4 years old. The 3200/3800 is just about 3 years old. They are all getting a bit long in the tooth.
The 2250, by contrast, is not even 2 years old yet at this point and is already getting a new model to replace it, or at least a step up from it for the 4K support. But, it's a fair price jump to get that upgrade.
With all the supply side issues right now, I have zero doubt this is impacting Epson just as it impacts the rest of us. I get it. I'm just ready to see them attack the $1,500-$3,000 range with updated products. That's really been their sweet spot for years.
Sorry, at $5,000, I'm buying a LCoS projector every day of the week.
gene posts on October 04, 2022 04:32
AcuDefTechGuy posts on September 27, 2022 18:55
I just had a guest come over to my house. He's into HT like us. He recently bought a JVC NX7 and 110" screen.

I showed him my HT with my Epson EB-PU1006. Played some samples of movies and ATMOS demo videos.

He looked at me practically with his jaws on the floor and eyes wide open and said, "Wow, I thought my NX7 was pretty good, but your projector is on a whole another level. I've never seen anything that looks this awesome in my life!".

I told him that a lot of guys brag about contrast and black levels, which is definitely important. But high quality lumens is at least as important.
AcuDefTechGuy posts on February 17, 2022 13:26
Is 4K-Native-8.3 million pixels vs 4K-Enhanced-8.3 million pixels as important as Laser and Lumens?

One thing that caught my attention is the pixel-count, which I would rank way below Laser and Lumens.

My Epson EB-PU1006W is 4K-4.6 million pixels, while the new Epson LS12000 is 4K-8.3 million pixels.

Again, I personally don't rank 4K-pixel-count that high, but it is a bit interesting.
Post Reply