$140/pr Monoprice MP-T65RT Tower Speaker Review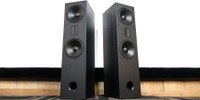 Monoprice is at it again: trying to see how affordably they can produce a speaker that sounds legitimately good. In this review, we look at the MP-T65RT floor-standing speakers, a marvel of cost-conscious sound reproduction. This are floor-standing speakers that manage some really cool tricks at an astonishingly low-price of $140 per pair shipped. Read our full review of this intriguing speaker to see what high-fidelity sound looks like at such a modest cost.
The Monoprice MP-T65RT floorstanding speakers are some of the least expensive we've ever reviewed at only $140/pr. Their performance and value is shockingly good. Read on to find out.