Category: AV Distribution and Accessories
Category: AV Distribution and Accessories
AV Distribution > Wireless Solutions


Company: Gefen
Product: EXT-WHDMI; Gefen Wireless for HDMI UWB Extender
MSRP: $999
www.gefen.com
Gefen's Wireless for HDMI Extender delivers wired-quality audio and video from Blu-ray players, set-top boxes, digital video recorders and gaming systems to HDTVs at ranges greater than typical cabled HDMI solutions. With built-in interference cancellation technology, the Gefen Wireless for HDMI Extender is immune to noise from nearby wireless technologies such as cordless phones, wi-fi networks and cellular phones. With the Gefen Wireless for HDMI Extender, users can place their HDTVs in remote or hard to reach locations without being tethered to cabling, streamlining installations while providing a reliable method of transmission. Resolutions up to 1080p (24 fps) with 5.1 surround sound multi-channel audio are supported at 10 meters (33-feet) in distance or more. In addition to two HDMI inputs, the Wireless for HDMI Extender up-converts legacy component video and analog audio inputs to the HDMI format. It offers Consumer Electronic Control (CEC) support and a traditional IR back channel for control.

AV Distribution > Repeaters, Splitters

Company: MonoPrice, Inc.
Product: HDMI-140E3
MSRP: $334.95
www.monoprice.com
Whether you are look to set up a centralized entertainment system in a home and distribute out to various room, have a sports bar and want to show a program on several screens, or need a video distribution system for a commercial facility, a reliable video distribution system is both economical and essential. Monoprice's newest 1x4 power HDMI splitter, the HDMI-140E3, allows you to distribute a high bandwidth, high definition HDMI signal to up to 4 different displays.  This unit features compliance with HDMI 1.3 specifications. It supports a operation pixel frequency range of 25 to 225 HHz.It can split multi-channel, high resolution audio formats such as PCM, Dolby Digital, and DTS 7.1. A built-in powered equalizer ensure reliable connections for longer cable runs.

AV Distribution > Baluns & Cat5e/6 Solutions


Company: Niles Audio
Product: Niles HDMI CAT-5 Baluns
MSRP: $249.95
www.nilesaudio.com
Available in component-style and wall-mount models, Niles HDMI CAT-5 Baluns are compliant with HDMI version 1.3, which enables next generation HDTVs, PCs, DVRs and DVD players to transmit and display content in billions of colors with unprecedented vividness and accuracy. This provides integrators with a solution that utilizes the latest technology for installations already pre-wired with CAT-5 cable. Niles' HDMI Baluns convert high-definition audio and video signals to balanced circuit topology enabling the signals to be transmitted over long runs of low cost CAT-5/CAT-6 cabling. Operating in pairs, baluns require both a transmitter and a receiver with the transmitter typically located near the source component and the receiver located near a flat panel display.
Category: Accessories


Accessories > Surge Protectors


Company: Panamax/Furman
Product: MIW-SURGE
MSRP: $69.95
www.panamax.com
The MIW-SURGE offers protection for high-end displays and other home theater equipment from damaging overvoltages in an aesthetically pleasing manner. For a clean, code-compliant, and professional installation, the surge protection system mounts in a standard 2-gang cutout behind electronic equipment and offers an ultra-thin profile that allows displays to hang less than one inch from the wall, without unsightly cords in the room.    The signal line module bay is unique in that it provides a variety of optional installation solutions by using a Decora adapter to accommodate a variety of audio/video connections; a pass-through insert for a Keystone adapter or rubber grommet; a Keystone 2-port adapter for flexible connection capability; and accommodates optional MIW signal line modules, including the MIW-5RCA, MIW-VGA, MIW-SVIDEO, and MIW-DATA.
Accessories > Power Conditioners & UPS Systems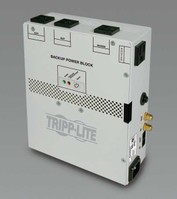 Company: Tripp Lite
Product: AV550SC
MSRP: $229.95
www.tripplite.com
The AV550SC Backup Power Block is the only power protection product on the market designed specifically for structured wiring installations. It provides reliable power protection for audio/video components in structured wiring installations, including modems, routers, RF amplifiers, network interfaces, cameras, modulators and similar equipment. In a single compact, easy-to-install unit, the AV550SC supports connected components with reliable battery backup, surge suppression and EMI/RFI line noise filtering. Features include automatic recycle/reset capability with sequential outlet startup for proper modem and router rebooting, a detachable 6-inch power cord, a 12V DC (1-amp) output connector for12V DC devices, 4 AC outlets, HD-compatible 2.2GHz coaxial and telephone/modem/DSL line surge protection and included customizable labels for cord/cable management. Installation is quick and simple, requiring no special tools or hardware.  With power fluctuations becoming more common with the overtaxed power grids, the AV550SC provides the surge protection and battery backup needed to protect home theater components.
Confused about what AV Gear to buy or how to set it up? Join our Exclusive Audioholics E-Book Membership Program!