2005 Electronics Holiday Gift Guide
2005 Electronics Holiday Gift Guide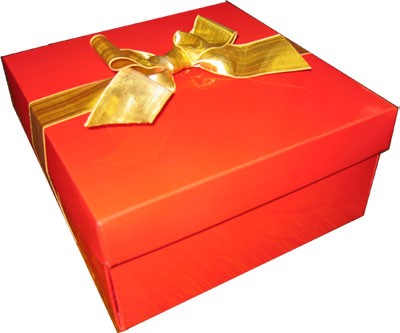 Electronics Gift Guide
Want to buy something special for that audio or video nut in your family? The 2005 Audioholics Holiday Gift Guide will send you some excellent ideas for landing that special Christmas gift that will be enjoyed for years to come. We try to address various budgets so that no one is left out, and there is plenty of great stuff to choose from that we've seen throughout the year. So, with no further ado... read on!
Gifts Under $100
Rives Audio Test CD 2 | Read the Review
Price: $21

Got a tweaker in the house? How about a subwoofer, SPL meter and a CD player? The Rives Audio Test CD is a unique and inexpensive way to determine room and speaker response. It has 1/3 octave precisely calibrated test tones from 20 Hz to 20 kHz for flat response and a series of test tones which compensate non-linearites of the classic Radio Shack SPL meter traditionally used for home theater calibrations. Armed with your trusty Radio Shack SPL meter this Test CD 2, you now have an inexpensive and more accurate way to integrate your sub into the rest of your system and do your best to minimize those nasty standing waves.
Batman Begins DVD: Widescreen Edition | Read the Review
Price: $25 ($15-17 street price) | Find Lowest Price Online


Yes, yet another comic book based movie, but a darn good one. This movie is quite different from its predecessors in that it has a plot that doesn't involve mainstream Hollywood actors embarrassing themselves. It also takes on a much darker, much more serious side to the tale of Batman. Batman Begins explains Batman's origins by highlighting his fears, his training, and his ideologies. The film details the reasoning behind Bruce Wayne's great responsibility to protect the innocent from those who have made Gotham a "city of fear."
Star Wars Episode III: Revenge of the Sith (Widescreen)
Price: $25 ($15-17 street price) | Find Lowest Price Online


Last year we told you to buy the original Star Wars Trilogy in DVD. This year we're saying you should go ahead and nab the final installment of this epic series. Next year, George Lucas will likely release a mega 8-DVD boxed set - and guess what? We'll tell you to buy that one, too. Why? Because we have no choice - it's Star Wars. Ending the most popular film epic in history, Star Wars: Episode III, Revenge of the Sith is an exciting, uneven, but ultimately satisfying journey. Picking up the action from Star Wars Episode II: Attack of the Clones as well as the animated Clone Wars series, Jedi Master Obi-Wan Kenobi (Ewan McGregor) and his apprentice, Anakin Skywalker (Hayden Christensen), pursue General Grievous (computer animated coughing robit) into space after the droid kidnapped Supreme Chancellor Palpatine (Ian McDiarmid). The action only builds from there and this is one of the best-sounding films of the year.
Resident Evil 4
Price: $49 ($39.95 street price) | Find Lowest Price Online


This game is such a departure from the series' heritage that the only familiarity gamers will have with it is through protagonist Leon S. Kennedy, who was first introduced as a greenhorn police officer that spent his first day on the job handling the outbreak in Resident Evil 2. Rather than having maggot-infested zombies gnawing at his neck, crazed villagers are the order of the day. Unlike the slow-witted, slow-moving dead, these adversaries are quite intelligent, extremely agile, and not afraid to use weapons. Picture if you will a group of six murderous souls with beady red eyes glowing under the moonlight running at you with lit dynamite, ducking out of the way of your shots, and calling out for others nearby to lend a hand in your death. This is a new kind of scare that far surpasses the suspense and jump-out-of-your-seat shock moments that fueled the previous chapters in the series. As you'll soon learn, there are few things scarier than a middle-aged housewife that sprints at you with a blood-soaked axe raised into the air, belting out a bloodcurdling scream. I would note Hillary Clinton as an exception, but that's just my opinion.
X-Men Legends II: Rise of the Apocalypse (PS2, Xbox, PC, GC, PSP)
Price: $49 ($35 street price) | Find Lowest Price Online


The original X-Men Legends game showed that popular franchises can make good games on occasion (and that controlling mutants in tights could make for some satisfying entertainment). X-Men Legends II: Rise of Apocalypse builds upon the excitement and depth of character that the first generation game brought to the table. This round introduces the epic storyline of an uneasy alliance between the X-Men and the hated Brotherhood in a fight to reclaim Earth from Apocalypse's grasp. While authored primarily for PS2 and the Xbox, it is not particularly demanding as a PC port, so it can be played on systems that aren't blazingly fast or built form the latest components. Overall, this is one RPG-action game that should not be missed.
Impact Acoustics Meteora Component Video Cables
Price: $48 | Buy Component Video Cables Online


This new mid-priced product from Impact Acoustics can be used to connect that new HDTV you are planning on buying this Christmas (you know you are!) to your DVD player. The cables feature oxygen-free copper conductors and a dual shield. Foamed polyethylene dielectric helps maintain the critical cable geometry and a 6mm, PVC outer jacket and a black polyester sleeve provide the protection your cables need for safe installation. The unique hybrid connector provides the reliability of an assembled connector and the strain relief of a molded connector.
DVIGear Super High Resolution (SHR) Cables
Price: $59.95 – $299.95 | Buy HDMI Cables Online


You scored some great holiday video gear, and now you need the BEST cables available to make sure your system really rocks. DVIGear Super High Resolution Cables are guaranteed to accept all HDTV resolutions up to 1080p and PC resolutions up to 1920x1200/60 Hz - with lengths up to 10 meters (33 ft.) Longer lengths up to 200 ft. are possible using DVIGear's exclusive Active Cable Correction technology. The secret to their incredible performance is in DVIGear's exclusive 22AWG cable – the heaviest gauge available for DVI and HDMI cables, as well as the cable's exceptional low skew – up to 10x lower than conventional cable. 
Gifts from $100 - $500
SLAPPA HardBody Pro Laptop Case
Price: $129


Sure you've bought some of the excellent CD/DVD cases from Slappa, but how about taking that protection and applying it to your laptop? Hmmm... a "Slapptop!" Slappa recently expanded their line to include four new protective cases (including a backpack) for users on the go. The styles include the casual Metro PRO, the rugged Hardbody PRO and Fliptop PRO and the Velocity PRO backpacks. The laptop cases can be used to hold small mixing consoles, books, small pets - and even portable computers. We like the style and design of these new cases and are glad to see Slappa expanding its horizons while still keeping to its core abilities of making durable, good-quality cases.
Apple iPod nano
Price: $249 | Find Lowest Price Online


Yes, we're pimping iPods just like everyone else. They're small. They're fun. They make Steve Jobs very rich. Take everything you love about iPod and shrink it. Now shrink it again. Now shrink it.. .ok, it's not that small. With 2GB (500 songs) and 4GB (1,000 songs) models the pencil-thin iPod nano packs the entire iPod experience into an impossibly small design. So small, it will take your music places you never dreamed of. So small you could accidentally stick it in your mouth like a piece of chewing gum. Did we mention it plays music? We're not ones to easily fall for the Apple-hype machine, but this is certainly a very cool toy to give anyone for Christmas, so put it on your short list and give your loved ones the gift of music.
Slim Devices Wireless Squeezebox v3 Read the Squeezebox2 Review
Price: $299


Heard enough about iPods? How about a wireless music system that can play Internet music, provide top-notch DAC performance, output digital coax and optical, serve as an Ethernet bridge, toast bread and display all sorts of nifty informaiton on its vaccuum florescent display? OK, so we were kidding about toasting bread. This is quite possibly the best wireless music server system for the price. But don't take our word on it... actually, go ahead and take our word on it, I think everyone agrees with us anyway.
APC H10 Power Conditioner/Voltage Regulator
Price: $299

Sure, you can just get a surge protector for $10 and pray it works. On the other hand, with a few thousand dollars invested in home theater equipment you might want to be a tad more cautious. APC's new H10 gives you an unprecedented value in a unit that features noise filtering, surge protection, and automatic voltage regulation (yes, I did say voltage regulation) for under $300. It's also UL approved, unlike many (dare I say most) other power conditioning products, including those that costs about as much as a large LCD television and promise to make your colors more vivid, increase the size of your soundstage, and make standard definition television look like high-def. We use these (and the more robust S-series) in our reference systems - need we say more?
DVIGear 4x1 DVI + HDCP Switcher
Price: $349 | Buy HDMI Switchers Online

Want to switch some high definition video content, but your receiver doesn't handle HDMI or DVI? The DVI-4141 is a high-performance, HDCP compliant DVI Switcher that delivers superior performance and reliability for a broad range of PC and HDTV applications. Designed to meet the most demanding installation requirements, these units are housed in a rugged, yet extremely compact enclosure. Each unit is compatible with the full spectrum of single-link DVI signals with pixel rates up to 165 MHz (1.65 GBit/sec.), which allows them to accept HDTV signals with resolutions up to 1080p and PC resolutions up to 1920x1200 / 60Hz.
Microsoft Xbox 360 Premium Edition
Price: $399 | Find Lowest Price Online

Drool. Wipe. Repeat. The Xbox 360 is powered by an IBM PowerPC-based CPU with three symmetrical cores each running at 3.2 GHz. It also carries a custom ATI graphics processor with 10 MB of embedded DRAM that can render 500 million triangles per second and output native 16:9 HD content. In other words, it's hot and your loved one needs it (are you reading this, Honey?)The Premium Edition has a 12x dual-layer DVD-ROM drive, which plays both the game media and progressive-scan DVD movies right out of the box. For game-save and media storage, users can choose between the detachable and upgradeable 20GB hard drive, or a separately sold 64MB flash Memory Unit. Along with storing files, the hard drive will make the Xbox 360 backward-compatible with part of the existing Xbox game library. If you want an Xbox, but can't afford the trimmings - go for the Core System which is priced at a cool $299.
Rocket ULW-10 Subwoofer | Read the Review
Price: $499


There are certainly a lot of subwoofers on the market today and we won't presume to tell you that you absolutely have to have the dual 12" woofers with a 5000 watt amp and latinum-plated spiked feet... What we will tell you is that for the value AV123 offers on its Rocket line of subs, you may be able to afford a couple - which will, in all likelyhood allow you to improve overall bass response in your listening room. Whether you're getting one or two, the ULW-10 sub packs some mighty fine punch for those who aren't trying to pressurize a football stadium-sized theater room.
Axiom Audio M22v2

Loudspeakers | Read the review
Price: $440/pair
Unless you've been living under a rock for the past several years, you know that Axiom Audio makes some excellent speakers for the money. They sell direct-to-consumer and offer a significant performance value. If your loved one is in need of an upgrade for their home theater, the M22ti bookshelf loudspeakers from Axiom Audio are a great place to start. At just $440/pair these speakers are a great first step to take someone you love from a cube speaker system to something more substantial and accurate. Want to set up a full 5.1 home theater system? Try the Epic Grand Master system for only $1624 which adds a VP100 center channel, QS8 surrounds and an EP175 subwoofer.
Yamaha DV-C6760 5-Disc DVD-Video/SACD Changer | Read the review of the DVD-C750
Price: $229


Yamaha is no stranger to the DVD player market. For years they have been selling DVD players at various price ranges with a host of the latest and greatest features within each respective price class to meet the needs of the market. The Yamaha DV-C6760 is a model update to the DVD-C760 multichanger we reviewed earlier this year. It is a solid DVD changer and represents a decent value and compromise for those users looking to integrate a changer system in their home - one that will also be able to handle SACD and have good video performance as well.
Gifts from $500 - $1000
Carada Criterion Projector Screen | Read the review
Price: $690 | Buy Direct from Carada

Know someone who is still projecting images on the wall? Carada provides well-made budget-priced screens that perform on par with the big boys. A 92" diagonal 1.78:1 (16x9 HDTV) screen with wall-mount and Brilliant White material costs less than $700 and will dramatically improve your picture and viewing experience. Want to save some money? Try the entry-level Precision Series which will come in at under $600 for the same size screen.
Denon S-101 Home Entertainment System | Read the Review
Price: $999


You want to have your cake and eat it to? Denon serves up their new HTIB solution which features a pair of 2-way speakers, an 8" powered subwoofer, integrated DVD player with progressive scan, MP3, and Dolby Digital Virtual Speaker decoding to transform your listening experience as close to 5.1 as possible with just two speakers. Its Graphical Help System and color coded cabling makes it the easiest setup for a HTIB system we have seen to date. Best of all you get all of the performance the paper wizzer cone Bose321 system doesn't deliver for the same asking price and approximate footprint. I suppose you could say, it's the ultimate affordable HTIB system Bose never made.
Gifts > $1000
Cobra Nav One 4500 Mobile Navigation Unit
Price: $1099 | Find Lowest Price Online


Lost? This breakthrough mobile navigation unit from Cobra Electronics is the first truly integrated, portable navigation device featuring real-time traffic updates. The system's small, integrated traffic receiver provides the user with up-to-the-minute info on traffic incidents, congested roads and construction zones in major cities across the country. The compact unit includes 7.6 million interest points, GPS with turn-by-turn direction mode, a full touch-screen interface, 5" LCD screen, 20GB hard drive, 14 levels of map zoom, and personalized route preferences to allow drives to prefer or avoid particualr roads during trips. This is possibly the perfect gift to convince your relatives that it's not a big deal to travel across the country to visit you for the holidays!
Yamaha RX-V2600 A/V Receiver | Read our review of the RX-V2500
Price: $1399 | Buy Yamaha Receivers Online


Looking at separates solutions? How about saving, oh $1500 or so and grabbing a good receiver from Yamaha to serve as the head unit for your home theater system? The new RX-V2600 receiver offers analogue video to HDMI upconversion as well as deinterlacing of 480i input signals (with TBC) and SCALING to 720p/1080i via the HDMI outputs. It is XM satellite ready, has RS-232C control, on-screen GUI system, auto-setup with mic, Burr-Brown 192 kHz/24-Bit DACs for all channels, excellent signal-to-noise, and if you sing to it, it will light up in rhythm to your voice... ok, not that last part. But, you get the picture that this receiver has more features and capabilities as a head unit than just about any pre-pro under $3000 currently on the market.
Da-Lite Acoustical Imager Screen + Speakers | Read the review
Price: $1,925 | Find the Lowest Price Online


A new product recently introduced by Da-Lite may make your dream of having a cinema-sized screen in your home a reality. Da-Lite Screen has partnered with JBL Audio and recently introduced the Da-Lite Acoustical Imager Screen. This is a fixed wall mount screen that incorporates the front left, center, and right speakers directly into the frame of the screen. The screen also comes complete from the manufacturer with a 10 inch, 150 watt powered subwoofer and two small satellite speakers to be used as the surrounds. This ingenious innovation now makes it possible to have a front projection system in just about any room for about the same price as a cube speaker system.
Panasonic PT-AE900U 3LCD Projector | Read the Review
Price: $2050 | Get the Best Price Online


We did say all budgets, right? If you've got money to spend and you know someone who wants to start or upgrade their home theater - this projector will jump start just about any system. With Smooth Screen technology, the screen door effect associated with LCD screens is eliminated, and the contrast ratios on the new D-5 panel used in this projector rivals DLP systems in this class. Deeper blacks, more vivid color, better detail... 3LCD is looking good, and Panasonic's PT-AE900U is one of the finest we've seen to date.
Merry Christmas!!!
Confused about what AV Gear to buy or how to set it up? Join our Exclusive Audioholics E-Book Membership Program!