3 Slick Monitor Audio In-Wall WSS Speakers Offer Thin Profile, Big Sound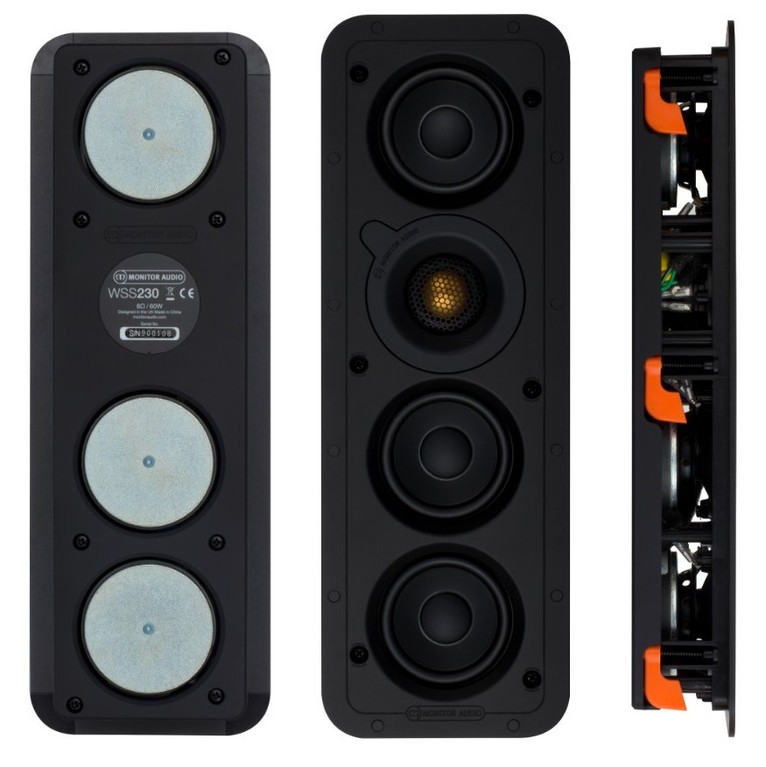 Summary
Frequency Response (-6 dB): WSS130 & WSS230 - 75 Hz – 30 kHz
WSS430 - 70 Hz - 50 HkHz
Maximum SPL: 105.6 dBA
Sensitivity (1W@1M): 87 dB
Power Handling (RMS): WSS130 & WSS230 - 60 W Full range (100 W with crossover set to 100 Hz @ 12 dB/Octave)
WSS430 - 75 W Full range (120 W with crossover set to 100 Hz @ 12 dB/Octave)
WSS130: 3 x 3" MMP II cone bass-mid drivers and 1 x 25 mm (1") C-CAM Gold Dome tweeter
WSS230: 3 x 3" C-CAM cone bass-mid drivers and 1 x 25 mm (1") C-CAM Gold Dome tweeter
WSS430: 3 x 3" dished C-CAM cone bass-mid drivers and 1 x MPD High frequency transducer
Overall Depth (Including Grille): 2 1/8"

Overall Dimensions: 15 x 5 1/2"
Executive Overview
Speaker manufacturer Monitor Audio new super slim line up of in-wall speakers appears thin in profile but BIG on sound. Dubbed the WSS speakers, Monitor Audio has given the consumer a choice of three models all which share the same footprint and pre-construction bracket.  The WSS speaker range features a three-driver layout that helps keep the frontal profile slender, yet according to Monito Audio "Provides a similar surface area and performance to a typical 6 1/2" driver". At just 2" deep it does open up a wide variety of installation scenarios helping to provide huge flexibility when it comes to placement of the speakers.

The WSS lineup features three models considered at 'good, better, and best' performance levels. All three models employ three, 3" bass/mid-range drivers featuring incremental technology and performance benefits – MMP II, C-CAM and dished C-CAM cones. The entire lineup also features gold-plated sprung push terminals and patented Tri-Grip Dog leg fixings for a solid, robust, and quick install.
WSS130 - $350 each
The entry-point WSS130 features 3" MMP II cone drivers, augmented by a 1" Gold Dome tweeter. This MPP cone technology allows for a simple crossover design and should provide a smooth overall sound character.
WSS230 - $420 each
The mid-point WSS230 features Monitor Audio's C-CAM metal cone drivers and is good for set-ups where even more critical music reproduction is required. It offers a step-up in performance in increased precision and detailed sonic characteristics when compared to the WSS130.
WSS430 - $650 each
The WSS430 offers what Monitor Audio considers to be 'supreme audio performance'. Drawing on design principles and materials from Monitor Audio's flagship Platinum speakers and employing dished C-CAM cones, the WSS430 design should ensure a high diaphragm rigidity and control when driven hard. High strength Neo magnets and larger voice coils help to provide a strong driving force and a slim profile. The MPD high frequency transducer technology, also from Monitor Audio's flagship Platinum designs, should help to ensure low distortion levels even at high frequencies to beyond the limits of human hearing.
All the WSS speakers in the lineup will use a new dark blue WB3 pre-construction bracket and will feature Tri-Grip fixing technology and magnetic paintable, trimless grilles. All three speakers are designed for both portrait and landscape installation and will fit between standard 14" studded walls.
This series is shipping now, so if you're in the middle of a new home buildout, remodel, or addition, you may want to take a close look at these slick new in-wall speakers from Monitor Audio. If you love their box speakers, this may be a great option to get you into a similar sound without taking up floor space.

Unless otherwise indicated, this is a preview article for the featured product. A formal review may or may not follow in the future.