KEF Ventura 6 Outdoor Speakers and Conclusion
KEF Ventura 6 Outdoor Speakers and Conclusion
For the back porch, in-ceiling speakers would not work.  The space has an A-framed ceiling and is a screened porch.  We decided to go with the top end of KEF's outdoor line, the Ventura 6.  The included bracket mount has 180 degrees of lateral adjustment for this speaker.  Both the bracket and the grille are constructed from a robust corrosion-resistant aluminum.  The cabinets also have brass threaded inserts to give you additional mounting options.  The high-impact ABS cabinet is UV resistant and was designed to withstand the elements.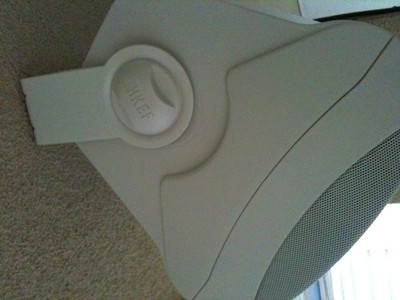 The sealed box cabinets measure 11.73 x 8.9 x 7.19 in. and feature a fluid cooled anodized aluminum dome tweeter which and a 6.5" injection molded, low-distortion long throw woofer with rubber surround.  Each speaker weighs in at 8.4 lbs, and is available in black or white.  The speakers boast a frequency range of 54Hz - 20kHz and are rated for amps from 10-125 watts.
For our installation, we used the included brackets to mount the speakers horizontally to opposite walls of the porch.  Although installation was very easy, we noted that the included screws (large plastic, made to be hand-tightened) used to lock the speaker into place on the bracket would not prevent theft if you have these speakers mounted outdoors.  It would take a would-be thief all of about 10 seconds to remove the speaker from it's mount. In KEF's defense, we have yet to see many outdoor speakers that are very theft-proof.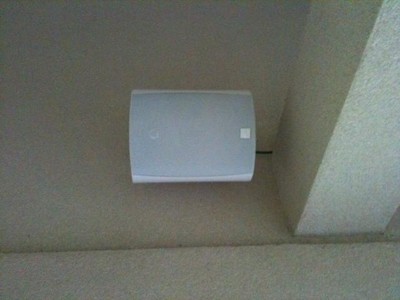 Listening Tests
The Ventura 6 is a rockin' outdoor speaker that was begging to be cranked up on the back porch, so we went for some classic rock.  Boston provided everything we needed to put this pair of speakers through the paces.  Unlike the in-ceiling speakers in the house, the Ventura 6's put out plenty of deep, rich bass.  They were capable of plenty of volume, too.  The driving bass line in "Long Time" felt great, as did the soaring guitars on "Don't Look Back."  When we really pushed the volume, the speakers didn't blink and the backyard was filled with tunes.
We often eat dinner on the back porch in the spring, summer & fall, and having music outside was a welcome addition to this great spot at our house.  The Ventura 6's performed like a high quality, large bookshelf speaker with added bonus of being weatherproof.  They exhibited excellent bass and balanced mid and high frequency detail whether listening at low or high volumes.  These were easily the audiophile favorites of all of the speakers tested.
Conclusion
Adding a whole-house audio system to our home is something that I wish I had done years ago.  While I love critical listening in my theater room, it seems that I rarely take the time to go into the room for the sole purpose of firing up the rig and listening to music.  With speakers in every room, I can now enjoy music all day long.  The entire family loves having music playing - it's like a constant soundtrack for everyday life. 
I'd encourage you to consider adding a similar setup to your home.  Wireless solutions such as SONOS make retro-fitting simple, and if you are building a home, the choices are endless.  As for speakers, KEF's wide range of speakers available in the Ci Series are a great choice for solid sound.  They are simple to install, come in several sizes for any application, and the grilles can be painted to match your decor.  They are also very unobtrusive, with very thin bezels and a subtle, contemporary look. 
The speakers we tested in the Ci Series share KEF's patented Uni-Q technology, which results in excellent upper-mid and high frequency performance.  The bass was a bit lacking in our larger rooms, but keep in mind that these speakers were installed to be used for background and ambient music throughout the house, not critical listening.  They are meant to fill the rooms with less directional sound, and we were pleased with the results.
The Score Card
The scoring below is based on each piece of equipment doing the duty it is designed for. The numbers are weighed heavily with respect to the individual cost of each unit, thus giving a rating roughly equal to:
Performance × Price Factor/Value = Rating
Audioholics.com note: The ratings indicated below are based on subjective listening and objective testing of the product in question. The rating scale is based on performance/value ratio. If you notice better performing products in future reviews that have lower numbers in certain areas, be aware that the value factor is most likely the culprit. Other Audioholics reviewers may rate products solely based on performance, and each reviewer has his/her own system for ratings.
Audioholics Rating Scale
— Excellent
— Very Good
— Good
— Fair
— Poor
| Metric | Rating |
| --- | --- |
| Build Quality | |
| Appearance | |
| Treble Extension | |
| Treble Smoothness | |
| Bass Extension | |
| Dynamic Range | |
| Fit and Finish | |
| Performance | |
| Value | |
qaci777 posts on April 17, 2013 11:52
Nice idea dude that you hang the speakers for whole house which is good one i do not have much idea that which speakers is the best but now i work on it that which speakers brand is the best…
RalphK posts on April 15, 2013 18:59
I have 4 new in the box never used KEF custom CR200 F in wall speakers. I got them at an estate sale. Are they worth cutting holes in my walls?
birdonthebeach posts on June 15, 2011 22:06
acacia987, post: 815655
Did you use an external amplifier (in addition to the Sonos)? Any use of separate Impedance matching volume controls in the rooms?
I used a Yamaha M-35 amp in the great room paired with a Sonos ZP90 pre-amp. In the other rooms I used the Sonos ZP120's with built in digital amps.
All of the volume controls are through the Sonos interface on iPhones or Macs, so no, there are no impedance matching volume controls on the walls.
acacia987 posts on June 15, 2011 08:46
Did you use an external amplifier (in addition to the Sonos)? Any use of separate Impedance matching volume controls in the rooms?
AcuDefTechGuy posts on June 14, 2011 08:29
I would love to have either KEF or Revel In-Ceiling speakers in my next home.
Post Reply
Confused about what AV Gear to buy or how to set it up? Join our Exclusive Audioholics E-Book Membership Program!