KEF Ci160CRds Speaker - Master Bathroom
KEF Ci160CRds Speaker - Master Bathroom
For the rather small master bathroom, KEF suggested we try their stereo speaker - the Ci160CRds.  It is a close cousin to the Ci160CR's we used in the kitchen and great room, and shares the same dimensions.  With the grille on, you cannot tell the difference, but underneath you will find what makes this speaker unique.  Common for use whole-house audio applications, this speaker is comprised of a dual voice coil 6.5" woofer and a pair of .75 inch aluminum dome tweeters on a special asymmetrical tweeter island for a wider off-axis response, with KEF's "tangerine" waveguides.  For a smaller room, such as this bathroom, this unit gives you "stereo" from one speaker.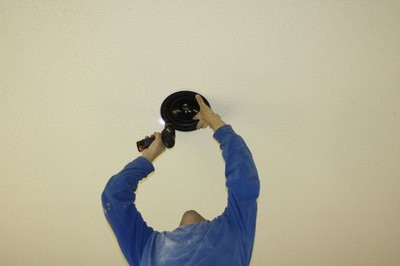 As you would expect, installation was identical to that of the Ci130's & 160's.  It was very quick and easy, especially since this ceiling was a bit lower than the other rooms.  We centered the speaker on the ceiling of the room, which gives ideal coverage to the bath tub, shower and sink.  The 160CRds has also been constructed with moisture-resistant fixings so that it can be installed in environments such as bathrooms or under eaves.
Listening Tests
Tom Petty - Mojo
Having music in the bathroom is a great way to get going in the mornings.  Since I am not a morning person, I need something rocking' to start day.  Tom Petty & the Heartbreakers does the trick, and even while showering, the 160CRds filled the room with tunes.  Bass was remarkably good for a single speaker handling the job for the entire room.  I did not expect this single speaker to perform as strongly as it did, but it turned out to be a perfect solution for a smaller room such as the master bath.  In the larger rooms of the home, the bass seemed to be lacking, but the Ci160 CRds felt just right for this smaller space.
Confused about what AV Gear to buy or how to set it up? Join our Exclusive Audioholics E-Book Membership Program!
qaci777 posts on April 17, 2013 11:52
Nice idea dude that you hang the speakers for whole house which is good one i do not have much idea that which speakers is the best but now i work on it that which speakers brand is the best…
RalphK posts on April 15, 2013 18:59
I have 4 new in the box never used KEF custom CR200 F in wall speakers. I got them at an estate sale. Are they worth cutting holes in my walls?
birdonthebeach posts on June 15, 2011 22:06
acacia987, post: 815655
Did you use an external amplifier (in addition to the Sonos)? Any use of separate Impedance matching volume controls in the rooms?
I used a Yamaha M-35 amp in the great room paired with a Sonos ZP90 pre-amp. In the other rooms I used the Sonos ZP120's with built in digital amps.
All of the volume controls are through the Sonos interface on iPhones or Macs, so no, there are no impedance matching volume controls on the walls.
acacia987 posts on June 15, 2011 08:46
Did you use an external amplifier (in addition to the Sonos)? Any use of separate Impedance matching volume controls in the rooms?
AcuDefTechGuy posts on June 14, 2011 08:29
I would love to have either KEF or Revel In-Ceiling speakers in my next home.
Post Reply