KEF Ci100QR Speakers - Master Bedroom
KEF Ci100QR Speakers - Master Bedroom
For the master bedroom, we decided to use a smaller, more designer-friendly speaker.  This square room has a tray ceiling, and we felt that the smaller Ci100QR's would be adequate for coverage in the room, while providing a clean aesthetic to match the decor.  KEF Designed these speakers to smoothly integrate and architecturally match existing downlighting sharing the same size bezel.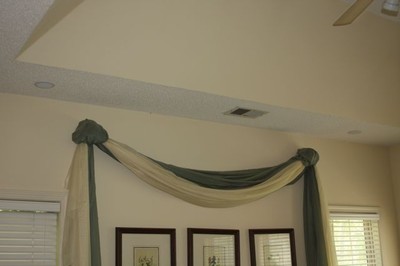 The Ci100QR's also differ from the 130's & 160's in that they come equipped with a 15cm deep detachable rear-can, which provides a sealed enclosure of 0.7 liters volume for optimum low frequency reproduction.  Spring-loaded fixing clips allow installation in ceilings and walls varying in thickness.    These speakers proved to be the easiest in-ceiling speakers we have ever installed.  You hold the three clips up as you insert the enclosure into the ceiling, and as it pushes flush, the clips lock it snugly into place.  It's literally a snap to install!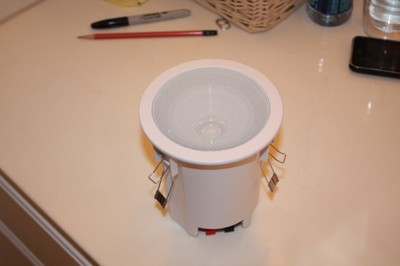 As for the speaker itself, the Ci100QR consists of a 4" polypropylene woofer with a .75" tweeter mounted at the acoustic center of the driver.  KEF recommends amplifier power between 10 - 20 watts.  With the can enclosure, the frequency range is 110 - 27kHz; without it is rated at 80 - 27kHz.  These are 4-ohm speakers.
Listening Tests
There is certainly a trade-off when going for aesthetics over size in a speaker such as the Ci100QR.  But for our master bedroom, this proved to be the perfect speaker.  The two pairs allowed us to have a speaker near each corner of the tray ceiling, and made for plenty of coverage in the room.  Most listening occurs at night when winding down, so our playlist usually consists of mellower music such as The Civil Wars.  Their new release, Barton Hollow is almost all vocal and acoustic guitar, with piano and light percussion on some songs.  Joy Williams' vocal on songs such as "20 Years" and "Poison & Wine" filled the room and as long as we didn't crank it up too loud, sounded nice.  All of the speakers in KEF's Ci line displayed excellent high end that really shone when listening to singer-songwriter material.
Confused about what AV Gear to buy or how to set it up? Join our Exclusive Audioholics E-Book Membership Program!
qaci777 posts on April 17, 2013 11:52
Nice idea dude that you hang the speakers for whole house which is good one i do not have much idea that which speakers is the best but now i work on it that which speakers brand is the best…
RalphK posts on April 15, 2013 18:59
I have 4 new in the box never used KEF custom CR200 F in wall speakers. I got them at an estate sale. Are they worth cutting holes in my walls?
birdonthebeach posts on June 15, 2011 22:06
acacia987, post: 815655
Did you use an external amplifier (in addition to the Sonos)? Any use of separate Impedance matching volume controls in the rooms?
I used a Yamaha M-35 amp in the great room paired with a Sonos ZP90 pre-amp. In the other rooms I used the Sonos ZP120's with built in digital amps.
All of the volume controls are through the Sonos interface on iPhones or Macs, so no, there are no impedance matching volume controls on the walls.
acacia987 posts on June 15, 2011 08:46
Did you use an external amplifier (in addition to the Sonos)? Any use of separate Impedance matching volume controls in the rooms?
AcuDefTechGuy posts on June 14, 2011 08:29
I would love to have either KEF or Revel In-Ceiling speakers in my next home.
Post Reply