KEF Ci Series Build Quality and General Installation and Setup
KEF Ci Series Build Quality and General Installation and Setup

One category of speakers that is often overlooked is ceiling mounted speakers for whole house audio applications. Integrating audio into both new construction as well as existing homes has become quite common, and for this article we will take a look at KEF's Ci (Custom Installation) Series in-ceiling speakers. Our project home consists of a dining room, kitchen/breakfast room, great room, dining room, master bedroom, master bathroom and back porch. After a few discussions with one of KEF's product line reps, we decided on several different models for each room or "zone" of the house. 
The home we installed the speakers in had very easy access to the attic above each room, making installation a pretty straightforward process for this project. The back porch does not have ceiling access, so we opted for a pair of bracket-mounted Ventura 6 weatherproof speakers.
The speakers were all home-run wired using 16 gauge speaker cable back to a gear closet containing a SONOS multi-zone system for power and source material.  Our listening tests were conducted using both an iTunes library and Internet-sourced music from Pandora, Last.fm and Wolfgang's Vault.  It is important to note that this installation focuses on whole-house audio applications, which is to say that it is not a critical listening setup.  In-ceiling speakers in an installation such as this are intended to provide ambient sound for an active home.  While we did put the speakers through their paces with a variety of music genres and volume levels, it is important to remember that this is a different style of listening that is less critical.
KEF Ci Series In-ceiling Speakers
All of the speakers we installed from the Ci series are round, and share several KEF technologies.  The "tangerine" waveguide on the aluminum dome tweeters provides not only protection for the driver itself, but also a wide and even dispersion of high frequencies throughout the room.  This is part of the patented Uni-Q (coaxial) driver array that KEF is known for, which places the tweeter in the acoustic center of the woofer.  The idea is that the woofer and tweeter are paired, allowing a single, focused source of sound that disperses evenly throughout the room.  This is particularly important for this type of application where the goal is to fill rooms with ambient sound. Contrast this with a directional setup, such as what you would have in your home theater or two-channel dedicated listening room.
The Ci Series in-ceiling speakers also all have an ultra-thin bezel in an attempt to provide the slimmest possible visible rim around the speakers when they are mounted flush in your ceiling. The grilles can be painted if your application calls for it and are manufactured with a powder coating that contains a proprietary plasticized additive to resist corrosion in humid conditions.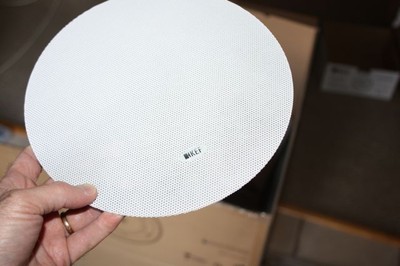 Most of the speakers we tested are 8-ohm, and all have spring-loaded, push button connectors (which we actually prefer for in-ceiling models).  KEF provides a round template with each pair of speakers that makes it easy to trace the perfect sized hole in the ceiling. The speakers also came with a clear plastic paint shield which covers the drivers and allows you to protect the speaker if you choose to paint the bezel or grille once it is installed. The grilles are incredibly thin, and are magnetized, making installation very simple.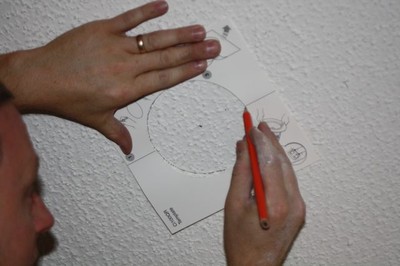 With the exception of the Ci100QR's, none of the speakers we installed came with a sealed enclosure, which left the back of the speakers open.  In an attic with blown insulation, we were concerned that the loose insulation would fill in and around the rear of the driver, creating potential issues once the insulation covers the speaker after installation.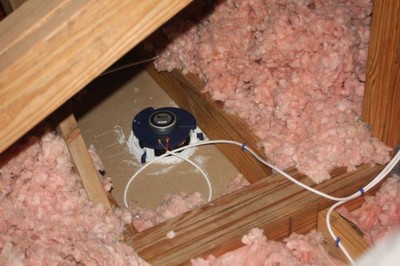 Since KEF did not supply a rear cover for these speakers, we asked them to clarify this choice for us.
KEF response:
"The KEF speakers are designed to maximize both audio performance and value for the consumer. In any loudspeaker design, physics dictates that there is a relationship or balance between cabinet volume, sensitivity, and low frequency response. Reduce cabinet volume and sensitivity and/or LF response will drop. By taking full advantage of the volume of air in the ceiling, wall or attic space we are able to maximize both LF response and maintain high sensitivity. This is why we do not, on most models, have an integrated rear enclosure. Because of the small woofer diameter on the Ci100QR, the impact of a rear enclosure is minimized, but in point of fact, you will have slightly deeper bass extension on the Ci100QR if it is used with its rear can removed. To make this easy for the installer, we even supply the Allen wrench needed to remove the can. There are several other advantages to not having an integrated rear enclosure. First the smaller footprint of the speaker and shallower depth greatly increase installation flexibility, and secondly money otherwise spent on the enclosure can be better spent to create a significantly better driver, again helping to yield superior audio performance.
In this retrofit project, there must have been access to the attic if the blown insulation is "the loose type", otherwise it would have poured out of the ceiling when the speaker holes were cut. So it should be possible to access the attic to push back the loose insulation over the speaker location, and use [a piece of] fiberglass insulation over the speaker. The fiberglass insulation is very good acoustically and will hold back the loose insulation."
Confused about what AV Gear to buy or how to set it up? Join our Exclusive Audioholics E-Book Membership Program!
qaci777 posts on April 17, 2013 11:52
Nice idea dude that you hang the speakers for whole house which is good one i do not have much idea that which speakers is the best but now i work on it that which speakers brand is the best…
RalphK posts on April 15, 2013 18:59
I have 4 new in the box never used KEF custom CR200 F in wall speakers. I got them at an estate sale. Are they worth cutting holes in my walls?
birdonthebeach posts on June 15, 2011 22:06
acacia987, post: 815655
Did you use an external amplifier (in addition to the Sonos)? Any use of separate Impedance matching volume controls in the rooms?
I used a Yamaha M-35 amp in the great room paired with a Sonos ZP90 pre-amp. In the other rooms I used the Sonos ZP120's with built in digital amps.
All of the volume controls are through the Sonos interface on iPhones or Macs, so no, there are no impedance matching volume controls on the walls.
acacia987 posts on June 15, 2011 08:46
Did you use an external amplifier (in addition to the Sonos)? Any use of separate Impedance matching volume controls in the rooms?
AcuDefTechGuy posts on June 14, 2011 08:29
I would love to have either KEF or Revel In-Ceiling speakers in my next home.
Post Reply