Yamaha Receiver Line Fully Supports 3D and HDMI 1.4a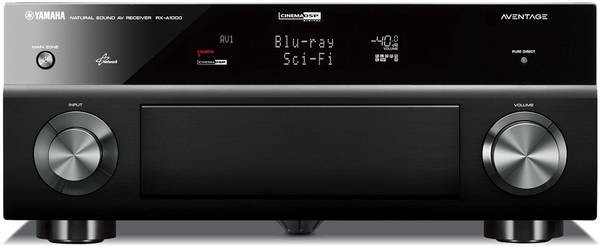 Yamaha AV Receivers are 3D-ready
With the recent launch of its AVENTAGE Series, Yamaha Electronics Corporation, affirmed that its entire line-up of current A/V receivers, including the RX-Vx67 Series, support the newest HDMI 1.4a specification, making them fully compatible with all mandated 3D formats.
The Yamaha lines conform to the HDMI spec's newest requirement released last March. It mandates that A/V receivers must support the frame packing 3D format at either 720p50 and 1080p24 or 720p60 and 1080p24, side-by-side horizontal at either 1080i50 or 1080i60, and top-and-bottom at either 720p50 and 1080p24 or 720p60 and 1080p24.
Additionally, all Yamaha AVENTAGE receivers, plus the RX-V667 feature an on-screen display GUI that can overlay onto HD and 3D sources.
Yamaha's proprietary Cinema DSP 3D audio processing, which is offered in each of the line's models, complements 3D television technology and provides extra height and unique dimensionality to the home theater experience through the use of the industry's only 3D Virtual Presence technology. This technology eliminates the need for extra front presence speakers.
Yamaha's extensive A/V lineup includes nine 3D A/V receivers, beginning with the RX-V367 ($279.95 MSRP) and culminating with the recently introduced AVENTAGE RX-A3000 ($1899.95). Rounding out the line are opening and mid level RX-V series receivers: the RX-V467, ($379.95); RX-V567 ($479.95) and the RX-V667 ($579.95). Yamaha's newly introduced AVENTAGE Series, positioned as the company's top tier series, consists of five models of versatile, high-performance 3D A/V receivers: the RX-A700 (90W x 7; MSRP: $649.95), RX-A800 (95W x 7; MSRP: $799.95), RX-A1000 (105W x 7; MSRP $1099.95), RX-A2000 (130W x 7; MSRP $1499.95) and the RX-A3000 (140W x 7; MSRP $1899.95).
The AVENTAGE series common features include 7.2 channels with full HD Audio decoding (Dolby TrueHD and DTS-HD Master Audio; Dolby Digital Plus and DTS-HD High Resolution Audio); Four SCENE buttons; iPod compatibility (with optional YDS-12 or YID-W10 wireless yAired dock); Bluetooth compatibility; Compressed Music Enhancer; Low Jitter PLL Circuitry; HDMI V.1.4a 3D Pass-through with ARC (Audio Return Channel); YPAO room optimizer; and analog-to-HDMI 1080p video upscaling with precise deinterlacing for stunning, lifelike picture quality, even from non-HD sources.
For more information, write Yamaha Electronics Corporation, P.O. Box 6660, Buena Park, CA 90620; telephone (714) 522-9105; email [email protected]; or visit www.yamaha.com/hometheater.
About Yamaha A/V Receivers
Exceptional sound quality, superior reliability and easy to use features are the hallmarks of the Yamaha home theater experience. With each Yamaha A/V receiver, users enjoy extraordinary audio quality and advanced video features that allow these products to become the centerpiece of the home entertainment system. Offering flexible configurations, automatic system calibration, advanced video capabilities and now 3D, satellite radio plus iPod capabilities Yamaha receivers ensure that the complete home theater experience is enjoyable.