Wal-Mart and Target Debut Venturer HD DVD Player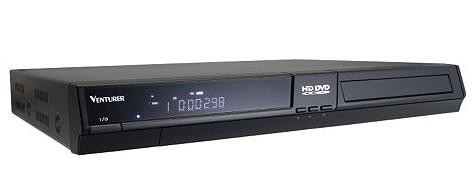 Venturer HD-DVD Player
Looking for a new HD DVD player this Christmas? Remember the rumor of the cheap Chinese made player that would be coming out? Well, it's time to stop by your local Wal-Mart or Target and check out the Venturer SHD7000. To the best of our knowledge, this is the first non-Toshiba manufactured consumer level HD DVD player. It is very similar in function to the Toshiba HD-A3. It has support for 720p and 1080i output, as well as Dolby TrueHD decoding through the HDMI port. The retail price of $199.99 should make this very attractive to consumers looking for that HD image without the high price tag.

The initial features:
Disc Compatibility: HD DVD, DVD, DVD-R/-RW, CD, CD-R/-RW
Multi-Channel Audio: Dolby Digital, Dolby Digital Plus, Dolby TrueHD, DTS-HD (Core only)
HDMI, Optical Output and Ethernet Connection
Upconvert Your DVDs to Near HD Quality
SHARC Floating-Point Digital Signal Processors
The Venturer isn't exactly priced way below Toshiba's already-low prices (especially when they offload legacy players for $99) but it's certainly good to see anyone other than Toshiba put out an HD DVD player. We'll have to track down one of these players and put it through its paces.

Maybe this will signify the eventual release of a lower-priced Chinese-branded Blu-ray player, who knows. Not all Wal-Mart and Target stores will be carrying this item, so if your store comes up high and dry it can still be purchased online at Walmart.com or Target.com.

mouettus posts on December 01, 2007 19:34
mtrycrafts posts on December 01, 2007 18:34
mouettus, post: 336535
Man you guys keep fightin' over the A3 being at 160 or 199. Here it's ON SALE at 299, usually 350!!!!
That is unreal especially since your dollar is equal now or may be even worth more
Tom Andry posts on December 01, 2007 17:05
Agreed!
emorphien posts on December 01, 2007 12:24
Tom Andry, post: 336254
Looks like it's $199 at Wal-mart but $249 at Target. I know gas is expensive but I think I'd drive across the street for $50.
I think I'd pay $50 more to avoid Wal-Mart
Tom Andry posts on December 01, 2007 11:40
Seth=L, post: 336260
I will say that the new Target stores are cleaner, but they still suffer from aisle congestion (their store layouts aren't as well executed as Wal-Mart's IMO).
Not around here. You can barely get a cart down an aisle in Wal-mart and the most people I've ever had in front of me (even during peak hours) at Target was 1. Couldn't drag me into Wal-mart.
Post Reply