Peter Jackson to Produce Two Hobbit Movies in 2009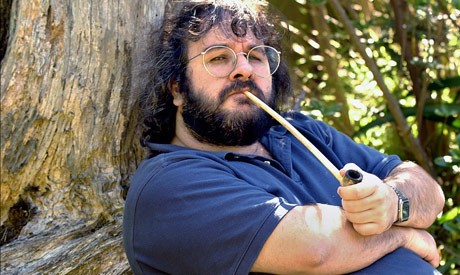 Peter Jackson Gets His Hobbits
Peter Jackson has won his bid to be Producer for two upcoming Hobbit films. After a rather bitter struggle regarding final compensation for the first three Lord of the Rings movies, MGM is finally able to have Peter Jackson and Fran Walsh will Executive Produce both a Hobbit movie and a sequel. Jackson is apparently not the Director, however his involvement will satisfy most fans who were convinced the studios (namely New Line Cinema) would make a huge mistake by pulling him from the production.

According to a Reuters report this afternoon, MGM and New Line, a unit of Time Warner Inc, will co-finance the films, with New Line distributing them in the United States and MGM internationally. The Hobbit is an exciting prequel as it tells the story of how Bilbo Baggins came to acquire the One Ring of power featured in the Lord of the Rings trilogy. While the Trilogy touches upon the underlying story, The Hobbit is a fascinating tale that brings in many characters fans are dying to see again - namely Gandalf the Wizard and Gloin the father of Gimli the dwarf.

Jackson had originally sued New Line Cinema stating they had improperly accounted for the funds made from the original trilogy and refused to sign on for The Hobbit until the situation was rectified. Since the original Trilogy has, to-date brought in around $3 billion (yes, with a 'B') this was a non-trivial matter. Signing on for the prequel was viewed by Jackson as a ploy to derail his lawsuit on the original movies.
According to the report today, that lawsuit has been settled, allowing the Hobbit movies to go into development. MGM, which owns film rights to The Hobbit is also now part of the team. Like Lord of the Rings, the Hobbit movies will be made simultaneously and will be released starting in 2010. It is not perfectly clear what exactly the second movie will be - either a Part Two sequel to The Hobbit or a take on The Silmarillion, a true prequel to the entire story of Middle Earth.

skizzerflake posts on December 23, 2007 00:13
If you're interested, a fan-film Hobbit trailer is available on Youtube. It's obviously cobbled together from LOTR clips and some animation, but it does give clues as to the general atmosphere of the movie (which will be released in 20010). The Hobbit was originally intended as a kids novel, but the movie seems pretty dark by comparison.
The trailer is available at
https://www.youtube.com/watch?v=ktD2D8-TqqU
j_garcia posts on December 21, 2007 13:49
skizzerflake, post: 345910
I thought that leaving out the sack of the Shire was an act of mercy…after all we'd been through in 12 hours of LOTR, I don't think audiences could have taken another scary chapter, even if it did end up with Sarumon being taken out.
Exactly, you get this big resolution and everything looks wrapped up and then they get home to find something ELSE to deal with. It was a bit too much, even in the book I thought that. Yes, I meant Sarumon, not Sauron…
Yes, Bombadil was a bit too um….goofy, but there were some elements there that could have been interesting. It did seem like he wasn't sure where he was going with the story yet, almost as if that first part started as a short story that wasn't fully inline with the rest of the books (should have been a Lost Tale?).
Sheep posts on December 20, 2007 23:25
j_garcia, post: 344709
The article I read actually said he has not been named as director for these films, though that could either be a formality or he will merely "consult".
Jackson is apparently not the Director,
RTFA.
SheepStar
Sheep posts on December 20, 2007 23:24
j_garcia, post: 345047
I haven't read it yet, have it, but haven't had any free time to dig into it. I think they are going to try to either add bits from the other books and/or more relative to LOTR or the plan is to make it into two movies and really flesh the story out (and raise box office numbers…).
Jackson is apparently not the Director,
RTFA.
SheepStar
Audioholics posts on December 20, 2007 23:14
Pulling Tom Bombadil was a VERY good call… He was so gay in the books… lol. How do you sell some ancient (but young) guy who sings to trees, tra-la-dancing around a forest on screen?

I can't wait to see Smaug - and also Bilbo fighting off the spiders. Though I wonder how "Old Tomnoddy" and "attercop" would play on-screen… haha. Methinks the dialogue in the movie will change somewhat.
Post Reply