"Bubble" Movie Released to Theaters, DVD, Pay TV Simultaneously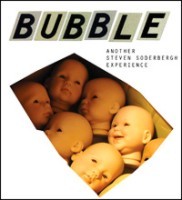 Today could mark the first breeze in a tremendous wind of change to come for the entertainment industry. Bubble is a small budget film being released today that normally wouldn't make any waves at all. But this film has some major Hollywood talent behind it. Directed by Oscar winner Steven Soderbergh (Traffick, Erin Brockovich) Bubble's release takes an innovative approach as the film is released on the same day to theaters, DVD and pay TV. Could this be the sign things to come as Hollywood adapts to 21st century challenges?
Bubble is the first film by any major Hollywood entity to be simultaneously released to multiple consumer markets. The unprecedented freedom of choice for consumers means you get to decide the way you want to see this movie. Bubble's release could be the first sign of a major shift in how Hollywood conducts business. Major studios have felt threatened by the TV since the 50's but today it seems those fears have finally come true. For years movie theaters have been struggling to stay economically viable against a relatively new threat, home theater. DVD releases of major films consistently make more money than the film's ticket sales. According to statistics presented by the Hollywood Reporter in 2004 theaters generated about $9.5 billion. But DVD / VHS raked in about $26 billion.
What about the film itself? According Roger Ebert from the Sun Times :
"Everything about the film - its casting, its filming, its release - is daring and innovative."
The film has been described as cross-genre. It's about ordinary people who work in a doll factory in Ohio. But there is also a murder. A doll factory and murder in Ohio no less already makes this movie sounds creepy, but I don't think it's supposed to be a horror. Roger Ebert gives it a four out of four star rating.
Special Thanks to www.hometheaterforcus.com
Confused about what AV Gear to buy or how to set it up? Join our Exclusive Audioholics E-Book Membership Program!