Spotify Rethinks Its Anti-Hate Policy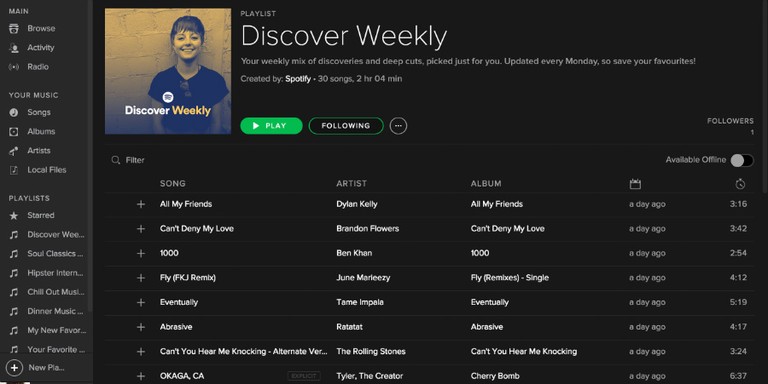 Spotify
With over 70 million subscribers, Spotify is the world's biggest streaming service and one of the leading influencers in the trends of the music business. No other entity has more sway when it comes to getting an artist's work heard by the general music-consuming public. The company's predictions for 2018's "Songs of Summer" (including tracks by Childish Gambino, Ariana Grande, Camila Cabello, Pharrell Williams, and others) are, to a certain extent, self-fulfilling prophecies. If Spotify recommends these tracks to tens of millions of listeners, the songs' play-counts will inevitably sky-rocket, and those artists will reap the rewards. Spotify is in a position to make or break the career of an emerging artist, and can even have considerable impact on the financial success of established stars. That's why the company's controversial anti-hate policy had such far-reaching implications in the industry. The two-part policy, which was briefly in effect during May of this year, affected Spotify's decisions to promote or suppress certain music based on both the content of the lyrics, and the general conduct of the artist.
The "hateful content" component of the policy is relatively simple, and remains in place. Any music that "expressly and principally promotes, advocates, or incites hatred or violence against a group or individual" will be banned from Spotify completely. That's censorship by definition, but it's a kind of censorship about which Spotify's leadership appears to have no misgivings. "If you are talking about being KKK and doing that kind of stuff, I think it's pretty obvious that we don't want you on the service," said Spotify CEO Daniel Ek, during an on-stage interview at last week's Code Conference in Rancho Palos Verdes, California. Aspiring Neo-Nazi pop-stars will have to look elsewhere for their big breaks. In order to ensure a fair and thorough examination of what counts as "hateful," Spotify is partnering with a number of anti-hate organizations including The Southern Poverty Law Center, The Anti-Defamation League, and GLAAD.
The second part of the policy was perhaps less straight-forward, addressing what Spotify referred to as "hateful conduct by an artist." Here Spotify intended to address situations in which an artist's music was not hateful, but the artist behaved in a way that the company found unacceptable. In these cases, the artist's music wasn't removed from the streaming service entirely, but Spotify refrained from including it in curated mixes such as New Music Friday and RapCaviar. In the original policy, Spotify stated, "…we want our editorial decisions — what we choose to program — to reflect our values. When an artist or creator does something that is especially harmful or hateful (for example, violence against children and sexual violence), it may affect the ways we work with or support that artist or creator." The first high-profile artist to be affected by this policy was R&B star R. Kelly, who has been accused of multiple counts of sexual abuse and misconduct over the years, sometimes with underage girls. Spotify also singled out rapper XXXTentacion, who allegedly attacked a pregnant woman in 2016.
Not everyone was on board with Spotify's actions. Pulitzer Prize-winner Kendrick Lamar was among the big names in hip-hop who spoke out in defense of XXXTentacion's penalty in particular. Some of Spotify's own employees also expressed concerns about the way in which the policy was being put into action. Similar allegations of misconduct have been made against many other stars, including CeeLo Green, Chris Brown, and multiple members of the Red Hot Chili Peppers. How and when would Spotify decide who deserved punishment and who did not? In response to the backlash, Spotify resumed placing XXXTentacion's music on curated playlists, and Spotify CEO Daniel Ek admitted that the execution of the policy was a bumpy road.

"I think we rolled this out wrong, and could have done a better job communicating it," he said. "The goal for this was to make sure we didn't have hate speech on the service. It was never about punishing one individual."
Spotify issued a statement on Friday, June 1st, announcing that the "hateful conduct" component of the policy was being removed.
"While we believe our intentions were good, the language was too vague, we created confusion and concern, and didn't spend enough time getting input from our own team and key partners before sharing new guidelines," the company said. "Our role is not to regulate artists. Therefore, we are moving away from implementing a policy around artist conduct."
Where do you draw the line between censorship and social responsibility?
Do you think Spotify was doing the right thing, or was the company walking on a slippery slope toward unfair bias and censorship? Share your thoughts in the related forum thread below.