Sony Sued Over Blu-ray Patent Infringement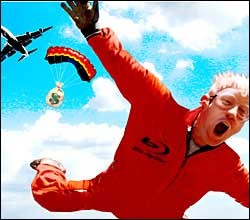 Sony enters new lawsuit over Blu-ray
What's that Sony sued again for patent infringement? Yes, not content to just be getting over a settlement with Kodak over 10 digital camera patents and another with Immersion that dealt with force feedback controls on the Playstation2, Sony is being dragged into court again - this time over Blu-ray Disc manufacturing technology.
The challenging patent in question:
Metal alloys for the reflective or the semi-reflective layer of an optical storage medium

Abstract: A silver-based alloy thin film is provided for the highly reflective or semi-reflective coating layer of optical discs. Elements that can be added to silver to produce useful silver alloys include zinc, aluminum, copper, manganese, germanium, yttrium, bismuth, scandium, and cobalt. These alloys have moderate to high reflectivity and reasonable corrosion resistance in the ambient environment.
The patent is held by Target Technology and was filed on April 16, 2004, and awarded on March 28, 2006. The general complaint is being filed against the discs themselves, not the payers, and it would be supposed that Sony could possibly alter its manufacturing method. In either case, Target is requesting a jury trial, a formal statement that the patents are valid and enforceable, unspecified damages and an injunction against Sony which would keep them from manufacturing additional discs. Obviously Sony and the studios will need to move forward with BD manufacturing so it stands to reason that they will be ponying up whatever settlement fees are required to keep the discs in production.
What is uncertain is how much this will be and what it means to future manufacturing processes of the discs. It's possible that Sony will pay licensing fees, but if that happens, Toshiba would be very foolish indeed to not attempt to go to the table once more and strike a deal on a combinable HD-DVD format. Whether this is even possible or just another pipe dream is unknown, but the industry would be much better off if it happened. Sony is arguably big enough that a royalty fee for sidestepping this patent may not even dent the company or cause more than a minor stock hiccup.

Leprkon posts on July 04, 2007 08:18
j_garcia, post: 281278
One would be foolish to fight battles that will cost more than settling both in the public eye win or lose, and financially for the battle itself.
If this was truly Sony's policy, then SACD and BluRay would not exist.
BMXTRIX posts on July 03, 2007 23:46
I would have to wonder what optical properties HD DVD uses within it's emulsion substrate that allows similar storage without Toshiba or HD DVD being 'Targeted' as well.
j_garcia posts on July 03, 2007 15:25
Yes, I realize it is the specific layer coating used for BDs, I was merely overstating. Target Technology sure does get a whole lot of free publicity out of the suit as well and as noted they will likely get either a big agreement on the technology and/or a fat check from Sony to put the issue to rest.
DavidW posts on July 03, 2007 15:01
j_garcia, post: 281278
One would be foolish to fight battles that will cost more than settling both in the public eye win or lose, and financially for the battle itself. It would seem from the article that it is a process more than anything, not something to do with the blue laser technology, and if vague enough, why not stop all optical disc production?
Other optical disks, like CD and DVD, are based on aluminum reflective coatings.
While this issue is not with the blue laser itself, which is used in both HD formats, but to pack in more data Blu-ray needed a different coating to acommodate the tighter focal distance required of the laser to read smaller surface pits.
The silver based alloys in the patent are cheaper than the other option of using a gold based coating.
Here is some more reading to help clarify the issue:
Target Technology sues Sony for Blu-ray-related patent infringement
7,018,696
dem beats posts on July 03, 2007 13:44
I am not a big fan of sony.

The company is a bit too big for it's britches, and they feel they can command folks.

My impression of them is like some kind of maniacal mad scientest running an evil corporation.

The branch the sony PS 3 is part of is freaky man. they are bent on global domination. I for one would like bill Gates to win at least he has some roots in the USA
=D

this is all just my random thoughts about these issues.
Post Reply