Sony's New ES Receivers - STR-DA4400ES Tops Line... So Far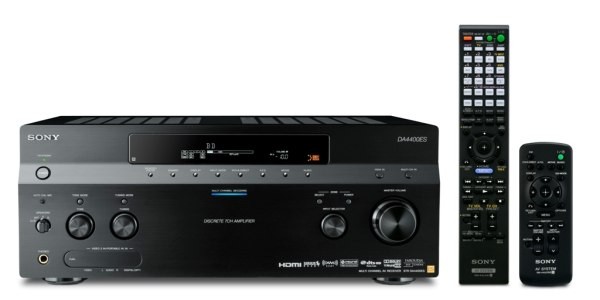 Sony's new ES line of receivers may bring to mind the words of the Who's Pete Townsend: Meet the new boss – same as the old boss. The company's new ES line of audio/video receivers looks suspiciously like last year's new ES line of audio/video receivers with a slight rearrangement in features to price points. 
The company's ES line, due to ship in August, has a long and solid reputation as Sony's rendition of high-end quality audio gear. Back again to make audio/video controls more intuitive is Sony's slick Xross Media Bar interface made famous by the PS3 and PSP. Along with a slew of other features that may not constitute an upgrade but might attract new customers to Sony's upscale ES handle. 
This year it's the STR-DA4400ES that tops the line. No 5400ES has been announced so far, which would be the obvious successor to last year's STR-DA5300ES. The 4400ES will sell for $1500 when it's released in August, a slight savings from last summer's flagship that listed at $1700. 
The list of features include items which have become standard in Sony's ES receiver line including: Faroudja DCDi upconversion supporting 1080P/24p, a wide range of audio support that includes the new Dolby TrueHD and dts HD Master Audio. Back again this year is Sony's Digital Media Port bringing compatibility to external media players like iPods, Bluetooth adapters and satellite radio. 
Sony's complete ES line offers listeners a full 7.1 channels. The 4400ES comes stuffed with 7 channels at 120-watts, six HDMI inputs and HD video support for two zones but audio support for up to three zones. 
The budget conscious that still demands ES quality can turn to the STR-DA3400ES that runs for only $1,000. It's rated at 100 Watts-per-channel with 4 HDMI inputs and only one second zone HD video. Bottoming out the line is the STR-DA2400ES a basic 7.1 channel, 100 WPC receiver with four HDMI inputs. The 2400ES sacrifices all the other cool features including the Xross Media Bar interface. But it'll run for at the bargain price of $800.
See also:
Recent Forum Posts:
GlocksRock posts on August 07, 2008 10:46
i try not to support sony whenever possible
Dave Moritz posts on August 07, 2008 10:07
Sony SRT-DA4400ES Tops Line

Is there any in depth specifications for the 4400 anywhere?

Now since the 4400 has a Weight (Approx.) : 33 lbs 1 oz (15Kg), I am going to assume that it most likely puts out a current capability of 33A - 36A. I would also like to know if it uses Burr Brown DAC's or did they pull an Onkyo and use Cirrus Logic DAC's? Has Sony switched internal amplifiers to something that sounds better compared to there older models? Because that is the only way I would ever place a Sony ES receiver in my A/V rack! Sure the offering of 6 HDMI inputs are very attractive and 120 watts per channel is not to bad ether. The 4400 is supposed to offer dual HD video zones and I would have to wonder how well it does it and if zone 2 is full 1080p or not, especially since the receiver only sales for $1,500. But I am not sold on Sony's preparatory auto calibration software and there amplifiers leave much to be desired, far from being audiophile quality. If this receiver shines anywhere it is most likely on the video side because of the MSRP they most likely cut cost by shaving audio performance. Look at the Onkyo 805 which has a very stout audio section but the video side is lacking. For all that performance even Onkyo had to cut back somewhere. For the money the Onkyo audio wise would defiantly stomp the 4400 guts out all day long!
Wayde Robson posts on July 02, 2008 11:01
mnnc, post: 428230
The words 'New Boss" are directly from the cover of a S&V issue…I am finding this site to be less original and focused than ever before and it's sad because this "follow the leader" approach is such a drab game.
Are you suggesting that I plagiarized S&V? Or are you saying the
new boss
metaphor is a tired cliché?
Your mitt-full of charges contain a few serious allegations that warrant specifics. I noted you also used that
B-word
, the bane of any commercial review publication.
But like a government conspiracy theory du jour, titillating claims of professional bias are far more fun to dream than to make any effort to prove or even constructively outline.
I gave full credit for the sentence to its writer. My application was nothing more than a colorful metaphor using a popular lyric that I believed readers would relate to. I cannot claim to have seen it used before although it's no surprise in consumer electronics writing. I don't believe the same metaphor being used somewhere in an old stack of S&V constitutes overuse.
On the other hand … I have read way too many overly-creative, all-too-colorful
subjective
audio reviews in hi-fi mags and to be quite honest I've had enough.
What sets Audioholics apart is that you won't hear a reviewer wax poetic about a new power-amp transforming an old CD recording so as to produce …
"…transcendent highs that seemed to fill the room with the ether of fluttering angels."
Audioholics.com is neither following nor losing its way. In fact it's diversifying and solidifying its place.
New readers will come for the snappy news analysis and colorful
Who
metaphors…
They'll stay for the most in-depth product reviews on the web…
…and the extra helpings 'o cheese!
NGL_BrSH posts on June 29, 2008 22:53
ya but did they solve the "Black Crush" problem and the overall bright audio?
Adam posts on June 29, 2008 12:05
mnnc, post: 428230
Names/characters totally fictional…
Bummer. I really got into the story because I was hooked on the realism and personal connection with the characters. To find out that there isn't really a Johnny or Sarah…just so disappointing.
Just kidding. You make a good point, although being creative, unbiased, and/or original all of the time is difficult to pull off. Especially for us elders who can barely even remember second grade.
Post Reply