Sirius XM Orbits Chapter 11
Sirius XM Satellite radio has been working with advisers in preparation for a possible bankruptcy filing. The New York Times reported late yesterday afternoon that all the preparations for the ailing satellite radio company's Chapter 11 filing is nearing completion. But don't despair Sirius XM fans - there is speculation that Dish Network Chief Exec Charles Ergen might save the day.
The satellite radio duo is in serious debt to the tune of $3.25 billion. Sirius XM boss Mel Karmazin is said to be trying to pay off $175 million before a Feb 17 deadline or risk a takeover and possible default.
Charles Ergen is Chief Exec of Dish Network from which set-top-box maker EchoStar recently spun off. It's not known which company holds Sirius XM debt, Echo or Dish.
Ergen is a former professional gambler and is apparently known for chancy business deals and fierce independence. He'll be well suited to playing this new game in which he finds himself.
It's about more than satellite radio for Ergan - acquisition of Sirius XM will help Dish Network compete against DirecTV.
Dish Net has a technical interest in acquiring the satellite radio company due to the superior positioning of Sirius XM satellites than their own. DirecTV also has better positioned satellites than Dish. So, Ergan wants to hold his cards close as Bankruptcy ensues betting that the longer her waits the great the discount at which he'll be able to purchase all of Sirius XM assets.
Dish Network bought portions of the wireless spectrum last year. It's speculated they could use it be provide mobile video. Could there be potential collaboration with satellite radio technologies?
If the company files for bankruptcy, Ergan owns enough of the company that he will be at the table for possible control of Sirius XM. It might be in his best interest to let it go that far for as deep a discount as possible.
If Sirius XM does file Chapter 11 (and even if Ergan does an 11th hour purchase) it may spell the end of some of its high powered contracts such as Howard Stern who costs the company $500 million for five years.
Ergen is said to own a substantial chunk of Sirius XM debt. The satellite radio company has been working with restructuring and bankruptcy attorneys. But a Chapter 11 filing by Sirius XM could be bad business for Dish Network and it's boss Charles Ergen. Mr. Ergen has already mobilized in an effort to save the company by offering hundreds of millions in capital to assist the destitute company.
So far, Charles Ergen hasn't talked about buying up the company's remaining debt. However, it's widely suspected that he may do so to avoid Sirius XM being auctioned off in court.
It's indeed a sad day for XM Sirius. It's long been speculated by certain persons (who shall go nameless) that Sirius XM was liable to be short-lived all along.
See: XM Sirius Merger in video.
But for those of you who actually use the service - take heart! Don't start selling off your satellite radio equipment in some rash fire-sale. Even if the current worst-case scenario occurs and the company doesn't get saved by a white knight astride faithful green-backs and it's forced to file Chapter 11 – that doesn't exactly make it The day the music died.
Sirius XM is likely to keep operating right through the process and might just come out of it leaner, meaner and restructured with a new lease on life. That's the sunny outlook. A pessimistic outlook might say that given the current economic climate restructuring Sirius XM debts could simply be more than it's worth and we may someday call it another casualty of the late 2000 recession.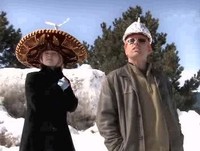 Then strange-looking young people in the future may ask: Whatever happened to Satellite Radio?
See also:
Recent Forum Posts:
Geno posts on February 15, 2009 16:10
Too Bad -

Guess I came to the party a little late. I just got my new company car, and it has a free 1-yr subscription to XM Serius. I drive about 1000 miles a week, and was really enjoying several of the music stations (Loft, Deep tracks, Coffee House, etc)
mtrycrafts posts on February 14, 2009 23:04
[QUOTE=Wayde Robson;522900…
· If Sirius XM does file Chapter 11 (and even if Ergan does an 11th hour purchase) it may spell the end of some of its high powered contracts such as Howard Stern who costs the company $500 million for five years.

I was just going to comment about those stratospheric contracts, no wonder they are in deep doodoo.
nobama posts on February 14, 2009 14:10
i signed up for XM for MLB. but since the yankees have sucked so badly and the steroids mess, i really dont even listen to the XM anymore.

and i hate the automatic renewals. i only need one radio. they uswed to auto-renew for my other 2. now i just have 2 and rarely listen to either. reception sux anyway.
tonedeaf posts on February 14, 2009 12:28
I invested in sirius some 4 years ago.Paid a good buck for the stock.Howard stern and their selection of a ceo swayed me.At last look my stock was worth 17 cents.
Paulie350 posts on February 14, 2009 11:52
howard stern is the only reason why i bought sirius in the first place. thats the only 2 channels worth listening to,
Post Reply