PSB Ships New Compact Subwoofers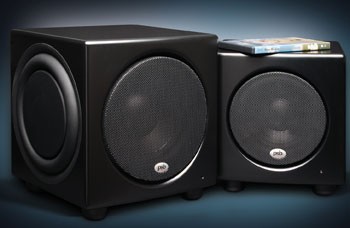 PSB HD Series Subs
PICKERING, ONTARIO, May 18, 2007 — PSB Speakers announces the addition of the PSB HD8 and PSB HD10 Powered Subwoofers — the outcome of an 18-month endeavor to provide the performance of its award–winning subwoofers in a more broadly acceptable size.
The HD8 and HD10 are 10.5 and 12-inch cubes, respectively (shown with DVD case for size comparison). The HD models, which stand for High Density due to their condensed design, are PSB's first ultra-compact subwoofers. These new designs not only needed to be compact but also to provide the deep bass punch, authoritative power and musicality for which all current PSB subwoofers are acclaimed.
The challenge of subwoofer design can be summed up quite simply yet completely with this simple phrase: "Small, Deep and Loud: pick two." Achieving all three goals from a single design package is, on its face, a seemingly impossible task, one that requires overturning or at least overpowering the laws of physics. PSB's HD8 and HD10 do so with a singular combination of brute force and engineering finesse.
PSB resolves the engineering conundrum by creating highly specialized low frequency drivers of exceptionally high mass and extraordinary "pumping" ability plus tiny, exhaustively computer-modeled enclosures, and unique dual-opposed high-mass passive radiators.
Using dual-opposing, high-mass, passive radiators, PSB was able to achieve unprecedented excursion — as much as two inches peak-to-peak — in order to preserve output down to 35Hz on the HD8, and 30Hz on the HD10. The uniquely progressive suspension preserves near-perfect motion, with low-distortion clarity, at all frequencies and drive levels. By arranging the dual passive radiators on opposing cabinet faces, unwanted vibrations are cancelled and more energy is sent into the room as deep bass. Furthermore, the HD8 and HD10 employ vibration-absorbing feet that keep them in place on any surface, even marble flooring.
The HD8 and HD10 employ sophisticated Class H amplifiers that produce 500 and 750 watts of continuous power, respectively (and some 1,600 and 2,000 watts of peak dynamic potential) and are allied with PSB's "smart bass" monitoring system to preserve accurate musicality at even the highest volumes and lowest frequencies.
Extra-heavy-duty aluminum-cast woofer "baskets," oversize magnet structures, and large-diameter, ultra-high-power voice coils are three more elements that empower the HD8 and HD10 to deliver accurate and powerful low frequencies. Both models exploit intelligent amplification with sophisticated circuitry that matches each sub's drivers, enclosure, and electronics for the most balanced system possible, resulting in controlled, quick and high-impact sound that extends to the very lowest octaves, without boom or bloat.
Utilizing its 35 years of loudspeaker design expertise, PSB conducted exhaustive measurements and analysis, along with extensive listening tests to ensure both the highest technical performance and consummate musicality.

The result — unique for this category of subwoofers — is two ultra-compact models that not only play loud and deep but do so accurately, dynamically and musically to create the true "you-are-there" excitement of the original sonic experience.
The HD subwoofers' controls include volume, crossover and continuously variable phase controls, Auto on/off, LFE in/out, LL Stereo in/out, HL Stereo-in with 5-way gold-plated binding posts, and 12V Triggers.
Both models come in an elegant satin black finish and are currently shipping. The HD8 and HD10 are priced at $999 and $1499 respectively.