Parasound Debuts Halo JC 2 Preamp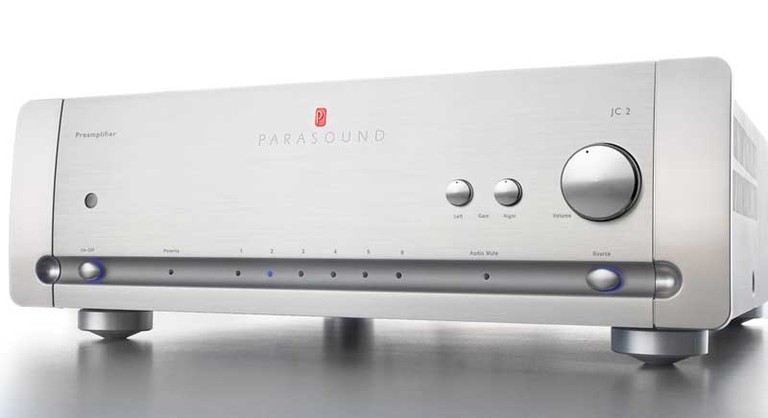 Parasound JC 2 Preamplifier
SAN FRANCISCO - June 20, 2007 - Parasound is now shipping the JC 2 stereo preamplifier in its high-end Halo product family. The Parasound Halo JC 2 was designed and engineered by the legendary John Curl and CTC Builders team who have been responsible for some of the most highly regarded audio components of the past 25 years, including the acclaimed Parasound Halo JC 1 400-watt mono power amplifier.
The Parasound Halo JC 2 is a precision analog stereo preamplifier that audiophiles will use to switch between audio source components and to control the output level of the connected power amplifier. While this role may seem relatively simple, many designers and engineers have devoted lifetimes to getting it right.
According to Parasound's president, Richard Schram, "We conceived the Halo JC 2 in the spirit of the JC 1, commissioning John Curl to design a two-channel preamplifier without compromise. The resulting product achieves a higher level of sonic and measured performance than any preamplifier since Parasound was founded in 1981. The sound of the Halo JC 2 is alive with musical detail against a silent background that will give serious audiophiles both the opportunity and desire to re-explore their music collections."
The Parasound Halo JC 2 reflects Curl's genius for circuit design and performance, expressed through Parasound's obsession with quality, functionality and value. The JC 2 employs fully-balanced inputs and outputs with professional-grade XLR audio interconnections for the lowest possible levels of noise and distortion. It also has standard un-balanced connections, plus exceptional facilities for interfacing with integrated home control, remote control and other modern integration technologies.
The Halo JC 2 has a total of six line-level inputs, with two of those switchable for balanced or unbalanced connections. The main output jacks have both balanced XLR connectors and unbalanced RCA connectors. When used with power amplifiers that invert polarity the user can maintain absolute polarity, either by using the rear-panel inverted output jacks or by using the main output jacks and the polarity invert button on the included IR remote control. There are also fixed-level RCA record output jacks for connecting audio recording devices.
The infrared remote control has buttons for on/off, DC trigger activation, polarity normal/invert, volume, mute, and source selection. There are also tuning buttons for the Parasound Halo T 3 FM/AM tuner. Custom installers and systems integrators will appreciate the inclusion of an RS-232 interface, four 12-Volt Triggers, and remote control repeater input and loop out jacks. The RS-232 interface allows bi-direction communications with home automation and control systems such as Crestron, AMX, Control4, Niles, and Elan.
The Parasound Halo JC 2 is now available from select Parasound dealers. It has a suggested retail price of $4,000.
Parasound Halo JC 2 Audio Preamplifier Specifications

Frequency Response
5 Hz – 100 kHz, +0/-3 dB
Distortion
THD: < 0.003% at 100 Hz
THD: < 0.005% at 20 kHz
IM: < 0.003%
S/N Ratio
116 dB, input shorted, IHF A-weighted
104 dB, input shorted, unweighted
Crosstalk
> 100 dB at 10 kHz
> 90 dB at 20 kHz
Input Impedance
Unbalanced: 30k Ω
Balanced: 30k Ω per leg
Output Impedance
Unbalanced: < 60 Ω
Balanced: < 60 Ω per leg
Input Sensitivity
200 mV for 1 V output
Total Gain: 14 dB
Maximum Output: 8 V
AC Power:
110 – 120 V or 220-240 V, 50 – 60 Hz
(Set AC Voltage switch on rear panel)
25 watt standby; 30 watts when turned on
Dimensions
Width: 17 1⁄4" (437 mm)
Depth: 16" (406 mm)
Height, with feet: 5 7⁄8" (150 mm)
Height, without feet: 5 1⁄4" (133 mm)
Weight
Net: 24 lbs. (11 kg)
Shipping: 36 lbs. (16.4 kg)
Rack Mount Accessory
HRA 3 (May be purchased separately)
MSRP
$4,000 (US)Specifications and features subject to change or improvement without notice.

Founded in 1981, Parasound Products, Inc., is a privately owned U.S. company that specializes in providing affordable audio and home theater components to the critical listener. For more information and dealer locations, visit http://www.parasound.com or call 415 397-7100.