Panasonic to Mass Produce OLED in 2011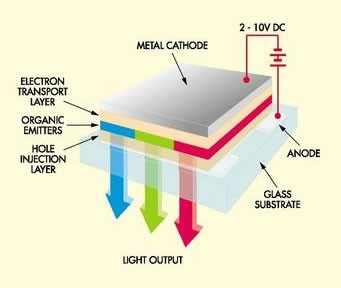 Panasonic Going OLED in 2011
According to the Sankei Shimbun daily (a major Japanese newspaper), Japan-based Matsushita Electric Industrial Co (Panasonic) let out that it is finalizing plans to mass-produce 37-inch organic light-emitting diode (OLED) TVs in three years. The article said that Matsushita would be the first to mass-produce OLED TVs of over 30 inches, and that the company was positioning itself to take on Samsung Electronics, another pro-OLED company to dominate the flat panel market.
The paper said Panasonic would likely start selling the OLED TVs for around $1,390 (150,000 yen). If they are talking about 30-inch or larger sets, then this will be a very good starting price for OLED technology (just compare to Sony's ridiculously-priced 11-inch offering).

When pressed for specifics, Matsushita spokesman Akira Kadota (possibly the coolest spokeman name I've ever heard) said the company was considering the commercialization of OLED TVs in the future, but it had not decided on any details including the launch timing or size.
What's so exciting about OLEDs is the "thin-ness" factor and its high contrast ratio due to the use of light-emitting technology (as opposed to a backlit technology like LCD). Once production costs are reduced through successful mass production and screen sizes reach the target sizes, OLED will stand a  chance at taking a bite out of traditional flat panel sales.
Last November Sony started selling the world's first OLED TVs with an underwhelming 11-inch screen and price tag of ~$2,500.
While we might get all excited about OLED and the prospect of the Panasonic brand bringing it to market affordably, Matsushita is claiming that demand for that type of OLED TV would probably not take off until around 2015.
The article in the Sankei said Matsushita would be setting up an entire line for just OLEDs at the new LCD panel factory it is building in Himeji, Hyogo Prefecture, Japan. It will also set up another OLED production line at the IPS Alpha Technology factory in Chiba Prefecture (the company owns 30 percent of that company.)
cpp posts on January 24, 2012 10:14
60" , once you experience a 60" or larger in a room that will support it, you will never go back to tiny.

I hope this mass produce doesn't mean a possibility of manufacturing issues a.k.a. quality.
jliedeka posts on January 12, 2012 20:25
I'm pretty happy with my 50" plasma for now. I would probably go bigger if I had to do it again. Now I want a 55 or 60 inch low power display with awesome colors and contrast.

Jim
avnetguy posts on January 11, 2012 08:47
I can wait for OLED to mature for a bit, I don't need (want maybe …) a new TV yet and will definitely go bigger than 50" next time around.

Steve
Adam posts on January 10, 2012 23:01
jliedeka, post: 427051
I'm hoping someone has at least a 50" OLED by 2012.
I think that you inspired
the industry
.
jamie2112 posts on June 25, 2008 23:02
As for OLED, I just hope that I have a new TV before 2011…
ME tooo I hope..
Post Reply