NEC Technology Promises Cheaper Blu-ray Players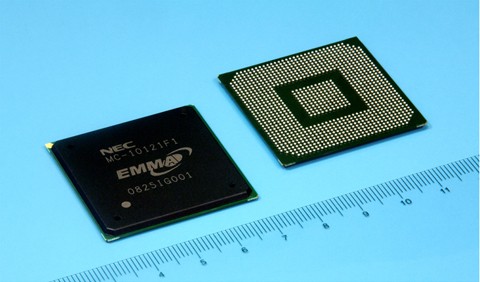 This week NEC Electronics made an announcement that it had developed the world's first single-chip LSI (Large Scale Integration) to integrate the main functions of Blu-ray Disc players. The new LSI is named EMMA 3PF and will begin shipping in sample form during September 2008.
The EMMA 3PF LSI includes all of the main functions required for Blu-ray Disc players such as D-to-A conversion, the digital decoding of encoded images and sounds and an HDMI output. Even the external memory has been integrated as have peripheral functions - resulting in a 50% reduction in the package area. The new LSI supports BD-ROM Profile 2.0 and has a multi-core CPU, which delivers an industry-best 1150 DMIPS (Dhrystone MIPS), and a graphic processing accelerator.

What's exciting is that this new compact package allows for CHEAPER and SMALLER Blu-ray players to be manufactured. While there are other hard costs involved (ie Blue lasers) this is a definite step in the right direction for an industry in desperate need of an across-the-board price drop.

Monthly production is expected to ramp up to 1,000,000 units by the beginning of 2009.
According to NEC, the EMMA 3PF has the following main features.
A single chip that has the required functions for a Blu-ray Disc player
The EMMA 3PF combines the front-end functions of the SCOMBO/UM2P with the back-end functions of the EMMA3P. This is the first time ever that the required functions for a Blu-ray Disc player have been integrated into one chip. The chip has an analog circuit to process signals from the optical pickup, a decoding circuit for encoded video and audio and an HDMI to output video and audio.
50% reduction in package area
A unified memory architecture (UMA) integrates the chip, allowing the frontend and backend functions to share the external memory required for these functions. An on-board USB2.0 host controller has also been included. The package area is 50% smaller than the combined area of the previous products, which reduces part costs and space requirements.
Support for Blu-ray Disc specifications for video and audio playback
The EMMA 3PF supports the codecs used by Blu-ray Discs. Picture in picture playback of H.264/AVC, VC-1, MPEG2/1 and other video formats and the audio playback of Dolby TrueHD, DTS-HD and other formats are possible. Support is planned for the DivX format. The on-board Ethernet controller and digital rights management make it possible to download content via a network connection.
A multi-core CPU and graphics accelerator
Player startup speed and operability are greatly improved by a 64-bit 655DMIPS VR5500 CPU application processor, a 32-bit 495DMIPS CPU by MIPS Technology, a vector graphics accelerator for graphic processing and a still-image decoder.
Backward compatibility with existing software
The EMMA 3PF has the same LSI architecture as the EMMA and SCOMBO products, which means that users can still use applications developed for EMMA and SCOMBO products.
The EMMA 3PF seems to bear a lot of potential for helping bring low-cost Blu-ray Disc player systems to market and we'll be looking out for additional advances which make the players less expensive to manufacture.

j_garcia posts on August 08, 2008 14:40
The sales numbers per title are much lower for BD vs DVD, which is almost certainly why the cost of the discs is higher, as well as higher production costs to some extent due to lower volumes - as well as new gear needed and remastering activities. That will drop off eventually, and having lower cost players out there to get more people buying movies will make it easier for the big names to increase BD production and scale back SD production. Lower cost players can only help.
fmw posts on August 08, 2008 06:36
I don't think anything would help the industry as much as an across-the-board price reduction in software.
Post Reply