MirrorMask Blu-ray Review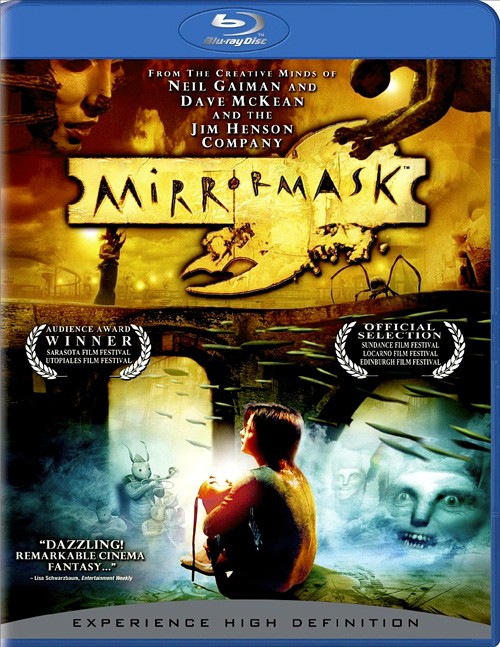 Product Name: MirrorMask Blu-ray
Manufacturer: Sony Pictures
Distributor: Sony Pictures
Performance Rating:
Value Rating:
Review Date: November 05, 2008 17:33
MSRP: $ 28.95
Starring: Stephanie Leonidas, Jason Barry, Rob Brydon, Gina McKee
Director: Dave McKean
Studio: Sony Pictures
Release Date: Nov. 18th 2008
Rated: PG
Length: 101 Minutes
Pros
Great image quality, huge esthetic value, great use of surrounds for ambient and directional effects.
Cons
Familiar story elements to fantasy fans. A little dark for some viewers, pacing slow at times.
Introduction
MirrorMask is a breakthrough in sheer imagination. The Jim Henson Company has produced a worthy successor to its lineage that includes classics like Labyrinth and Dark Crystal. Although it bears the influence of the late Jim Henson, its tone is darker and decidedly less cheery than standard Henson fare which might put some viewers off. But MirrorMask is a surreal, dark fantasy tale with distinct style and a sense of humor.
Like This? Check out our other
AV News
!
Confused about what AV Gear to buy or how to set it up? Join our Exclusive Audioholics E-Book Membership Program!
See also:
Recent Forum Posts:
Wayde Robson posts on November 06, 2008 14:28
Glad you liked it! I enjoyed it too despite a lot of mixed reviews. I think it's one of those movies that will bear multiple viewings and is very worthwhile seeing on the high-def format rather than standard def DVD.
j_garcia posts on November 06, 2008 11:41
I love this movie. Can't wait to pick up the BD. It is a little bit American McGee's Alice mixed with The Dark Crystal. Excellent film.
Post Reply