Laptops to Eliminate Spinning Hard Drives?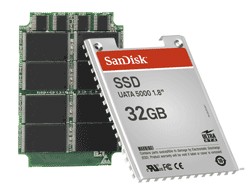 SanDisk SDD drives
Following up on Sony's announcement of a 32GB solid state drive (SSD) option in its new Vaio Type-G line, Dell yesterday announced the availability of an SSD option its Latitude D420 and D620 notebooks.
The idea behind SSD is that, with solid state technology, the notebooks break before the drives do. They are twice as resilient to force and sudden impacts than a standard HDD platter. Dell has performed impact tests to arrive at this 2x durability number. The other advantages include a more silent system, the reduction of heat in the chassis and, of course, a notable reduction in size.

The 1.8-inch 32GB SanDisk SSD, tha  was announced by SanDisk in January, is said to increase read/write performance by up to 23 percent. Dell claims SDD is over three and a half times less likely to fail compared with the drives currently available for the Latitude notebooks. Due to size constraints, the best fit for this technology right now seems to be as a replacement for the 40GB drives found in ultra-portables.

So how much will this security and peace of mind set you back? A cool $549 retail - the same price markup offered by Sony on it's systems. The option is available in Dell's build-to-order system. Currently the drive is already available in North and South America. SSD availability in Europe and Asia was unannounced as of this time.
For more information, please visit www.sandisk.com.

See also:
Recent Forum Posts:
majorloser posts on April 27, 2007 23:11
I would hope this will make tablet PC's and "toughbooks" all the more durable. We use a lot of "toughbook" laptops and vehicle mount units at work. The Florida heat and road vibration take their tolls on PC's.
Audioholics posts on April 27, 2007 22:03
Warpdrv, post: 265915
also lets not forget about the benefits that the lack of heat will also provide in this implementation as well…
You aren't kidding - I believe heat is a major cause of failure in DVRs…
Ohmen posts on April 27, 2007 20:27
My interest lies in the increased access speed. The implementation that I am looking forward to is the hybrid drives that will have both the SSD and traditional hard drive combined. A fast SSD partition for the OS and programs, a hard drive for the data. This will allow the drive to be a acceptable size drive while making the boot and program access much faster.
Warpdrv posts on April 27, 2007 19:10
also lets not forget about the benefits that the lack of heat will also provide in this implementation as well…
No more noisy spinning HD's is great… Love it. Hurry up…

I got 2 terabytes of storage space i my basement that I want to replace with this..
ronnie 1.8 posts on April 27, 2007 18:56
I would imagine this will lead to solid state drives for DVR's, such as TiVo's. That should reduce about 75% of the noise they make.
Post Reply