Klipsch Reference RP-1600SW 16" MONSTER Sub Giveaway!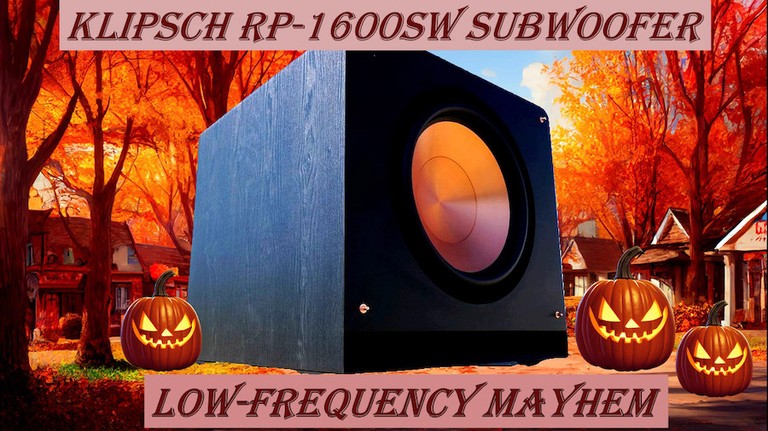 Enter to WIN a Klipsch RP-1600SW 16-Inch Monster Sub
"We Review It, You WIN It!" Audioholics Contest is back, sponsored by Audio Advice! Audioholics Contests are always FREE to enter and include FREE shipping to your door. As always, "We Review It, You WIN It" products are thoroughly tested and approved for full serviceability. This is the Audioholics Contest where the winner takes home the highly rated equipment that played a starring role in a recent Audioholics review. This time, it's the Klipsch Reference RP-1600SW reviewed by James Larson. But until the winner is announced, this otherwise brand new unit will remain safe in its original box awaiting shipment to the winner, so it can wreak low-frequency mayhem in someone's home.
Halloween Monster Klipsch Subwoofer Giveaway!

This Halloween at the stroke of midnight October 31st, one winner will be drawn at random to bring home the Reference RP-1600SW. With a 16" driver, powerful built-in amplifier and weighing in at 111-lbs, this is a true MONSTER subwoofer by Klipsch that's ready haunt one lucky winner's home.
Note: Since this was our review unit, some superficial cosmetic blemishes may be present, but the unit was fully tested and found to be 100% functional.
Enter the Klipsch Reference RP-1600SW Monster Sub Giveaway Here!
Klipsch Reference RP-1600SW MONSTER Subwoofer Giveaway!
The Klipsch Reference RP-1600SW, 16" Monster sub!
From its roots in 1946 Arkansas, Klipsch has grown into a beloved American speaker company known for a sound as distinctive as its speaker's appearance. Many top speaker companies that don't specialize in subwoofers will often build a matching sub as an afterthought for any given speaker series. Not so for this Klipsch Reference Series! The Klipsch Reference RP-1600SW was designed to be a true high-performance powered subwoofer befitting the quality of its Reference line of speakers. This isn't your usual 10" or 12" sub! For this Reference subwoofer Klipsch employs a full 16" driver using its patented Cerametallic™ technology and is powered by an 800-watt RMS (1,600 watts peak power) Class D amplifier. A true MONSTER of a subwoofer that will give you unsettling low-frequencies ranging from 14.5 to 175Hz (+/- 3dB) while standing ready to unleash a maximum acoustic output of 125.5 dB (1m peak) at any moment. We implore the winner, handle with great care!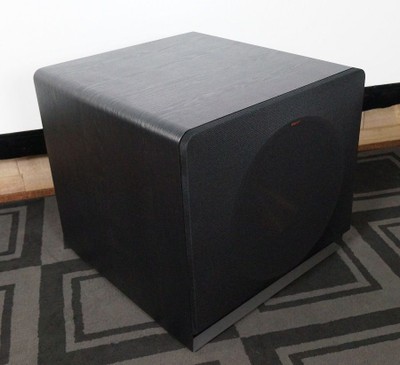 Klipsch RP-1600SW: Discreetly veiled with cover on.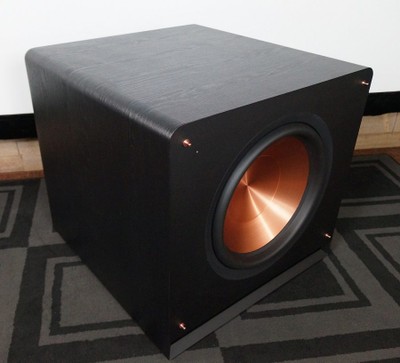 Klipsch RP-1600SW: Cover-off, revealing the 16" spun-copper Cerametallic driver.
How the Audioholics Contest Works
Audioholics Contests are a sweepstakes-style draw open to anyone residing in continental USA. Only one winner will be chosen via random draw at the end of the final day of this Audioholics Contest. As usual for Audioholics Contests, entry is always FREE! But you can optionally improve your chances to win via the entry form by engaging with Audioholics across the Internet, then earn even more chances by sharing the contest with friends through our entry form (above). Only your email address and name are required for initial registration. By registering for the sweepstakes you agree to receive awesome newsletters from Audioholics and this contest's sponsor, Audio Advice. But register soon because by midnight Halloween Tuesday, October 31st, this sweepstakes entry form will close and ONE lucky winner will be randomly selected and contacted via email in the following week. 
IMPORTANT NOTE: Audioholics Contests are always FREE, from registration to shipping of the prize. Nobody from Audioholics will attempt to contact any registrant until after registration has closed and at no time will you be required to pay a fee regarding this contest. So, watch your spam filters in case we attempt to contact YOU no sooner than the first week of November!
Klipsch Reference RP-1600SW Subwoofer Monstrous Specs:

Power output: 800W RMS / 1600W Peak 
Frequency response: 14.5Hz - 175Hz +/- 3dB
Box design: Bass Reflex via Front-Firing Aerofoil Slot Port 
Amplifier: Class D with Analog Preamp Stage
Woofer: 16" Ultra Long Throw Cerametallic 
Inputs: Dual RCA/LFE Line In, WA-2 Wireless Port
Phase switch: 0/180 degrees
Warranty: 5-years
Size (HxWxD): 23.39" x 23.50" x 27.35"
Weight: 110.9 lbs (50.3 kg)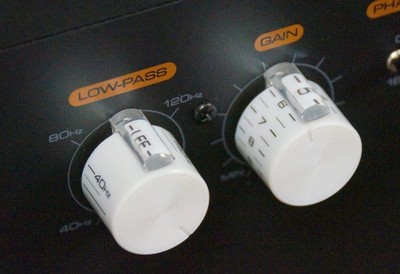 Klipsch RP-1600SW Controls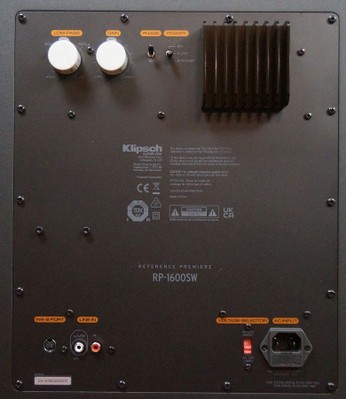 Klipsch RP-1600SW Rear Amplifier Panel
Post-Review Rundown of Klipsch Reference RP-1600SW
View the Post-Review Discussion with Gene and James
Audioholics Klipsch RP-1600SW Contest Final Notes
Please Read Before Entering: Contest Rules, Terms and Regulations
Entry must be received BEFORE 10/31/23 at 11:59 PM EDT
By registering for the contest, you agree to receive both the Audioholics and Audio Advice email newsletters. Entries Limited to the Continental United States Only.
To enter the Giveaway, simply: 
1. Register with name/email to receive the Audioholics and Audio Advice email newsletters, earn optional points with additional engagement and recommendations.
2. Respond using the same email address if you are contacted as the winner. 
Please Note: You will ONLY be contacted from an authentic [email protected] email address AFTER the contest ends, you may be contacted for verification of having entered an Audioholics Contest. Prize will be sent through Nov 2023.
CONTEST RULES OVERVIEW: Please go our Contest Rules sticky-post in the Audioholics Forum for the complete rules. To enter, simply provide email address and follow confirmation to sign up for the Audioholics and Audio Advice newsletters. Read the complete Contest Rules, Terms and Regulations before entering. One new subscriber who joins between now to 10/31/23 will be chosen at random as the system winner. Only one registration, but multiple entries are accepted through this contest widget (above) by Gleam.Io. The system will know if you already entered and will prevent you from multiple registrations.

* Don't wait, the entry period ends Oct 31, 2023 at 11:59 PM EDT! Entries Limited to the continental United States.
Thank You for Entering Another "We Review it, You WIN It" Audioholics Contest!
Special Thanks to Audio Advice for Sponsoring This Contest 
Good luck in the contest! 
Have a safe, scary & Happy Halloween!
And remember to… 
KEEP LISTENING!