Impact Acoustics Audio CrossPlay 2x2 Switch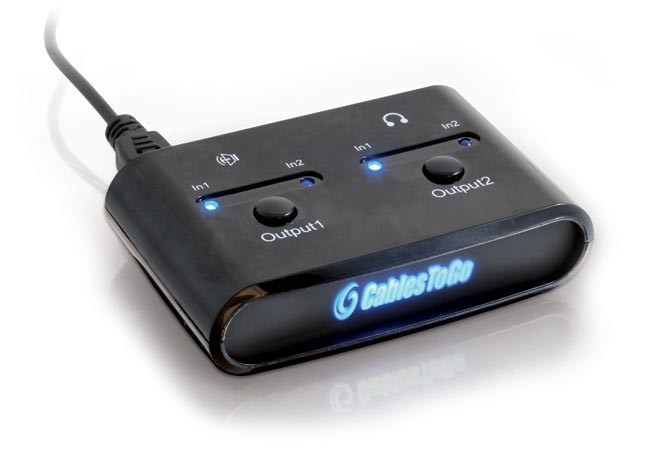 Impact Acoustics Audio Crossplay
Dayton, Ohio, November 26, 2007 - Impact Acoustics, an industry leader in computer connectivity products, is proud to announce the new Audio CrossPlay audio distribution device. This pocket-sized 2x2 Audio Matrix Switch provides a user with the ability to simultaneously connect, share and switch between two audio inputs devices and two audio outputs with 3.5mm jacks.
The Audio CrossPlay enables connection of two 3.5mm input devices, such as MP3 players, CD players, laptops, desktops, and DVD players, and two 3.5mm output devices, such as speakers, headphones, and audio jacks on a computer. With a simple touch of a button, one or both of the audio inputs can be sent over either audio output to the device. This setup allows the user to plug in two different MP3 players and listen to one or both over headphones, speakers, or both. Or they can connect a laptop or desktop and switch between headphones and speakers without having to disconnect the speakers/headphones each time. A convenient mute feature allows muting of each output independently so everything can be left connected even when not in use.
Unlike other similar solutions that are strictly PC-based, the Audio CrossPlay does not require a computer for use, making it ideal anywhere a user wants to use their portable audio devices. The device is compact for easy carrying, and it conveniently lights-up, a feature that both indicates when it is in use as well as giving it an attractive appearance. The device comes with two 3.5mm cables, a USB cable (to power from a computer), and a wall power charger.
Examples of applications of the Audio CrossPlay:
Share one speaker and headphone set between two computers

Desktop/laptop users can listen to computer audio files over the computer speakers while using a headset to talk on a VOIP chat

Plug in 2 MP3 players and listen to either one over the speakers or headphones, or both. Or, listen to the one through the headphones and the other through the speakers at the same time.

Use in the car to plug in a DVD player and an MP3 player and two headphones, allowing two users to share the same audio output or listen to a different audio output over separate headphones without disturbing other passengers

Ideal in commercial applications to distribute two different audio sources over two different audio devices.

Share audio devices between headphones and a home audio system.
For more information on the Audio CrossPlay and all other Impact Acoustics products, please visit www.impactacoustics.com.
About Impact Acoustics
Impact Acoustics is a division of Lastar, Inc, a leader in computer connectivity solutions since 1984. Under the brand Impact Acoustics, Lastar created a line of home theater connectivity products renowned for quality and value. Impact Acoustics uses the finest components and the latest construction technologies to maximize cable performance and ensure compliance with industry specifications for each cable and its designated application. For more information regarding Impact Acoustics, visit www.impactacoustics.com