Hitachi Pleads Guilty in LCD Price Fixing Scheme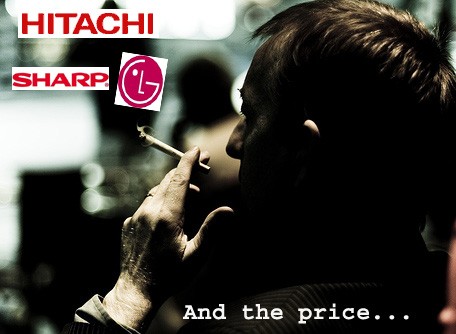 Remember when Sharp and LG were fined for price fixing? Well, add Hitachi Displays LTD. to the list of the LCD manufacturers that took orders from the Smoking Man in backroom deals. Hitachi has pleaded guilty to Justice Department and agreed to pay out $31 million in fines. Three other companies have already been sentenced in what has been the largest ever anti-trust fines levied by the U.S. Dept. of Justice.
LCD-gate just doesn't have the proper ring and it's probably an irrelevant comparison in legal terms. But someone should come up with a clever name for this price fixing scandal that started way back in 2001 and might have lasted all the way to 2006. It involved names like Sharp, LG, Chunghwa and now Hitachi is the latest company to get its reputation marred in this massive anti-trust investigation.
Hitachi has admitted that it fixed prices on screens sold to Dell Inc. for desktop monitors and notebooks. Hitachi's involvement went on from at least 2001 to 2004. The one-count felony charge was filed Tuesday in a San Francisco federal court.
The latest participant in the scheme to keep LCD panels above market value brings the total criminal fines up to $600 million. The largest of the fines went to LG, the South Korean company was forced to pay $400 million in fines alone.
In the last article, we might have imagined shadowy meeting rooms with unsavory back-room business dealings involving James Bond-like villains. But the vision can't be far off the mark. Apparently these clandestine meetings took place in Japan, Korea and the United States to collude on LCD prices to sell to Dell.
As usual – the Dept. of Justice is only showing its teeth because it was a multi-million dollar company (Dell) that was the victim. Like the Madoff scandal, it's only a scandal when large corporations or very rich people lose money. Don't expect price fixing verdicts to result in LCD panel savings to the consumer. In fact – word on the street is the price of LCD is actually going up.
See also:
Recent Forum Posts:
ParkerAudio posts on March 13, 2009 16:46
I wonder where the 600 million goes? Should go back to the consumers, somehow.
I bet if you asked the government, it would go to the schools, or the elderly.
Post Reply