Silicon Optix Ships High Definition HQV Benchmark DVDs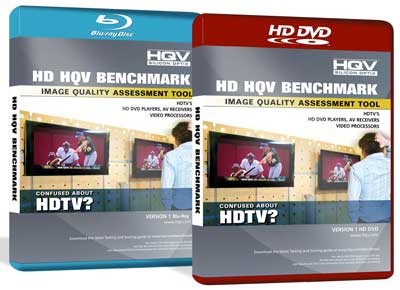 High Definition HQV Benchmark DVDs
San Jose, CA - June 7, 2007 - Silicon Optix, the leader in programmable video processors, announced today that the high-definition version of its HQV Benchmark DVD is now available to consumers. The test disc is available in both Blu-ray and HD DVD formats for an MSRP of $20, and can be ordered from www.hqv.com. HD HQV Benchmark lets anyone objectively evaluate the picture quality of high-definition products, including displays, HD DVD and Blu-ray players, A/V receivers, and projectors.
"For the first time, consumers will be able to test the high-definition performance of their products to make sure they live up to the manufacturers' claims," said Jordan Du Val, Silicon Optix's VP of Marketing. "The HD HQV Benchmark is a perfect companion to our very successful standard-definition HQV Benchmark, which tests a product's ability to upconvert standard-definition material.
Enter the special promotion codes to receive $5 off the HD HQV Benchmark DVD. In addition, a portion of the proceeds will be sent to the following charities: Habitat for Humanity, Doctors without Borders and the Salvation Army

HQV4AH1BR
HQV4AH1HD
"The HD HQV Benchmark is already being used by journalists worldwide as a trusted source for product reviews. It's a must-have for anyone considering an HD purchase, or for those who have already purchased and want to test the capabilities of their existing gear," continued Du Val.
The HD HQV Benchmark begins with an introduction, an overview of the tests, and an explanation of how to use the included scorecard to assess any product like a pro.
The HD HQV Benchmark includes tests for noise, video resolution loss, "jaggies," and film resolution loss—all recorded in 1080i video. The resolution test is used to determine if a player or display properly deinterlaces 1080i sources, the most common format for video-based content seen on broadcast and cable networks' HD programming.
The HD HQV Benchmark DVD is now available in both HD DVD and Blu-ray editions at www.hqv.com for a suggested retail price of $20 (USD) each. The SD (NTSC) version is also available for $20 (USD).
HQV video processing can be found in products from top-tier manufacturers such as Toshiba, Denon, Mitsubishi, Onkyo, Samsung, Syntax, and Yamaha.
About Silicon Optix
Silicon Optix is a leader in programmable, high-performance video processing and unique and proprietary geometry processing IC solutions delivering Hollywood Quality Video (HQV). Silicon Optix ICs can be found in top-tier consumer-electronics products such as high-resolution displays, premium DVD players, ultra-thin RPTVs, and front projectors. Teranex, a division of Silicon Optix, is a leader in programmable video processing systems-level solutions for the professional broadcast and postproduction markets. Silicon Optix is headquartered in San Jose, California, with offices around the world. For more information visit: www.siliconoptix.com, www.terenex.com, and www.hqv.com.