HQV Benchmark DVD Available to Consumers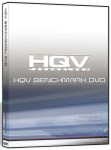 San Jose, Calif. - September, 2005 - Silicon Optix, a leading developer of video-processing technology, has now made its HQV Benchmark test DVD available to consumers. HQV Benchmark lets anyone objectively evaluate the picture quality of various video products, including HDTVs, DVD players, and video scalers before the purchase.
"Many consumers who purchase HDTVs bring them home only to be disappointed with the picture quality," said Dennis Crespo, VP of Marketing for Silicon Optix. "The reason for this disappointment is that, although the age of HDTV is upon us, most of the available video, such as DVD and broadcast, is still being delivered in standard definition."
"Our goal is to educate consumers, making them aware of the real world performance of products they are contemplating purchasing," continued Crespo. "HQV benchmark is the only tool that allows consumers to test drive before they buy, so they can determine which product delivers the best picture quality for their budget."
HQV Benchmark begins with an introduction, an overview of the tests, and an explanation of how to use the included scorecard to assess any video product like the pros.
The video clips and test patterns on HQV Benchmark have been specifically designed to evaluate a variety of video processing tasks, including decoding, video de-interlacing, film-cadence detection, video-over film, motion correction, noise reduction, and detail enhancement. The ultimate quality of the image you see is limited by any and all of these steps.
Ten tests provide a thorough workout for any video product. The tests include color bars; two "jaggies" patterns and a waving flag to test de-interlacing quality; a detailed static image to test for detail reproduction in natural images; A simulated noisy broadcast clip to test the quality of noise reduction; a roller-coaster sequence to test motion-adaptive noise reduction; a test for proper handling of 3:2 pulldown in detailed film scenes; tests to reveal if the product can handle various film and animation cadences; and a title crawl that mixes film and video elements.
The HQV Benchmark DVD was developed in conjunction with leading reviewers and home theater publications, including Sound & Vision, Home Theater, Ultimate AV, The Perfect Vision, HDTV Expert, Digital TV, Widescreen Review, Secrets of Home Theater and High Fidelity, and Audioholics.
Not only is HQV Benchmark valuable for consumers, it helps salespeople steer their customers in the right direction. Here's what Keith Gray, salesperson from Ken Cranes, one of the largest home theater retailers in Southern California, had to say: "I've sold televisions for over 10 years. I've gone to numerous manufacturers' training sessions, but I've never had an education about video quality as thorough and easy to understand as the one I'm getting from HQV Benchmark. Also, very importantly, I'M USING HQV BENCHMARK TO TRAIN MY EYES. My clients don't mind spending more money for a better product as long as they can see the benefit. With HQV Benchmark, you can show them the difference."
The HQV Benchmark DVD is now available at www.hqv.com for a suggested retail price of $30 (USD).