Harman Kardon Introduces New HDMI 1.3a Receivers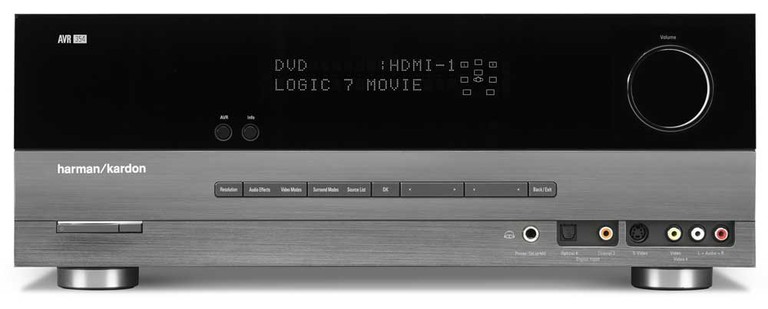 New AVR Receivers from Harman
Harman Kardon has finally released a new series of AV receivers which feature three HDMI 1.3a inputs and one output, allowing native internal decoding of all the new high definition audio formats available on Blu-ray (not including the AVR 154). 1080p upscaling is also provided and a new graphical (GUI) onscreen menu system helps the setup process. All three new models are scheduled to ship this month.
All five receivers feature a front panel with gloss black on the top half, and a darker "brushed aluminum" on the lower half that is a darker graphite color. A more elegant soft white illumination replaces the blue knob accents of prior models. The new receivers look much nicer and more sophisticated than the prior models in our opinion.
The 7x75-watt AVR 354 has a suggested $899, the 7x50-watt AVR 254 is $649, and the 5x30-watt AVR 154 is $399. All have power outputs rated into 8 ohms from 20Hz-20kHz with less than 0.07 percent THD.
The opening-price AVR 154 lacks the ability to decode Dolby TrueHD and DTS-HD Master Audio or ability to process 7.1-channel PCM audio delivered to its HDMI inputs. The AVR 254 and 354 also add 1080p up-scaling of all connected video sources, HDMI Deep Color support, XM-ready inputs, Faroudja DCDi Cinema processing and a new onscreen graphical user interface. The menu system uses icons in addition to text to aid consumers in setting up their system. It is also partially transparent, so it overlays on top of whatever is being displayed by the AV receiver's video outputs.
The $899 AVR 354 comes with The Bridge II iPod-docking station at no additional charge. With it, a docked iPod or iPhone can be operated by the AVR 354's remote control, and iPod operating menus and iPod-stored video will appear on the TV. The menu will also appear on the receiver's front-panel display. The AVR 154 and AVR 254, in contrast, feature mini-jack input for iPod audio playback.
The AVR 354 and 254 also add multi-zone audio capability for connected A/V sources, including a docked iPod. In two-zone mode, the 7.1-channel receivers can simultaneously power a 5.1 home theater system and remote stereo speaker. They also include multi-zone preamp outputs. A separate second-zone remote is included with the AVR 354.
The AVR 254 and 354 also feature EzSet/EQ automated room-equalization and system calibration. EzSet/EQ automatically measures the frequency-response peaks and dips in a listening room and applies a compensating equalization curve to achieve flat response. It also calibrates speaker output levels and delay times.
All three AVRs incorporate Harman's "ultrawide-bandwidth amplifiers", audiophile-grade 192kHz/24-bit DACs, bass-management systems, proprietary Logic 7 processing to derive 7.1-channel soundfields from stereo and matrixed-surround sources, and lip-sync delay to compensate for delay occurring between audio and video signals.

Two new stereo receivers are also due next month, one of which will be Harman's first stereo receiver with Dolby Virtual Speaker and Dolby Headphone. The HK 3490 and HK 3390 retail at a suggested $499 and $399, respectively. Both feature phono inputs and video switching, and the XM-ready 3490 is the brand's first stereo receiver with iPod-dock input [using The Bridge II], Dolby Virtual Speaker, and Dolby Headphone processing, which respectively deliver surround sound from two speakers and from any pair of headphones. The two models' ultrawide-bandwidth amplifier sections are rated, respectively, at 2x120 watts and 2x80 watts into 8 ohms from 20Hz to20kHz with less than 0.07 percent THD.
In outlining its new dock, Harman Kardon said The Bridge II connects to the Harman Kardon DMC 1000 digital media center, the AVR 354 A/V receiver, the HK 3490 stereo receiver, AVR 146 receiver, and to receivers in the AVR 47 Series, AVR 45 Series, and AVR 40 Series. The Bridge II, like its predecessor, enables control of iPod music and still images from the receivers' supplied remotes. Remote control and display of iPod-stored video is available only through the AVR 354.
For more information, check out www.harmankardon.com
anm posts on October 02, 2008 13:23
Has anyone used 3490 as yet? Please post your feedback.
regards
anamorphic96, post: 418535
The 3490 seems interesting with its digital inputs. Never seen a stereo receiver with this feature. Getting rid of the VMAX feature and adding Dolby Virtual Speaker was a nice touch. It's a good psuedo surround format for us two channel home theater people. Now if they where to add full fledged bass management this would probably be the sweetest stereo receiver under 500.

JR.com is taking pre-orders at 329.00. Not a bad deal if I do say so myself.
anm posts on September 26, 2008 10:49
Did anyone here actually audition and purchase the 3490?
I am planning to buy one, and mate it to a pair of Dali Ikon 6 or Monitor Audio RS6.
It would be good to hear from experienced folks here what this combo sounds like.

regards
Davidt1 posts on June 02, 2008 11:24
I would email HK and ask for the new chassis. If people start complaining, maybe they will give in. If I can get the same cool chassis the Europeans will be getting, my new receiver will be another HK. If not, there will be plenty of receivers from other companies to buy from. It will come down to which receiver will be the best value.
smurphy522 posts on June 02, 2008 09:13
Davidt1 pointed out a great link for the Euro crowds but also take a look at the 755 unit, here -
https://harman-kardon.cz/data/harman-kardon-avr755.pdf
.
and
https://www.excelia-hifi.cz/harman-kardon-avr755.html
The second link is in Czech. but the numbers say these are rated for 170W @ 4 ohm. They would appear to be some of the beefiest receivers out there, aside from certain Flagship units. I am going to try and find out if they have a voltage selectable power supply (most H/K units historically did not, but one can always hope). They do have removeable power cords.
With both the 655 and 755 doing Serial cable control, internet radio, and A-bus connection it would be a great unit for my home theater.
Why H/K does not think the market in the states is "ready" for these is beyond me. Or maybe these are being released later this year, fingers are crossed.
Davidt1 posts on May 31, 2008 10:44
Post Reply