Flexible Paper Batteries on the Horizon?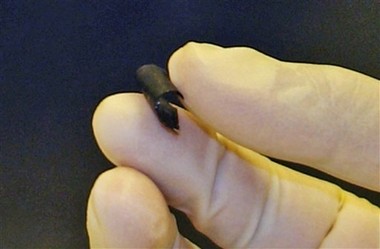 Flexible Paper Battery Technology
For years the battery has all but stagnated in terms of technology. Sure, Li-Ion technology has allowed a greater amount of portability and reliability - at least for smaller, portable electronics, but in general batteries haven't changed much. A few years ago I was privy to a conversation about a new startup company working on a flexible battery. The idea was that these batteries could be completely integrated within electronics - within the casing, housing etc - making for even smaller form factors and less wasted space. If that's not enough for you, imagine putting them inside of credit cards? Light up any ideas? You bet.

Researchers at Rensselaer Polytechnic Institute developed a battery that looks like a piece of paper and can be bent or twisted, trimmed with scissors or molded into any shape needed. While the battery is only a prototype a few inches square right now, they have high hopes for it in electronics and other fields that need smaller, lighter power sources. According to an article from the AP, Robert Linhardt a professor at the Center for Biotechnology and Interdisciplinary Studies at RPI said "We would like to scale this up to the point where you can imagine printing batteries like a newspaper. That would be the ultimate [goal]."

Unlike other batteries, this technology works as a composite material rather than as a combination of pieces. The battery uses paper infused with an electrolyte and carbon nanotubes that are embedded right in the paper itself. The carbon nanotubes form the electrodes, the paper is the separator and the electrolyte allows the current to flow. Carbon nanotubes are , at present, very expensive and nowhere in the article did it talk about output levels. At preset my guess is that the new technology will remain cost-prohibitive for some time - and the lack of power specs indicates that it may be more in line with solar power (as in "can't get enough to be very practical) than a replacement for alkaline or Li-ion battery technology.

Still, the future looks bright - but that laptop and cellphone may still need some lithium ion tech for a few more years.