Epson MovieMate 55 and Duet Projection Screen: Be Cool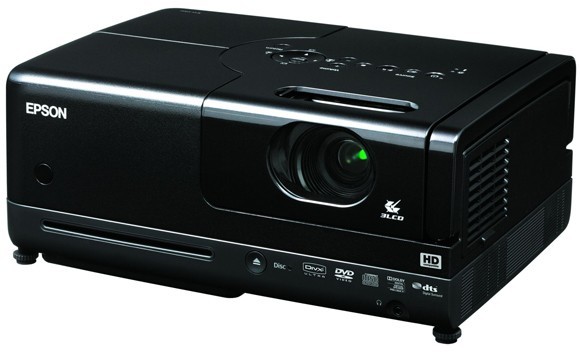 Summary
MSRP (USD) : $699
Brightness (Lumens) : 1000 ANSI
Contrast: 300:1
Weight:                3.8 kg
Size (cm) (HxWxD): 12.7 x 32.0 x 23.1
EDTV/480p
Native Resolution: 854x480 Pixels
Display Type:  1.5 cm 3LCD
Aspect Ratio: 16:9 (WVGA)
Executive Overview
Epson's MovieMate 55 portable projector demonstrated at this year's Audioholics State of the Union conference may not have the bragging rights of the big boys of home theater systems, like 1080p high definition images, but it can promise you one thing: it will make you cool.
The MovieMate 55, offered for the unheard of price of $699, is all about taking home theater on the move. Weighing only 8.3 lbs it comes in a convenient and very mobile cube shaped form-factor allowing it to project from nearly any flat surface.  It has two built-in 8W speakers that offer Dolby Digital / DTS 5.1. It can project a 16:9 widescreen 120-inch image from only 12 feet away or 60-inch from just 6 feet away.
The MovieMate 55 has a built-in DVD/CD player and is compatible with many devices including iPod and current generation game consoles. You will be the hit of the party when you stroll into the room with a MovieMate55 under your arm, you can literally just plug it in and insert DVD for that instant theater.  Or do what the guys from Epson did at SOTU and hook up a Wii! Now Wii Bowling at SOTU grabbed almost as much attention as the massage therapist.
Also at SOTU, Epson Ensemble HD
The MovieMate's sidekick, the 80-inch Duet projection screen, has solved one of the major challenges of portable projection screens. Most projection screens retract vertically, which means the bigger the screen, the longer the package when retracted and the more difficult the whole thing is to carry. The Duet on the other hand retracts horizontally, so even though it's an 80-inch screen, it makes for a much smaller form when in portable mode. Add to that a scissors-style opening mechanism and you've got a product that's incredibly flexible to use.

Epson MovieMate 55 Quick Specs

MSRP (USD) : $699
Brightness (Lumens) : 1000 ANSI
Contrast: 300:1
Weight:  3.8 kg
Size (cm) (HxWxD): 12.7 x 32.0 x 23.1
EDTV/480p
Native Resolution: 854x480 Pixels
Display Type:  1.5 cm 3LCD
Aspect Ratio: 16:9 (WVGA)
Both the Duet screen and the MovieMate 55 have durable casing, which will come in handy if you're transporting often. A Neoprene sheath and a built-in handle help keep the projector safe, while the screen's tripod legs fold into the casing so that you can hold the whole package easily under one arm.
Cool for Students
The MovieMate 55 is perfect for students and is almost guaranteed to make them cool on campus or with their friends. Because of its portability, it's easy to grab it, your Wii (or PS3 or Xbox 360, it's compatible with all of them) and the Duet screen and head over to a buddy's house for a night of gaming. It also features a USB slot, which makes it easy to input your memory card or photos from your computer for an impromptu slide show. The DVD player includes DivX codec compatibility, a definite bonus, perfect for your collection of backed-up DVD movies.
While it may not be the most sophisticated projector on the market, and it only offers a standard definition playback device, the price is definitely within the budget of younger gamers and movie buffs, and just having it (and sharing it) should mean instead cred.
Cool for Parents
The MovieMate 55 can even make parents cool. The latest birthday party trend for tots and teens is backyard movie screenings, and this projector makes it easy to hit the great outdoors for a flick. Taking less than a minute to set up thanks to the built-in speakers and DVD player, parents can be showing the latest High School Musical movie before their pre-teen even has a chance to roll his or her eyes in embarrassment of Mom and Dad.
Again, the Duet projection screen makes a great addition if you don't have an outdoor surface large to project a movie.
Not Cool Enough?
If the lack of high definition isn't cool with you, Epson also offers a 720p model in its line – the MovieMate 72. This projector has a built-in upscaling DVD player and HDMI and computer inputs for external devices. It features vertical and horizontal lens shift and a swivel base for easy placement, and has four built-in 5W speakers. You'll lose a bit of the portability ease with this MovieMate model since you'll be looking to connect your Blu-ray player or an HDTV source, but for $1099 it's still not a bad deal.
Back to the Movie Mate 55, again this is probably not the projector for the sophisticated home theater hobbyist, but it is a great solution for people who want easy home theater that can be moved around.
"The idea of this projector is a completely portable plug and play home theater," Epson Home Entertainments Marketing and Channel Manager Jason Palmer said. And though we won't be making it our primary home theater system, from a portability standpoint – we think it's pretty cool.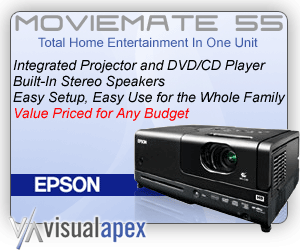 Unless otherwise indicated, this is a preview article for the featured product. A formal review may or may not follow in the future.
Like This? Check out our other
AV News
!
Confused about what AV Gear to buy or how to set it up? Join our Exclusive Audioholics E-Book Membership Program!
Recent Forum Posts:
Sherardp posts on November 04, 2008 11:23
With living space, the Epson Moviemate is pretty popular in Japan. Seen these around allot since they've come out.
gliz posts on November 04, 2008 08:47
so we cannot say "monster" with out fear of a lawsuit? I think that they are loosing sales and that is why they are doin stuff like this.
Post Reply