DLP Projection Tech Goes Mobile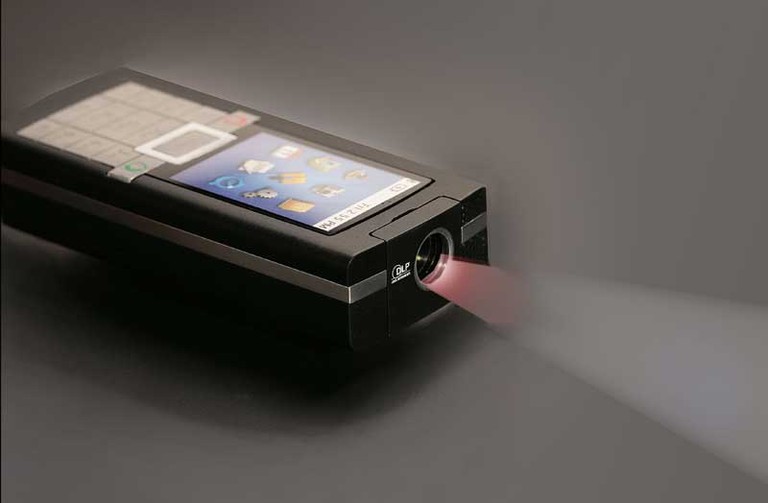 DLP Pico Projector
ORLANDO, Fla. - March 26 - Texas Instruments (TI) (NYSE: TXN) during the 2007 CTIA Wireless convention will be demonstrating, to select media, a prototype of a DLP(R) pico-projector [with optics] small enough to fit on your finger tips. The latest DLP innovation from the world leader in mobile projection solutions enables compelling viewing options that expand beyond the limitations of a physical screen for mobile users of cellular phones, digital cameras and portable media players.
DLP pico-projectors, either as standalone projector or as an integrated component in mobile devices, will provide consumers and business professionals with the flexibility to share video and graphic content in a larger way.
The DLP pico-prototype further advances TI's mobile projection technology, building on the 2006 introduction of DLP-based pocket projectors. These products are in the market today from manufacturers, including Mitsubishi, Samsung, and Toshiba. Pacific Media Associates (PMA), a global research firm, expects this pocket projector category to grow to more than 1M units by 2010. TI demonstrated the viewing experience advantage of showing mobile phone content on a pocket projector in January 2007. The introduction of the pico- projector capabilities will provide manufacturers and end-users even more options on how they can view and share information and content.
"As the leader in home theater and business projection, TI DLP Products continues to develop new and exciting ways that our manufacturing customers can apply DLP technology in innovative consumer products," said Frank J. Moizio, Worldwide Strategic Marketing and Business Development Manager, TI DLP Front Projection. "Over the next few years, we envision a large opportunity for the convergence of projection technology and mobile devices, like cell phones," Moizio added.
Now in addition to using TI's world leading OMAP(TM) processor technology for processing video and graphics content, mobile manufacturers can take advantage of TI DLP pico-projection technology as a new and enhanced display option in their devices. As the OMAP wireless application platform has helped revolutionize processing of media content on mobile devices, DLP pico- projection technology will advance the viewing experience of mobile devices providing significant improvements in productivity and entertainment experiences.
Key benefits of DLP projectors include: smoother images with no "screen door" effect; crisp and clear presentation of fast motion video; vibrant colors created by its BrilliantColor technology; and proven reliability across all facets - picture reliability over time (no fading, yellowing or color decay over time as compared to other display technologies), overall performance and dust-resistance.
About Texas Instruments DLP Products
DLP display technology from Texas Instruments offers clarity down to the most minute detail, delivering pictures rich with color, contrast and brightness to large-screen HDTVs and projectors for business, home, professional venue and digital cinema (DLP Cinema(R)). 75 of the world's top projection and display manufacturers design, manufacture and market products based on DLP technology. DLP is the only HDTV technology built from a foundation in the digital cinema where it set the industry standard demonstrated by the deployment of DLP Cinema technology in 3,300 theaters worldwide. At the heart of every DLP chip is an array of up to 2.2 million microscopic mirrors which switch incredibly fast to create a high resolution, highly reliable, full color image. DLP technology's chip architecture and inherent speed advantage provides razor-sharp images and excellent reproduction of fast motion video. Since early 1996, more than 10 million DLP subsystems have been shipped. For more information, please visit www.dlp.com.
About Texas Instruments
Texas Instruments Incorporated provides innovative DSP and analog technologies to meet our customers' real world signal processing requirements. In addition to Semiconductor, the company includes the Educational Technology business. TI is headquartered in Dallas, Texas, and has manufacturing, design or sales operations in more than 25 countries.
Texas Instruments is traded on the New York Stock Exchange under the symbol TXN. More information is located on the World Wide Web at www.ti.com.
DLP and DLP logo are registered trademarks of Texas Instruments.
SOURCE Texas Instruments