AV Quick Takes: Dayton Audio's DTA-100ST Desktop Amp and BST-300EX Bass Shaker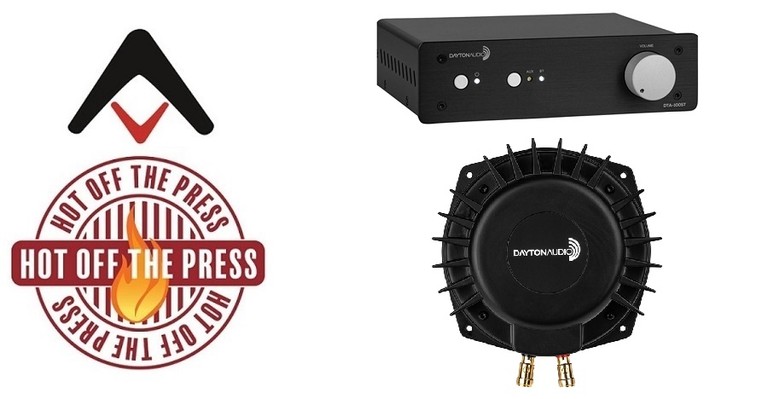 Dayton Audio DTA-100ST & BST-300EX
Dayton Audio makes a dizzying array of audio-related gear, from speakers and amps to individual loudspeaker components and testing/measurement gear for professionals and DIYers alike. Today we look at two new products that will likely appeal to two different kinds of customers. The DTA-100ST ($135) is a compact, desktop-friendly stereo amplifier with Bluetooth, and the BST-300EX ($90) is a powerful bass shaker designed for serious home theater and gaming enthusiasts who want to feel, not just hear, the low frequencies in their movies and games.
DTA-100ST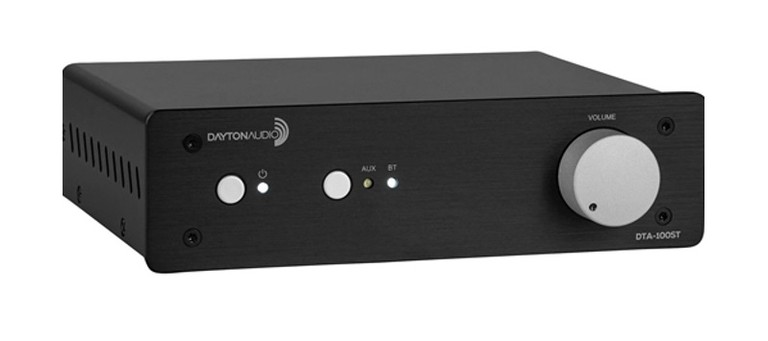 Measuring just 7.5 inches wide by 2 inches tall by 5.5 inches deep, the DTA-100ST weighs less than 3 pounds and is small enough to be the anchor of a desktop audio system. But it is also "capable of filling your space with high resolution audio" when used in a typical living room, bedroom, or office audio system, according to Dayton Audio.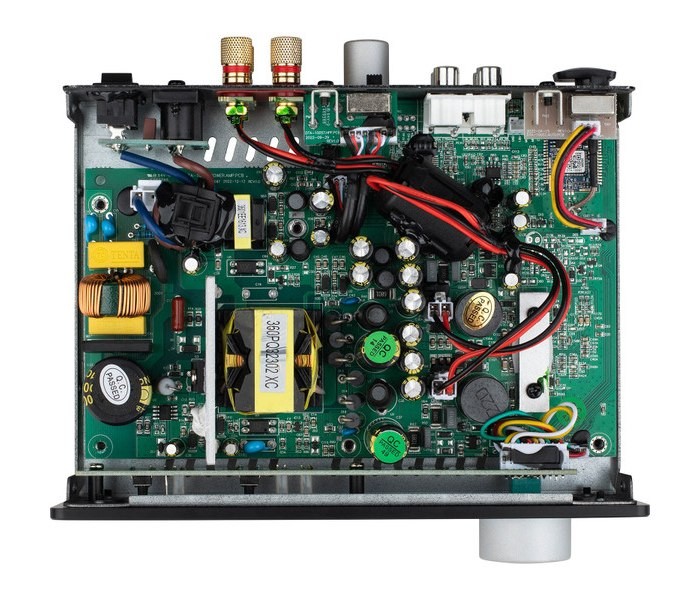 The amp promises clean, low-distortion power, with a flat frequency response from 20Hz to 20,000Hz. The DTA-100ST is rated at 45 watts per channel RMS into 4 ohms, with a maximum peak power output of 100 watts per channel, also into 4 ohms. No 8-ohm rating is specified, but the ability to drive 4-ohm speakers is welcome, and not something you can take for granted when choosing a small, inexpensive amplifier in this class. The amp features all-metal construction, a brushed black aluminum faceplate, and an oversized silver volume knob, resulting in a tidy, no-frills aesthetic. Still, I'd say it's more attractive than most mini-amps in this price range.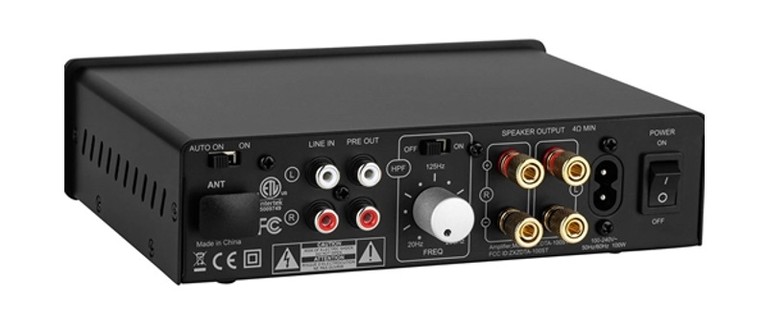 In addition to line-level RCA inputs and outputs, the DTA-100ST is equipped with bluetooth 5.0 for easy wireless streaming from a laptop, smartphone, or tablet. One of the standout features of this amp is its adjustable high-pass filter, which can be applied to the speaker outputs allowing the user to remove bass frequencies from the main speakers when using a subwoofer. The high-pass can be set anywhere from 20Hz to 250Hz. Users of powered subs with built-in low-pass filters can connect them via the full-range preamp outputs on the rear of the DTA-100ST. But that's not the only way to go. The DTA-100ST is designed to integrate seamlessly with Dayton Audio's DTA-100LF desktop subwoofer amplifier ($115), which features adjustable phase, a subsonic filter, a low-pass filter, and a single band parametric EQ. So if you have a passive subwoofer or you want to build one yourself, Dayton's DTA line has you covered. Of course, the high-pass filter on the DTA-100ST can be defeated if you prefer full-range output from your main speakers. Impressively for a piece of gear in this price range, the DTA-100ST includes a 5-year warranty.
BST-300EX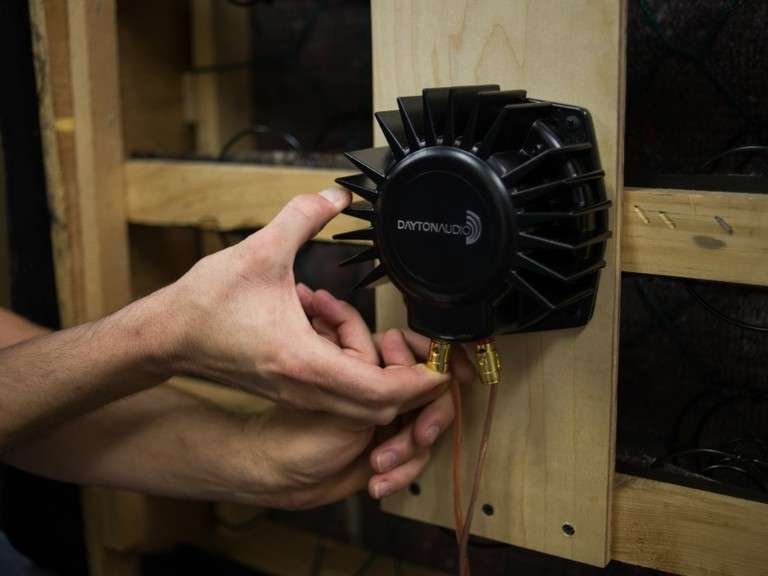 The BST-300EX bass shaker is "engineered from the ground up to compete in serious home theaters, racing/gaming rigs, and car audio setups," according to Dayton Audio. At 7.25 inches in diameter, it's a sizable upgrade from Dayton's 5.75-inch BST-1. Although capable of handling 300 watts of power, the BST-300EX is reportedly a highly efficient design promising "thunderous vibrations that will enhance your audio experience," all from an affordable device that's easy to install. If you've never experienced a bass shaker (also known as a tactile transducer), you might wonder what all the fuss is about. Unlike a subwoofer, which is designed to extend the audible frequency response of your audio system, a bass shaker is all about feeling the physical sensation of super-low bass frequencies. In fact, the BST-300EX promises inaudible operation, which is important to audio enthusiasts who pride themselves on the sound of their systems. The last thing you want is a bass shaker that buzzes, rattles, or farts along to your favorite movies and games. Dayton Audio says that with the BST-300EX, you'll feel the impact without messing up the sound.
Buy: BST-300EX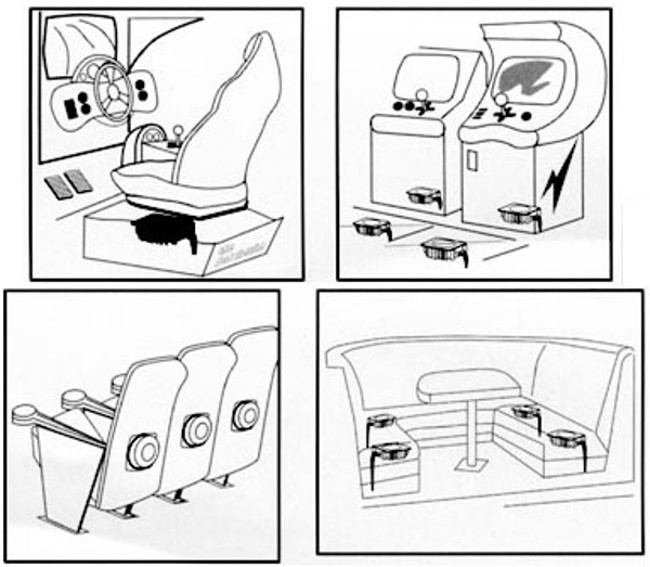 How does it work? Here's how Dayton Audio explains it:
Inside the all-metal housing is the heart of the BST-300EX; a magnetic puck is suspended between 2 durable nylon spiders, all enclosed within a former wrapped with a powerful voicecoil. Applying signal to the voicecoil sets the magnetic puck in motion along its 35mm path of travel, dispersing incredible bass energy into any surface it's installed on. Shorting rings contain the magnetic B-field, keeping the energy concentrated within the former, which increases motor force, further increasing output. This engineering marvel converts electrical signals into tangible waves of sonic power, taking your audio experience to new depths of immersion."
 -- Dayon Audio
The Dayton Audio BST-300EX comes with a 5-year warranty and both the BST-300EX and the DTA-100ST can be purchased from our Amazon Affiliate.